| | |
| --- | --- |
| Cubs News and Notes: Epstein on Ben Zobrist, Rule Changes, Verlander's Rampage, more | |
---
| | | |
| --- | --- | --- |
| Thursday, July 11, 2019, 9:06 AM | | |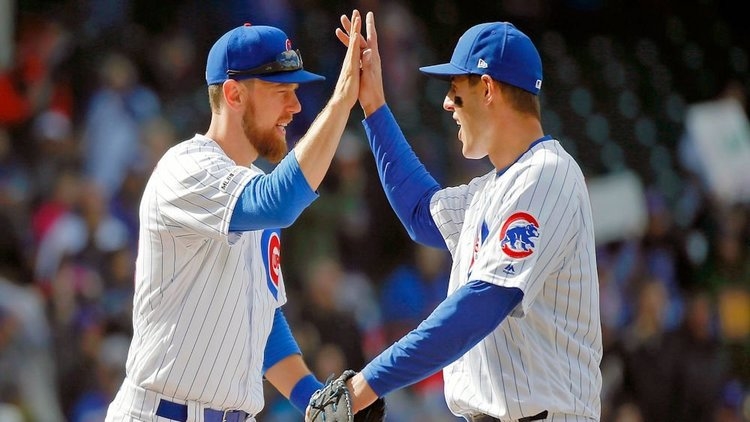 Next Game: Friday, 1:20 PM CDT: Pirates at Cubs. RHP Yu Darvish (2-4, 5.01 ERA) vs RHP Chris Archer (3-6, 5.49 ERA).
CUBS NEWS AND NOTES:
Cubs/Pirates Probable Pitchers The Cubs will resume action on Friday, at 1:20 PM, as they host the Pirates at Wrigley.
Pitchers expected: Friday: RHP Yu Darvish (2-4, 5.01 ERA) vs. RHP Chris Archer (3-6, 5.49 ERA). Saturday, 1:20 PM: LHP Jon Lester (8-6, 3.72 ERA) vs. RHP Jordan Lyles (5-5, 4.36 ERA). Sunday, 1:20 PM: LHP Jose Quintana (6-7, 4.19 ERA) vs. RHP Trevor Williams (3-2, 4.54 ERA).
Theo on Zo: Want to see Ben Zobrist back in a Cubs uniform? (That was called a rhetorical question- of course, you do.) It may happen- but it may not. Theo Epstein commented on the situation, but with reservation and a bit of ambiguity, which seems to be his mantra lately. Theo says, "We expect him back later this year. We have sort of a soft understanding of when that might be, but I don't want to put a timetable on it or overly rely on it, either. I think we're all looking forward to having him back if that's able to happen."
Evening at the Improv: Improvisational comedy is funny; improvising at the ballpark is priceless.
Some of Chicago's best improv can be found at Wrigley Field. #EverybodyIn

Enter 10/Sixty Tickets before every home game: https://t.co/m82x0PPqbn pic.twitter.com/WtZgS8K7ml

— Chicago Cubs (@Cubs) July 10, 2019
Another starter? The Cubs starting rotation, at least in theory, is set for the remainder of the season, with Tyler Chatwood available for spot starts and injury-based fill-ins. Despite the need for bullpen help, the Cubs have reportedly been linked to Mets starter, Zack Wheeler.
I'm not exactly sure where Theo & Company are going with this one (just a report by a Mets beat writer), as Wheeler would be a straight rental and unless the Cubs decide to trade one of their current starters, Wheeler serves no overtly obvious purpose. Wheeler could be used as a sixth man in the rotation, or he could be an insurance policy in the event Cole Hamels or Kyle Hendricks go down. What's interesting is that the Brewers are tied to both Zack Wheeler and his teammate, Noah Syndergaard, so this may also be a defensive move on Theo's behalf.
Willy's ring: With the way Willson Contreras was booed in Cleveland on Tuesday night, you'd have thought they'd just introduced Ryan Braun at Wrigley field. It seems there are some very bitter fans in Cleveland, still reeling from the World Series loss, and Willson Contreras doesn't really care. "I have my ring… they can boo me."
Willson Contreras: "I have my ring...they can boo me": https://t.co/8bOSASBSuh pic.twitter.com/pcJjqh5FFQ

— CubsHQ (@ChicagoCubsHQ) July 10, 2019
The magical opt-out clause: The newest negotiating tool being built into MLB contracts, is an opt-out clause for players who aren't happy. Tons of players have these, and some familiar names are on that list. The deadline to exercise those clauses is at the end of the season, and those players will have a bit of a risky decision to make. Not every player will dare to opt-out, as they're giving away guaranteed money, to test the free-agent market, but some will undoubtedly try.
Notable opt-out names this year include: (1) Yu Darvish: Who would be giving up four-years, $81M- not something he's likely to do; (2) Jake Arrieta: One-year, $20M (unless the Phillies exercise a two-year, $40M option for 2021-22); (3) Aroldis Chapman: Two-years, $30M. Then there's Jason Heyward. J-Hey has picked up the pace tremendously this year, but I'm not sure he's going to part ways with four more years of guaranteed work and $86M worth of Tom Ricketts checkbook.
We wear caps and sleeves at this level son ???? pic.twitter.com/iHfj3XJs95

— Baseball Quotes (@BaseballQuotes1) July 10, 2019
MLB Baseballs- is it a conspiracy? Jon Lester, Joe Maddon, and countless other Cubs, players and fans, swear the baseballs used in MLB have been somehow altered for flight.
The Astros' Justin Verlander weighed in, and he's on a rampage over this: "Major League Baseball's turning this game into a joke. They own Rawlings, and you've got Manfred up here saying it might be the way they center the pill. They own the [expletive] company. If any other $40 billion company bought out a $400 million company and the product changed dramatically, it's not a guess as to what happened."
For his part, Baseball Commissioner, Rob Manfred, continues to deny that the balls have been altered and says MLB has issued no directive to anyone, to do so.
This is who Joe Maddon has to send when he wants to take Jon Lester out of a game early ... pic.twitter.com/pVWOLAxmOa

— Baseball is Fun (@flippingbats) July 10, 2019
The changing game: Like it or not, the game of baseball is changing. When they start inserting these rules into the Atlantic League, you can best believe it's serving as a litmus test for MLB.
The Atlantic League will implement some interesting rules during the second half of the season, including electronic strike zones! pic.twitter.com/tWKrI4ssKq

— Baseball Quotes (@BaseballQuotes1) July 10, 2019
Cancer doesn't care: As news of Carlos Carrasco's leukemia was released by Carrasco, himself, MLB, the Indians and the fans started to rally around him. Javier Baez held up a sign for him on Tuesday night (also mentioned were teammates Jon Lester and Anthony Rizzo), and Willson Contreras did the same. Stay strong, Carlos- you can beat this thing.
?????? pic.twitter.com/Gy9mA15wkx

— Chicago Cubs (@Cubs) July 10, 2019
We stood with you last night, @Cookie_Carrasco.

We're standing with you the whole way. ??#CookieStrong pic.twitter.com/8MqIZA0K0d

— Cleveland Indians (@Indians) July 11, 2019
From the mouths of babes: The Quad City River Bandits (Astros' affiliate), had an interesting thing happen at their park the other day. A young kid with a baseball was going around the stadium asking for autographs. Not from players, mind you, but rather from various employees, whether from the kitchen staff or the cop on duty at the park. When asked why he was asking for such autographs, he replied, "Without you guys, there wouldn't be baseball here." Those parents did well. Kudos.
Check out this heartwarming story from our very own ballpark and help us find this sweet little boy and his family! #MiLB #QuadGoals pic.twitter.com/1WY1uv9geT

— Quad Cities River Bandits (@QCRiverBandits) July 10, 2019
Baseball Quotes: "How can you hit and think at the same time?" -Yogi Berra
You can't sit on a lead and run a few plays into the line and just kill the clock. You've got to throw the ball over the damn plate and give the other man his chance.

That's why baseball is the greatest game of them all. -Earl Weaver pic.twitter.com/KUZz2WtrFT

— Baseball Quotes (@BaseballQuotes1) July 10, 2019
Cub Birthdays: Celebrating yesterday, André Dawson (65) and posthumously, John "Dutch" Rudolph (137) and Bobby Lowe (154). While I'm certainly not old enough to remember Rudolph or Lowe, you can believe I know who Andre is- Happy birthday, Hawk.
Happy Birthday Hawk!#EverybodyIn pic.twitter.com/IL8Jg3H4vE

— CubsHQ (@ChicagoCubsHQ) July 10, 2019
NL CENTRAL SCHEDULE (July 7 – July 13, 2019)
(Wins are in green, losses in red)