| | |
| --- | --- |
| Cubs News and Notes: Fly the W, Playoff odds, Zobrist update, Yu's filthy, Rizzo's back | |
---
| | | |
| --- | --- | --- |
| Thursday, August 29, 2019, 7:35 AM | | |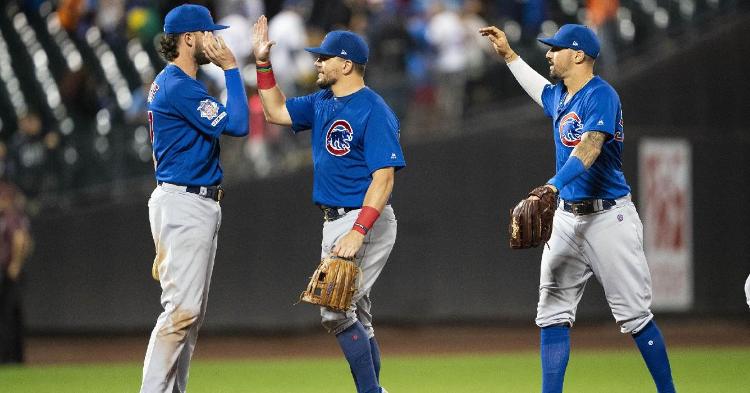 Next Game: Thursday: LHP Jon Lester (10-9, 4.49 ERA) vs Jacob deGrom (8-7, 2.56 ERA). Game information: 6:10 PM CDT; ABC-7, MLB Network (out of market only).
Wednesday's Game Recap:
With the Cardinals on a rampage, the Cubs are running out of time to reestablish their presence atop the NL Central standings. Chicago started the day 3.0 games back, but with Milwaukee beating the Cards in an afternoon game, the Cubs advanced a half-game before they even took the field last night.
Syndergaard has been on point since the All-Star break, but the Cubs would shake Thor and the Mets to the core in the first, grabbing a 6-0 lead. After striking out Heyward to start the game, the wheels would fall off the train for Syndergaard and the Mets. Note- there is an error in the following tweet, as the Cubs sent a total of 11 men to the plate in the first.
1st inning Cubs summary:

6 runs
10 batters
39 pitches
5 hits
1 BB
1 HBP
1 HR
1 error

All off of Noah Syndergaard.

— Tony Andracki (@TonyAndracki23) August 28, 2019
After Nicholas Castellanos was hit by a pitch (hand), everything the Cubs touched would turn to gold, including a groundball by Javier Baez that should have become an inning-ending double play, but when Ahmed Rosario committed a throwing error, everybody was safe, a run scored, and the rout was on. The inning would be capped off by Ian Happ's homer, which broke an 0 fo 14 slump.
The Big Happle.#EverybodyIn pic.twitter.com/vLg13qPZQ5

— Chicago Cubs (@Cubs) August 28, 2019
The Mets would strike back, grabbing one in the first on a couple of questionable umpiring calls (hit by a pitch and a relay throw on a double play), but the Cubs carried a 6-1 into the second.
Kris Bryant would double with one out in the second, then Bam-Bam would crush his (career-high) 31st Schwar-bomb (to left). (And who says that Kyle Schwarber can't hit?) Cubs up 8-1.
I am inevitable.#EverybodyIn pic.twitter.com/Rci9MwfNFB

— Chicago Cubs (@Cubs) August 29, 2019
Castellanos went deep to right-center in the third, making it 10-1 Cubs. At this point, the Cubs biggest concern was whether the rain would let up enough to get the fifth inning in.
Nicholas Castellanos puts us in double digits!#EverybodyIn pic.twitter.com/cNQH6ak76l

— Chicago Cubs (@Cubs) August 29, 2019
The Mets would attack in the fifth, scoring five unanswered runs, beginning when McNeil and Davis took Hendricks deep on back-to-back homers. What started as a blowout, would wind up with Hendricks not surviving the fifth (Syndergaard never made it to the fourth). 10-6 Cubs, after five.
By the end of the eighth, the Mets had made it 10-7, as Joe Maddon continued his "strategy" of using just about every guy in the bullpen. Sad to think that after leading 10-1 in the third, Kyle Hendricks would get a no-decision, and Craig Kimbrel would be getting a save opportunity. This team is fractured.
The Cubs would fail to score after the third, facing all relievers for NY, beginning in the fourth. Although the Mets would systematically pick apart the lead, despite struggling, Dirty Craig would finally get it done. Cubs win 10-7.
#Cubs pounce early, 'pen holds on late for win vs. Mets.

Recap: https://t.co/xP1YvMYFcv #EverybodyIn pic.twitter.com/pQRJwMRPBt

— Chicago Cubs (@Cubs) August 29, 2019
CUBS NEWS AND NOTES
Cubs/Mets Probable Pitchers: Friday: LHP Jose Quintana (11-8, 4.05 ERA) vs RHP Chase Anderson (6-3, 4.34 ERA). Game information: 1:20 PM CDT; WGN, SAP WGN, MLB Network (out of market only). Saturday: LHP Cole Hamels (7-4, 3.73 ERA) vs RHP Zach Davies (8-7, 3.90 ERA). Game information: 1:20 PM CDT; NBC Sports Chicago. Sunday: RHP Yu Darvish (5-6, 4.25 ERA) vs LHP Gio Gonzalez (2-2, 4.34 ERA). Game information: 1:20 PM CDT; NBC Sports Chicago.
KB on the table: I've been saying for the last three months (and most of you called me insane) that the Cubs would be busting up the core this year, presumably by dealing Kris Bryant. Bryant is still controllable for another two years, and his stock is on the rise. As great as he plays, he could fetch a ton in return, and right now, the Cubs need a hell of a lot more than a quality third baseman.
ESPN's Jeff Passan says that the Cubs will be heavily involved in the trade and free-agent markets this winter, as they look to strengthen and change whatever has gone wrong, over the last couple of seasons. Passan goes on to suggest that Kris Bryant will be among those that the Cubs will entertain offers on.
A losing win: The Cubs should have decimated the Mets last night, but instead, the Mets brought the tying run to the plate in the ninth. I don't see how these games should be considered "wins," no matter what the scorebook and standings reflect. The Cubs seem to be winning more and more, based only on the misfortune of their opponents, as opposed to collecting their Ws based on all-around performances by Chicago. Theo sees this, too, which is why you'll see radical changes happening over the next four months.
Fangraphs Update: As the season draws to a close, Fangraphs is continually updating the playoff chances for teams around the leagues. After Tuesday's win, the Cubs' chances now stand at 73.6%.
Chances of making the playoffs, per Fangraphs: Nationals 96.4%
Cubs 73.6%
Mets 26.3%


Brewers 9.5%
Phillies 6.2%

— Buster Olney (@Buster_ESPN) August 28, 2019
Zo's coming home: After finishing up his minor league assignments over the weekend, Zo has returned to his home in Nashville, decompressing before the next step.
"He's in pretty good shape," Cubs President of Baseball Operations Theo Epstein said of Zobrist. "It's really just about his timing, being able to be ready for the fastball and also adjust to secondary stuff. So that's what he's working on right now against live pitching." Epstein says that the plan is for Zo to face select pitchers from the Cubs' organization in sim-games. For the full story, check out Cole Little's article on CubsHQ, which covered Theo's update on Zo.
Filthy pitches: How filthy is Yu Darvish's 82 mph knuckle curve? So nasty that Victor Caratini openly broadcasted where he wanted the pitch placed during Tuesday's game, and the Mets' Jeff McNeil still couldn't do anything with it.
Caratini also yelled it out to the mound...allegedly. pic.twitter.com/3ldZIvVVD6

— Rob Friedman (@PitchingNinja) August 28, 2019
Craig Kimbrel just recently taught Darvish how to hurl that pitch, which now adds another useful weapon to his arsenal.
Cubs' Notes: I'm not going to rehash the standings- the Cubs are terrible on the road- period. Entering play last night, Chicago was defending a three-game road-win streak, which was their longest of the since the period covering April 27 through May 14.
With the win Lat night, the Cubs had successfully won six-straight games at Citi Field (aka Shea Stadium), become their longest win streak there.
Rizzo update: Anthony Rizzo remained sidelined last night and is doubtful that he'll be playing tonight, although he had planned on taking a few swings in batting practice, to see how he felt. The good news is that he feels he should be ready for this weekend's matchup with the Brewers.
Here's Rizzo on the ongoing back issue... pic.twitter.com/miLwzSWG11

— Jordan Bastian (@MLBastian) August 28, 2019
Baseball Quotes: "I am not too serious about anything. I believe you have to enjoy yourself to get the most out of your ability. I can take the criticism with the accolades. Neither affects me." -George Brett
I never could stand losing. Second place didn't interest me. I had a fire in my belly. -Ty Cobb pic.twitter.com/wO5DsNyUpD

— Baseball Quotes (@BaseballQuotes1) August 28, 2019
Cubs Birthdays: Celebrating yesterday, were ex-Cubs Randy Wells (37), Shane Andrews (48), Darren Lewis (52), Billy Cowan (81), and posthumously, Dick LeMay (81), Johnny Pramesa (94), Cliff Aberson (98), Jeff Cross (101), Charlie Grimm (121), and George "Dode" Paskert (138).
And who could forget Cubs' strength and conditioning coach, Tim Buss.
Happy birthday, Bussy! #EverybodyIn pic.twitter.com/qxLZ6fx8RY

— Chicago Cubs (@Cubs) August 28, 2019
THIS WEEK'S NL CENTRAL SCHEDULE:
(Wins in green, losses in red)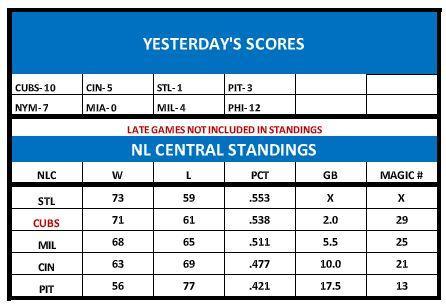 Tags: Cubs Baseball
,
Kyle Hendricks
,
,
,
,
Kyle Schwarber
,
,
Jose Quintana
,
Cole Hamels
,
Yu Darvish
,
Victor Caratini
,
Anthony Rizzo
,
Joe Maddon
,
Theo Epstein