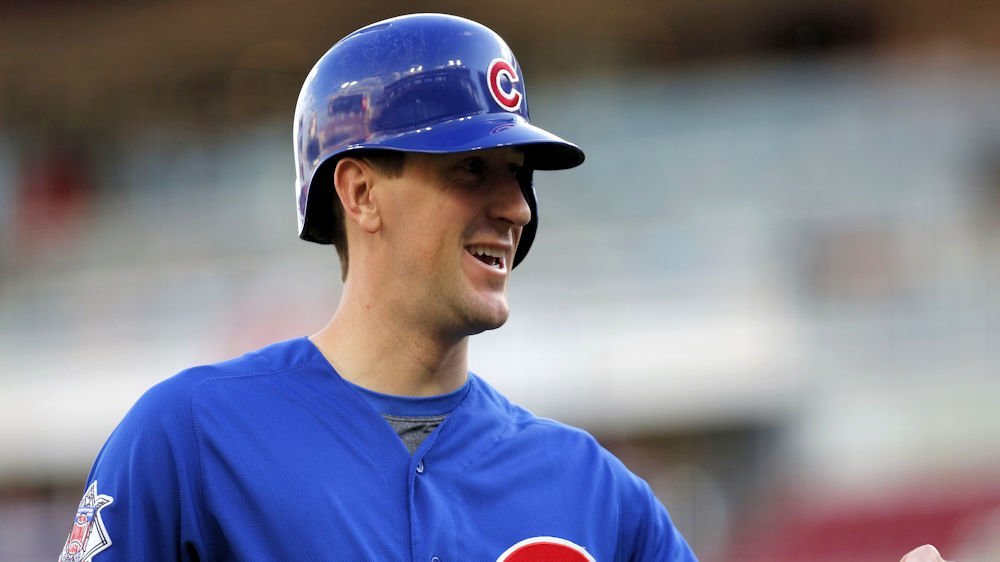 | | |
| --- | --- |
| Cubs News and Notes: Kyle Hendricks update, Alzolay to start, La Stella the All-Star, more | |
---
| | | |
| --- | --- | --- |
| Sunday, June 23, 2019, 7:32 AM | | |
Next Game: Today, 1:20 PM CDT: Mets @ Cubs RHP Jacob deGrom (3-6, 3.38 ERA) vs LHP Cole Hamels (6-4, 2.98 ERA).
CUBS NEWS AND NOTES:
Saturday's Game Recap:
After suffering a disappointing loss on Friday, the Cubs tried to regroup behind Jose Quintana, who's been a little rough as of late; that wouldn't change yesterday.
I try to write very detailed recaps so that people who missed the game can get a clear picture of what went on. Usually, that takes a couple of hundred words or so, but I think I can capture the essence of yesterday's fiasco in less than ten words:
Mets scored. A lot. Almost every inning. Cubs didn't.
Jose Quintana: 4.1 IP, nine hits, nine runs (8 ER), two walks, two strikeouts, three homers. Quintana is now 0-6 in his last nine starts.
Ironically, Victor Caratini (who pitched the 9th), was the only one of five Cubs' pitchers yesterday to not allow a baserunner, as he helped his cause with an outstanding throw to first to retire the side.
What's the best thing that happened to you today? pic.twitter.com/o8bboV46Av

— Chicago Cubs (@Cubs) June 22, 2019
The Cubs did manage to piece together a couple of runs, but about the only, they that did was save the embarrassment of a shutout. Final score: Mets-10; Cubs-2.
I predicted the series would be split 2-2, based on lousy pitching and a poor offensive showing, and so far, I look to be right. Hopefully, Cole Hamels can get it figured out, as the Cubs risk losing first place if they don't. Jacob deGrom has struggled this year, and there's no reason that this game should be winnable for Chicago- IF the pitching and hitting can function for nine innings.

Good morning. Something a little different to start your day with.
My favorite part of the day: Workers prepping the field, Wrigley Field empty and quiet, sound of the L in the distance.

Good morning! pic.twitter.com/XZMLAjR80l

— Jordan Bastian (@MLBastian) June 22, 2019
Cubs/Braves Probable Pitchers: Monday: RHP Julio Teheran (5-5, 3.40 ERA) vs LHP Jon Lester (6-5, 4.13 ERA). Tuesday: LHP Max Fried (8-3, 4.03 ERA) vs Adbert Alzolay (1-0, 2.25 ERA). Wednesday: LHP Dallas Keuchel (0-0, 0.00 ERA) vs Yu Darvish (2-3, 4.65 ERA). Thursday: RHP Mike Foltynewicz (2-5, 5.53 ERA) vs RHP Tyler Chatwood (3-1, 3.69 ERA).
Cubs move to 6-man rotation: The Cubs are about to enter 17 days without an off-day, and that'll be their only off-day before the All-Star break. To rest, reset, rejuvenate, recoup, resolve, rectify, or whatever other "R" word you can think of, Joe Maddon (as previously announced by Theo Epstein) has moved to a six-man starting rotation, effective immediately. Alzolay and Chatwood have become the fifth and sixth starters in Kyle Hendricks' absence.
Alzolay to start: Adbert Alzolay did well in his debut last week, allowing one run in 4+ innings, but is he ready to assume a starting role in the majors? Joe Maddon seems to think so, as Alzolay will face the Braves on Wednesday. Maddon says, "Like you saw the other day, I would anticipate him going out there very confidently."
Kimbrel starting? No, don't panic, Maddon hasn't completely lost his mind (yet). The Iowa Cubs were expecting some severe rain last night and didn't expect to get the entire game in. To get him more innings, The I-Cubs were to make a starter out of Craig Kimbrel for the evening.
Addison Russell: Russell's current slump sees him hitting just .167/.222/.229 (.451 OPS) in his last 16 games, with 15 strikeouts and just one extra-base hit. Russell hasn't been bad (overall) since returning from his 40-game timeout, but the Cubs seem to be suffering in his presence. The Cubs' issues run a hell of a lot deeper than just Russell at this point, but the fact remains that in Russell's last 15 starts, the Cubs have posted a 5-10 record. Overall the Cubs are 11-14 during that span, so they're 6-4 recently when Russell rides the bench. (Credit to Tony Andracki- NBC Sports Chicago for the stats).
Hendricks on the mend: According to Joe Maddon, Kyle Hendricks is doing "really, really well. Sounds like he's getting in good shape."
Nice job, Tommy: After getting past an issue that saw Tommy La Stella go AWOL from a minor league assignment, Tommy worked his back into the hearts of his teammates, eventually becoming a fan favorite in Chicago. Never a powerful guy, but a decent infielder, a clutch-pinch-hitter, and a guy who was just as likely to reach first base on a catcher's interference, as he was by walking or hitting. In four years with the Cubs, La Stella batted .273/.356/.397 with 34 doubles, a triple and nine homers included in his 139 hits. That was the "old" Tommy.
Flash forward to 2019. Tommy's now an Angel in Los Angeles, both literally and figuratively, as he's batting .296/.351/.504, already with 74 hits, seven doubles, and 15 homers. La Stella's achievements have caught the eyes of many fans, as La Stella has now advanced to the finals on the All-Star ballot. Good job, kid!
Baseball Quotes: "Hitting is timing. Pitching is upsetting timing." -Warren Spahn
Cub Birthdays: Celebrating yesterday, were ex-Cubs Jason Motte (37), Brant Brown (48), and posthumously, Jim Asbell (105).
NL CENTRAL SCHEDULE (June 16 – June 22, 2019)
(Wins are in green, losses in red)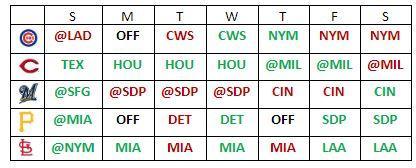 NL CENTRAL SCOREBOARD/STANDINGS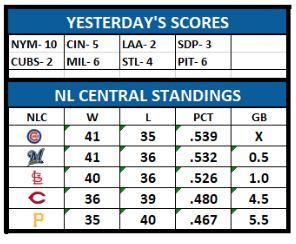 Tags: Cubs Baseball
,
Kyle Hendricks
,
Cole Hamels
,
Jose Quintana
,
Victor Caratini
,
,
Adbert Alzolay
,
Yu Darvish
,
Tyler Chatwood
,
Addison Russell
,
Tommy La Stella
,
Joe Maddon
,
Theo Epstein