| | |
| --- | --- |
| Cubs News and Notes: Maddon hopeful, Gerrit Cole, Happ impressive, netting in 2020, more | |
---
| | | |
| --- | --- | --- |
| Tuesday, August 27, 2019, 8:16 AM | | |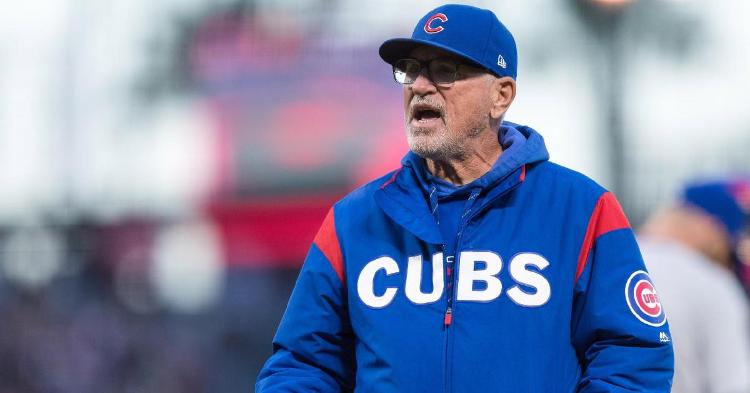 Next Game: Tuesday: RHP Yu Darvish (4-6, 4.43 ERA) vs RHP Marcus Stroman (7-11, 3.18 ERA). Game information: 6:10 PM CDT; NBC Sports Chicago, MLB Network (out of market only).
Next Series:
Starting tonight, it'll be the Cubs and the Mets for three games in NY, before the Cubs return home to face the Brewers.
The Mets have been playing good ball lately, and both Jacob deGrom and Noah Syndergaard have been on fire. Yu Darvish has also been insanely hot; as has Kyle Hendricks, so this may all boil down to the how well the teams' offense and bullpens will perform. As always, I'll have a series preview for you later this afternoon.
Of note, the Cardinals smashed the Brewers last night so the Cubs will begin this series three games out of first place.
CUBS NEWS AND NOTES
Cubs/Mets Probable Pitchers: Wednesday: RHP Kyle Hendricks (9-9, 3.20 ERA) vs RHP Noah Syndergaard (9-6, 3.71 ERA). Game information: 6:10 PM CDT; NBC Sports Chicago. Thursday: LHP Jon Lester (10-9, 4.49 ERA) vs Jacob deGrom (8-7, 2.56 ERA). Game information: 6:10 PM CDT; ABC-7, MLB Network (out of market only).
Maddon on the Cubs: "The ingredients are there. We've just got to go out, obviously, and do it. I've been involved with teams that have just all of a sudden clicked at the right time of the year."
Joe Maddon still believes his offense can click and look like the group they faced this weekend. But even with a slight boost after adding Castellanos, the trends show they've been going in the wrong direction since June 1. https://t.co/LddL7N0RqY pic.twitter.com/PT5vBqTqXe

— Sahadev Sharma (@sahadevsharma) August 26, 2019
Joe, the ingredients have been there for the last three seasons. This team should be clicking every day, yet somehow, they don't. No more assessments, it's time for results. I find the whole quote a little bizarre, especially since it sounds more like something Maddon would have (or should have) said when he took the job with Chicago, as opposed to saying it 4 ½ years into a 5-year deal.
Gerrit Cole? According to unconfirmed reports, the Cubs may be getting ready to get involved in the bidding war for the free-agent righty, Gerrit Cole (Astros). If true, it would appear that the Cubs are planning on having an open spot in the rotation next year, presumably to be vacated by Cole Hamels. While Jose Quintana also becomes a free agent after this season, the Cubs do have a team option which would allow them to keep him. Gerrit Cole currently has a WAR of 4.5, posting a 15-5 record (2.75 ERA) in 26 starts this year for Houston. Interestingly enough, Cole is also a client with Scott Boras.
Castellanos weighs in: While discussing the upcoming series against the Mets, Castellanos says, "We have to look at just one game at a time. We are going to play another hot team. To take the 'woe is me' attitude would do nobody any justice. We just have to wash this one and get ready to play good baseball in New York."
Netting in 2020: It's looking like the Cubs will be among the next of the teams to install plate to foul pole netting to begin the 2020 season.
Chicago Cubs in serious discussions with different firms on adding netting for 2020.Trickey angles at Wrigley may lead to creative contouring of new netting.

— Bruce Levine (@MLBBruceLevine) August 26, 2019
It's a bit ironic that the Cubs would wait this long to start a dialogue with prospective companies, as it was a foul ball from Albert Almora Jr.'s bat that seemed to trigger the mad rush for several MLB teams to have netting installed. The White Sox wasted no time, being the first of 30 MLB teams to install the netting, as theirs was up before the Sox first home series, coming out of the All-Star break.
Deep thought: 32 games left to play, 180 days with no baseball after that. For every game, you enjoy between now and the end of September, realize that it represents just about six days that you'll have to wait until 2020 begins. This. Is. Depressing.
Happ's impressing me: Hurry up and read this- it's programmed to self-delete in 2 minutes, after which, I'll never admit to saying it…
Ian Happ has amazed me over the last few weeks. His bat has gone back and forth between hot and lukewarm, but I'm extremely impressed with some of his fielding.
Although I continue to say that I don't care for him as a second baseman, his showings in the outfield have been impressive, and his start at first base the other day was insanely strong. There were two plays on Sunday, in which Happ stretched to the max, snatching throws from Javier Baez that were off the mark. In one instance they got the runner, and the other one was so close, Maddon challenged it. Replay-review said Happ pulled his foot off the bag, but I'm not so sure (and neither was Happ). I knew Happ had limited experience at first, but I learned that Sunday was only his third career MLB start at the position.
Donnie Dewees: Iowa Cubs outfielder, Donnie Dewees, pulled off an impossible catch over the weekend in the I-Cubs game. Running full speed, Dewees traveled an insane distance, smashing into the right-field wall, grabbing it in foul territory.
ARE YOU SERIOUS, @DonnieDewees!? pic.twitter.com/M9d8o65Oke

— Iowa Cubs (@IowaCubs) August 26, 2019
Baseball Quotes: "God knows I gave my best in baseball at all times and no man on earth can truthfully judge me otherwise. -Shoeless Joe Jackson
I was a lousy hitter in May doing the same things that made me a great hitter in June. -Carl Yastrzemski pic.twitter.com/33aw7L5oAl

— Baseball Quotes (@BaseballQuotes1) August 26, 2019
Cubs Birthdays: Celebrating yesterday, were Xavier Cedeno (33) and ex-Cubs Brendan Harris (39) (39); and posthumously, Tom Poholsky (90), Heinz Becker (104), Earl "Sparky" Adams (125), and Chick Fraser (146).
THIS WEEK'S NL CENTRAL SCHEDULE:
(Wins in green, losses in red)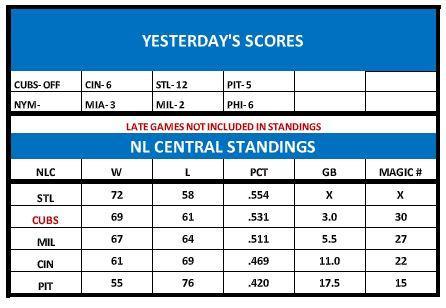 Tags: Cubs Baseball
,
Yu Darvish
,
Kyle Hendricks
,
,
Cole Hamels
,
Jose Quintana
,
Albert Almora Jr
,
,
,
Xavier Cedeno
,
Joe Maddon