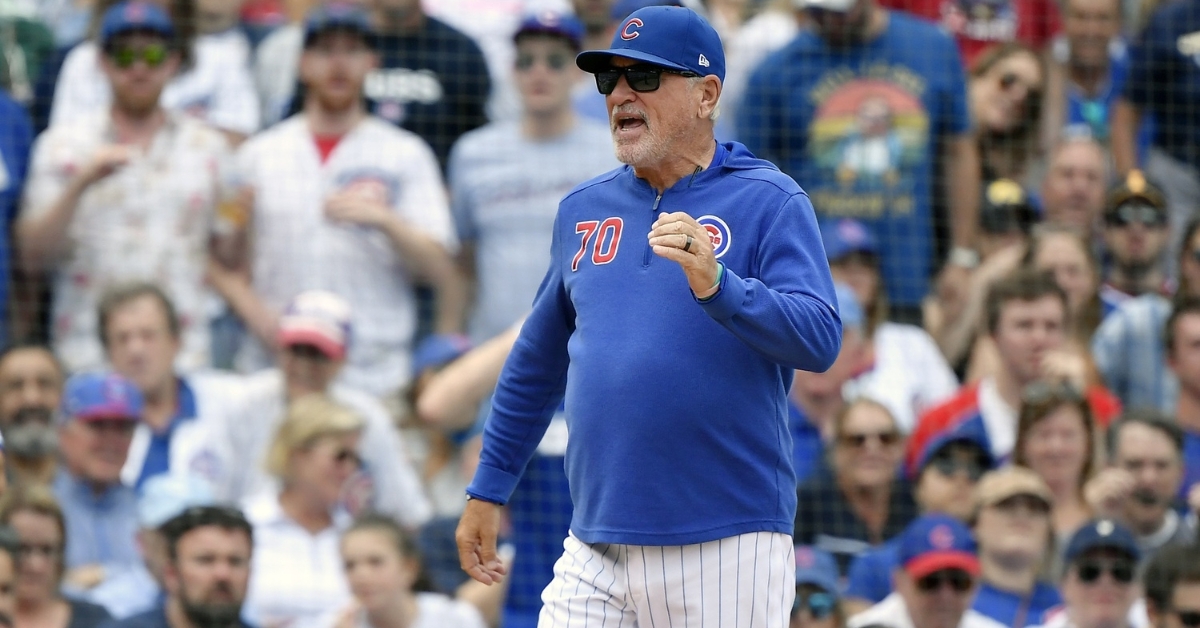 | | |
| --- | --- |
| Cubs News and Notes: Rizzo on Zobrist, roster expand, Iowa playoff bound, Bat-slam, more | |
---
| | | |
| --- | --- | --- |
| Sunday, September 1, 2019, 9:22 AM | | |
Next Game: Saturday: Sunday: RHP Yu Darvish (5-6, 4.25 ERA) vs LHP Gio González (2-2, 4.34 ERA). Game information: 1:20 PM CDT; NBC Sports Chicago.
Yesterday's Game Recap:
The Cubs winning streak was at four as they entered play yesterday, and sitting just a game out of first, they faced a chance to recapture the division before Monday, due in part to some misfortune by the Cardinals (more on that later). The Cubs would send Cole Hamels to the mound, while Brewers' manager, Craig Counsell, countered with righty, Zach Davies.
The Brewers would hit pay dirt in the first, tagging Hamels for a pair of runs while stranding other runners on base. Though the Cubs would make some solid contact over the first couple of innings, they failed to push any runs across. Brewers lead 2-0 after two.
The score would remain unchanged for the duration of the game, with both teams missing out on multiple chances to change the score. For the Cubs, the most notable letdown came in the sixth, as they left the bases loaded after Addison Russell made weak contact. This game featured a ton of hard contact by both sides, but very little in the way of RBI hits.
Oh well, the streak had to end somewhere, but this was a tough loss, as the Cards beat the Reds earlier in the day, with a game left to play before the day was over.
Final score: Brewers-2; Cubs-0, with the Cubs (at least temporarily) 2.0 games out.

CUBS NEWS AND NOTES
Cubs/Mariners Probable Pitchers (September 2-3): Monday: RHP Kyle Hendricks (9-9, 3.47 ERA) vs LHP Justus Sheffield (0-1, 7.94 ERA). Game information: 1:20 PM CDT; Televised on WGN and SAP WGN. Tuesday: LHP Jon Lester (11-9, 4.36 ERA) vs RHP Felix Hernandez (1-4, 6.02 ERA). Game information: 7:05 PM CDT; Televised on NBC Sports Chicago.
Cubs/Brewers Probable Pitchers (September 5-8; info only available for the 5th and 6th, thus far): Thursday: LHP Jose Quintana (12-8, 3.90 ERA) vs Chase Anderson (6-4, 4.58 ERA). Game information: 6:10 PM CDT; Televised on NBC Sports Chicago. Friday: LHP Cole Hamels (7-5, 3.69 ERA) vs RHP Zach Davies (8-7, 3.76 ERA). Game information: 7:10 PM CDT; Televised on NBC Sports Chicago.
Rizzo's return: After missing a week's worth of games, Anthony Rizzo returned to action yesterday, as the Cubs faced the Brewers. Big Rizz looked healthy again, swinging freely in his first at-bat, which netted him a single. Rizzo would wind up going 2 for four on the day.
A little something for now… and later: Anyone who knows me, knows that I'll never wish injury on a player- ANY player. You can't help but wonder about what effect injuries may have concerning the Cubs series this weekend, and the series coming up- both vs. Milwaukee. Though the Cubs have battled through injuries by Rizzo and Contreras, the Brewers may not be able to overcome this list, as they continue to lose ground in the division.
Keston Hiura will be down two weeks or so at minimum with a Grade 2 hamstring strain. That's just the start of the Brewers' injury issues:

• Moustakas tried to hit yesterday and it didn't go well.

• Braun's back has flared up.

• Cain's knee has flared up.

— Adam McCalvy (@AdamMcCalvy) August 31, 2019
Rizzo on Zo: "We're getting a very special player back to this organization and city that's been gone for a while. It'll be nice to see him."
Roster expansion: Here we are- September first, and the rosters expand today. Maddon says that he's expecting 5 or 6 guys to show up today but didn't elude as to who they may be.
My guess: Albert Almora Jr., Ben Zobrist, Dillon Maples, Duane Underwood Jr., Alec Mills and Daniel Descalso.
Potential trouble for the Cards: The Cubs entered play yesterday, just 1.0 games behind the Cards, and Mother Nature may be giving Chicago a helping hand. After a couple of rainouts (including one on Friday), the Cards had to play a double-header against the Reds yesterday, with another coming today.
A doubleheader by itself is draining, but to have to play two in as many days is insane. The Reds entered yesterday with a 3-2 record for the week, while the Cards entered Saturday with a 3-1 record over the past six days.
The Cardinals play 11 games over the next 9 days without an off-day, including doubleheaders today and tomorrow.

Cubs enter play Saturday 1.0 games behind STL.

— Tony Andracki (@TonyAndracki23) August 31, 2019
2019 Cubs' MVP: Who gets the honor of being the 2019 MVP for the Cubs? There's been a ton of great performances this season, though few of the candidates have escaped being marred with a series of consecutively bad performances (aka slumps). Javier Baez? Anthony Rizzo? Kris Bryant? Yu Darvish? How about Nick Castellanos? (Thus far, he'd certainly get my vote.)
With only playing on the #Cubs for 2 months is Nick Castellanos the MVP of the team?

— ESPN 1000 (@ESPN1000) August 31, 2019
Iowa is playoff bound: The I-Cubs clinched their division yesterday, and who better than Willson Contreras to greet them, as they walked off the field. Contreras was part of the team on Friday, as he was getting a rehab start.
#PLAYOFFBOUND ?? pic.twitter.com/XL0ExQv3kP

— Iowa Cubs (@IowaCubs) August 31, 2019
Nicholas Castellanos: "That whole realm of teaching, staying present and kind of being in the moment is something that I've, quite frankly, become obsessed with."
ESPN 1000 Poll: ESPN 100 asked (via a Twitter poll) who the Cubs were missing the most (choices were Ben Zobrist, Anthony Rizzo, and Willson Contreras). For all of the clamoring to get Zo back in a Chicago uniform, only 20% (389 votes cast) felt the missing link was Zobrist, while 33% said they missed Rizzo. Killer Willy got the lion share of the vote, with 47% saying the Cubs missed seeing him in the lineup more than any other.
Opening Day bombs: If you don't know Nicholas Castellanos' philosophy- then learn it: "Every day is Opening Day." He fist-bumps Joe Maddon before every game while making tat proclamation, and that mindset seems to serve him well. In 100 games with the Tigers this year, Castellanos smacked 11 home runs; he's now accomplished that feat in just 27 games with the Cubs.
Nicholas Castellanos has hit 11 Opening Day home runs in August.

This has never been done before. #EverybodyIn pic.twitter.com/fuiCx9kD9S

— Chicago Cubs (@Cubs) August 31, 2019
Nick's "bat-slam" was an overnight success among fans, with 65% (according to another ESPN 1000 poll) favoring it over Tim Anderson's bat-flip.
Tim Anderson has the "Bat Flip" & Nick Castellanos has his "Bat Slam". Which do you like more?

— ESPN 1000 (@ESPN1000) August 31, 2019
Baseball Quotes: "We just don't recognize life's most significant moments while they're happening. Back then, I thought, "Well, there'll be other days." I didn't realize that that was the only day. -Field of Dreams
Baseball is more mental than physical. -Bo Jackson

pic.twitter.com/KD6Y3WD54O

— Baseball Quotes (@BaseballQuotes1) August 29, 2019
Cubs Birthdays: Celebrating yesterday, were ex-Cubs Charles "Boots" Day (72), Ramón Webster (77), Cleo James (79), and posthumously, Ramón Hernández (79), Ray Mack (103), and Charles "Duke" Farrell (153).
THIS WEEK'S NL CENTRAL SCHEDULE:
(Wins in green, losses in red)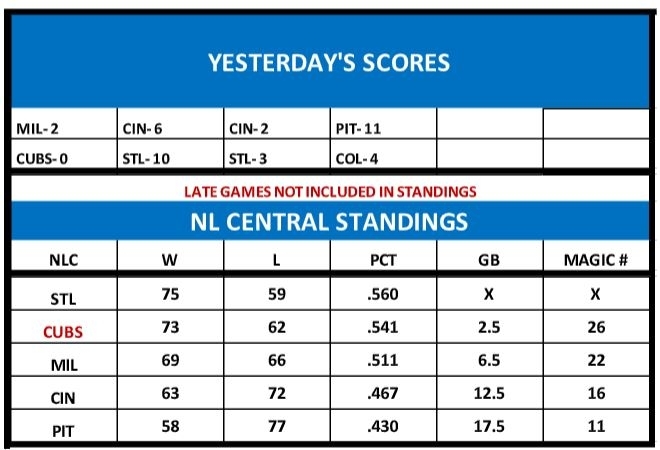 Tags: Cubs Baseball
,
Yu Darvish
,
Cole Hamels
,
Addison Russell
,
Kyle Hendricks
,
,
Jose Quintana
,
Anthony Rizzo
,
Albert Almora Jr
,
Ben Zobrist
,
Dillon Maples
,
Duane Underwood
,
,
Daniel Descalso
,
,
,
Willson Contreras
,
Joe Maddon