| | |
| --- | --- |
| Cubs Odds and Ends: Extend Castellanos, Figuring out the roster, Cubs need to get hungry | |
---
| | | |
| --- | --- | --- |
| Sunday, August 4, 2019, 11:57 AM | | |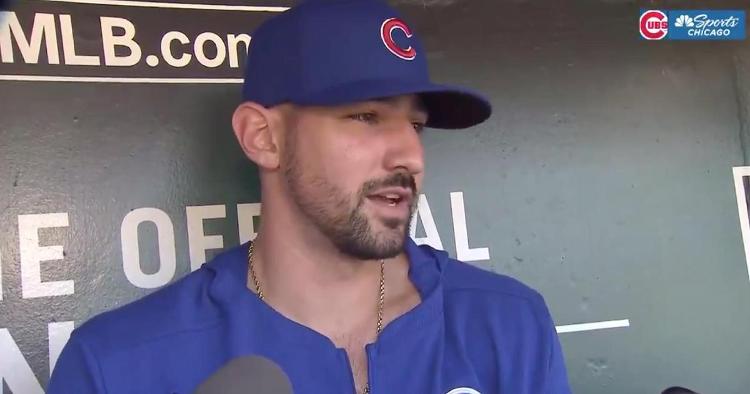 Too soon?
I know, I know, it hasn't even been a week, but I've already found myself hoping that maybe the Cubs can re-sign Nick Castellanos. I see something in him that seemed to be missing in the Cubs offense- consistency.
Castellanos is only 27, and (barring injury) should have several good years left in him. His lifetime average of .274 is appealing, and he hit .298/.354/.500 last year in Detroit. Currently slashing .333/.385/.500 with an OPS of .885 for the Cubs, Wrigley Field seems to be a park that will suit Castellanos' style, and Castellanos' style should suit the Cubs' front office.
"I'm always thinking two out of the box," Castellanos said. "I learned that as a young kid in the big leagues. A guy in scoring position is a lot better than a guy on first."
Castellanos now leads all of MLB this season with 39 doubles this season and that number will only rise with more at-bats.
Although he's never been considered a premier defender in the outfielder, Castellanos has not yet shown himself as defensively weak in his few starts with the Cubs. The most significant issues with Castellanos' defense have come during his appearances as a third baseman, where he racked up an ugly 54 errors in four seasons, as opposed to his six errors over the same period as an outfielder. As of this moment, the Cubs have little use for Nick as an infielder, and while Chicago's outfield also has tremendous depth, Castellanos still figures to play most of the time, so long as he continues to make contact in the batter's box.
Who gets the axe next?
Should he succeed in making a comeback, Ben Zobrist's return will spell trouble for someone- most likely in the outfield. Castellanos won't be optioned; Jason Heyward can't be optioned (though who'd want him to, at this point?) and the Cubs are back to a 13 man pitching staff, which means sending a hurler down won't happen either.
Tony Kemp could be optioned to Iowa, but the Cubs are going to want his speed on the bases, even if only as a pinch-runner. People groan about Kyle Schwarber, as his defense could be better some days, but even with inconsistency, his at-bats aren't worth being without. Albert Almora Jr. continues to dazzle at the plate- even when pinch-hitting these days and his defense has never been an issue.
By process of elimination, Ian Happ's name resonates again. While I have been impressed with Happ's defense since returning, he continues to struggle at the plate. The half-dozen walks that he's taken since returning to Chicago have shown increased patience at the dish, and three of those walks have led to runs, but the fact remains that Happ is 3 for 15 (.133) in 21 plate appearances. Not good.
Happ was lighting up the scoreboard in Iowa, prompting Theo to make a phone call to Des Moines, even if out of desperation, but he's failed to show his ability to hit, now that he's with Chicago again. Happ is proving himself to be more of a left-handed hitter than a switch hitter, though batting lefty in the bigs has only netted him a .182 average (2 for 11 with three strikeouts) thus far, this season. As a righty, Ian has gone 0 for 5 (two strikeouts) and has only drawn one walk.
I suggested last year that due to his struggles at the plate Happ would be wise to drop the switch-hitting "attribute" and focus on hitting left-handed, but obviously with his future in limbo, switch-hitting is a selling point- both for Ian and for the Cubs' ownership.
Lest we forget that unless the Cubs do something radical, Pedro Strop will also be returning, further complicating things for Ian Happ, and after not being traded or released, Addison Russell also lays in wait.
Who's hungry?
Joe Maddon, referring to Nick Castellanos, made an interesting comment the other day; "He's reminding us what hunger looks like." Back in (circa) December, Theo Epstein made it clear- the Cubs needed to play every game as though it was a "Game-163," yet Joe says that Castellanos is reminding them. Hmm.
As I continue to watch this team, it's seemed to me for a while that they don't possess the hunger that they should have- that they somehow take winning for granted, despite a poor road record.
Jason Heyward also seems hungry, as do Willson Contreras and Javier Baez, but beyond the trio (quartet if you count Castellanos) a lot of these performances look lackluster- just a bunch of guys going to work, seemingly with no intention of advancing their careers- or their agenda to win another World Series.
One would think that it was the manager's job to fire up his team, but Maddon often seems as though he's also just along for the ride, never showing much emotion. While the Cubs fell short in 2017- and fell even shorter last season, I'd have thought that the arrivals of Craig Kimbrel, Castellanos, and others this season, would have rekindled a flame that seems to be struggling to get oxygen.
Ben Zobrist- assuming he can pull off a late-season comeback, may constitute this team's last chance in 2019 to show what they're made of, but then again, you can lead a horse to water…

Tags: Cubs Baseball
,
Ben Zobrist
,
Jason Heyward
,
Kyle Schwarber
,
Albert Almora Jr
,
,
Pedro Strop
,
Addison Russell
,
Willson Contreras
,
,
Joe Maddon
,
Theo Epstein