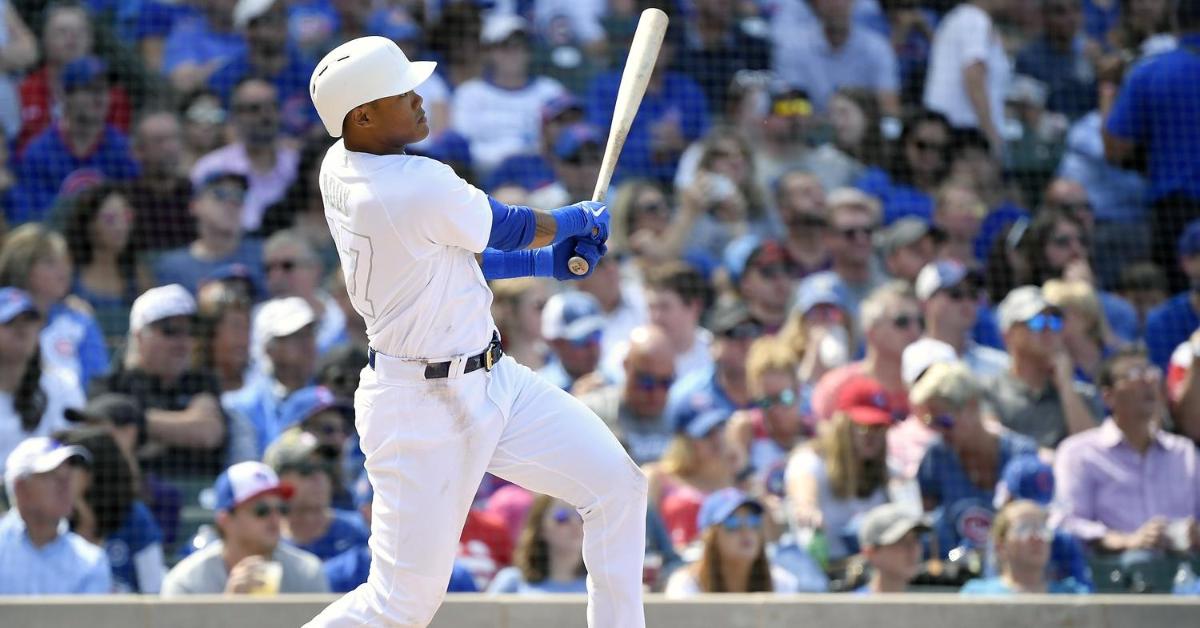 | | |
| --- | --- |
| Cubs Odds and Ends: Russell's future, Josh Donaldson, Top 25 trade candidates | |
---
Those "tender" decisions
Monday night will decide Addison Russell's future with the Chicago Cubs, as the non-tender deadline arrives. Without rehashing everything that Russell has been through – most of which he brought upon himself – the Cubs will need to decide if he is worth keeping around; my guess would be "No."
Even beyond the domestic violence issues, Russell (although, at times, somewhat improved at the plate in 2019) has still failed to show that he's worth anywhere near the $5.1M that he's expected to be paid through arbitration this year. After devaluing himself with his off-field issues, Russell failed to resurrect and rebrand himself upon being reinstated, causing him to end 2019 with a 0.1 WAR.
At this point, the best-case scenario would be for Theo to package Russell into a deal just so that the Cubs can get at least something out it, but unless there's some 11th-hour trade, it looks as though Addy may walk away. To tender him a contract doesn't mean that the team can't still trade him, but at that point, it's highly unlikely that he'd bring anywhere close to $5M in return. Decisions, decisions, but the smart money says that Addison Russell won't be a Cub, come Tuesday morning.
Always on the ball, MLB Trade Rumors has compiled a list of the 2019 non-tender candidates.
Unfortunately, Russell has lost any value that he once had, as he was once a very promising shortstop. With any luck, he'll figure out a way to resurrect his career, but unfortunately, I just don't see that happening in Chicago.
Theo Epstein did as he promised, sticking by Russell and his ex-wife through the "rehab" process, but no promises were made beyond trying to get Russell some help and then sweeping up the pieces. Good luck, Addy.
Donaldson to the Cubs (again)
As is the case with a lot of talent in MLB, Josh Donaldson could be described as "the one who got away." Drafted by the Cubs in in the first round (48th overall) of 2007 June Amateur Draft, Chicago let Donaldson go a year later, in a deal that sent Donaldson, RHP Sean Gallagher, OF Matt Murton and 2B/LF Eric Patterson to Oakland, in exchange for RHP Chad Gaudin and RHP Rich Harden.
Could Josh Donaldson be returning to the organization that drafted him, this offseason?

More on how that could happen: https://t.co/xbSUa74de2#FAFocus pic.twitter.com/mWPj6yzWdf

— Cubs Talk (@NBCSCubs) November 30, 2019
Now a free agent, the Cubs have shown interest in bringing Donaldson back to Chicago, but there'd certainly be some obstacles to clear before it could become a reality.
"Following an injury-riddled 2018, Donaldson had a resurgent 2019 season with the Atlanta Braves. The 33-year-old posted a .259/.379/.521 slash line with 37 home runs and 94 RBIs. He finished seventh in MLB with 100 walks and played an excellent third base — his 15 Defensive Runs Saved were No. 2 among MLB third basemen." – Tim Stebbins, NBC Sports Chicago
As Tim Stebbins points out in his article, the Cubs could use Kris Bryant (solely) as an outfielder (and obviously as a backup third baseman). Still, Bryant has limited time in center – a position that the Cubs are looking to fill. Moving KB to a corner outfield slot would mean displacing either Kyle Schwarber or Jason Heyward, but that move would also leave Albert Almora Jr. and Ian Happ in the lurch to find playing time, and there's still at least some possibility that the Cubs could re-sign Nicholas Castellanos, though there hasn't been much said about it lately.
Nicholas Castellanos

Seasons played for Joe: 2019

Games played for Joe: 51

Maddon-era highlights: .321 average, .356 OBP, .646 SLG, 1.002 OPS, 151 OPS+, 16 HR and 21 doubles in a @cubs uniform.

Daily Maddon Cub 22 of 138 pic.twitter.com/siHLAOvt6t

— Daily Maddon Cub (@DailyRandomCub) November 30, 2019
The Cubs are not likely to deal Schwarbs at this point, and moving Heyward from the roster is next to impossible, considering his albatross, so about the only way signing Donaldson would work would be if the Cubs find a trade partner for KB. Not that finding an interested team would be hard, but the return for Bryant is where the sticking point could be. The Cubs won't let KB go cheap, but can they get enough to make it worth dealing him?
Dealing KB to the Royals in a package for Merrifield makes more sense – at least so far as filling a void in center field or at second base is concerned, but who then do the Cubs turn to, to handle the hot corner?
Not many think that David Bote can handle the position full time (though I disagree) and Ian Happ seems to show his weakest defense while at third.
MLB Trade Rumors' Top-25 trade candidates
Most of the baseball pundits concur: The Cubs will do more trading than free-agent signing this winter. Pitching is always an issue – especially in the bullpen sector – but the Cubs are also looking for a leadoff hitter, a middle-infielder (God only knows why), a center fielder, and quite possibly a third baseman and a starter.
MLB Trade Rumors compiled a list of the Top-25 offseason trade candidates for this winter. Here's the breakdown of who might fit the Cubs shopping list. This list isn't an endorsement (at least not in all cases), just throwing some names out there for your consideration.
Relievers: RHP Ken Giles (Blue Jays), RHP Kirby Yates (Padres), RHP Blake Treinen (A's), Keone Kela (Pirates), RHP Mychal Givens (Orioles), Joe Jimenez (Tigers), RHP Ian Kennedy (Royals)
Outfielders: Mookie Betts (Red Sox), Starling Marte (Pirates), Jackie Bradley Jr. (Red Sox), Clint Frazier (Yankees), Charlie Blackmon (Rockies)
Starting pitchers: LHP Matthew Boyd (Tigers), LHP Robbie Ray (Diamondbacks), RHP Chris Archer (Pirates), RHP Dylan Bundy (Orioles), Corey Kluber (Indians), LHP Caleb Smith (Marlins),
MLB Trade Rumors lists the following as "Premium Targets to consider:"
Andrew Benintendi, OF, Red Sox; Mike Clevinger, SP, Indians; Jon Gray, SP, Rockies; Trevor Story, SS, Rockies; Brad Hand, RP, Indians; Mitch Haniger, OF, Mariners; Trey Mancini, 1B/OF, Orioles; J.D. Martinez, DH/OF, Red Sox; Eduardo Rodriguez, SP, Red Sox and Marcus Semien SS, Athletics.
Let's also not forget that should David Ross elect to slide Javier Baez back to second base, Francisco Lindor may also be available. Plenty of names to choose from, some better than others, and this doesn't even scratch the surface of those who may be available.

Upgrade Your Account
Unlock premium boards and exclusive features (e.g. ad-free) by upgrading your account today.
Upgrade Now

Tags: Cubs Baseball
,
Addison Russell
,
,
Kyle Schwarber
,
Jason Heyward
,
Albert Almora Jr
,
,
David Bote
,
Caleb Smith
,
David Ross
,
,
Theo Epstein