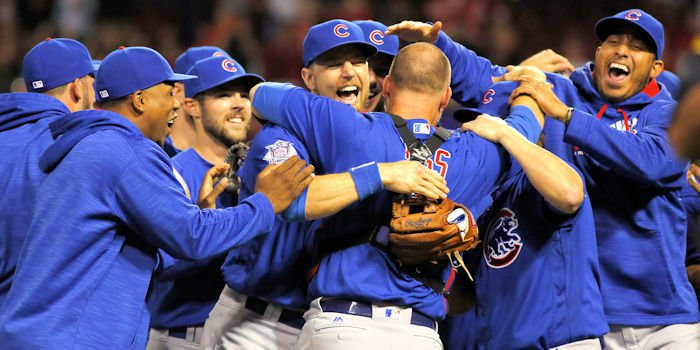 | | |
| --- | --- |
| Cubs are MLB's hottest ticket in 2017 | |
---
The Chicago Cubs won their first World Series since 1908 and ticket prices have surged as fans what to get a glimpse of the defending World Champions. According to our good friends at TicketIQ, the average asking price per ticket is $186 which is the highest they have tracked for the Cubs.
The home opener versus the Dodgers is the team's top ticket of the season, with an average asking price $443 and cheapest ticket going for $116. That is a 147% increase compared to last season's home game.
"For Cubs fans who couldn't pay thousands of dollars to see their team in the World Series, Opening Day is a more affordable way to be a part of history," TicketIQ founder Jesse Lawrence said.
Notable ticket stats from TicketIQ
--The Cubs have the 2nd highest boost to season average we've tracked after winning the World Series. Average price per ticket increased 32% from 2016 to $186 (the San Francisco Giants saw a 59% price hike to $91 following the 2012 WS victory).
--However the Cubs have BY FAR the biggest boost to Opening Day tickets. The average price of $443 is 147% more than last season's. The previous highest margin was a 39% boost to 2014 Opening Day tickets following the Red Sox 2013 WS Victory.
--If you're willing to skip Opening Day, the Cubs 2nd home game carries an average asking price of $211, a 52% drop.
--The Cubs cheapest game comes April 18th vs Milwaukee. Average asking price is $82 with cheapest seats $16.
Post World Series Winners Opening Day Data:
Post World Series Winners Opening Day Data:
2011 WS Winner: St Louis Cardinals
2012 Season AVG: $46, -11% y/o/y
2012 Opening Day AVG: $246, +50% y/o/y
2012 WS Winner: San Francisco Giants
2013 Season AVG: $91, +59% y/o/y
2013 Opening Day AVG: $246, -.8% y/o/y
2013 WS Winner: Boston Red Sox
2014 Season AVG: $104, +3% y/o/y
2014 Opening Day AVG: $395, +69% y/o/y
2014 WS Winner: San Francisco Giants
2015 Season AVG: $61, -1% y/o/y
2015 Opening Day AVG: $225, +39% y/o/y
2015 WS Winner: Kansas City Royals
2016 Season AVG: $62, 0% y/o/y
2016 Opening Day: $294, +44% y/o/y
2016 WS Winner: Chicago Cubs
2017 Season AVG: $186, +32% y/o/y
2017 Opening Day AVG: $443, +147% y/o/y