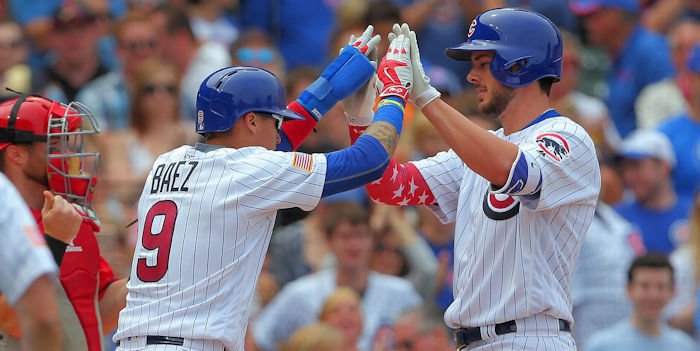 | | |
| --- | --- |
| Cubs dominate Mariners with offensive fireworks | |
---
CHICAGO -- Cubs (62-40) and Mariners met for the first time since 2013 on Friday afternoon and the Cubs dominated 12-1 in Seattle's second-ever visit to Wrigley Field. The All-Time series is now 8-5 in favor of the Cubs.
The 12 runs were the highest output by the Cubs offense this season at Wrigley Field.
Chris Coghlan singled on a line drive to center field to score Javier Baez and David Ross to put the Cubs up 2-0. The Cubs added to their lead in the inning as Kris Bryant hit a line drive single to left field to score Chris Coghlan to make it 3-0.
Surprisingly, Jason Heyward hit a two-run homer on a line drive to center field to put the Cubs up 5-0 in the bottom of the third inning. Heyward's home run was hit 102.5 MPH and went 383 feet which was the hardest home run he has hit this season. It was his first dinger since June 11 and 102nd of his career.
John Lester struck out the side in the fourth inning, and Heyward made a running catch on a Robinson Cano liner to end the fifth inning. Lester pitched beautifully with six scoreless innings giving up only four hits, two walks and seven strikeouts on 95 pitches.
The Cubs continued their power hitting as David Ross hit a solo homer to left-center field to put the Cubs up 6-0 in the bottom of the sixth inning. It was his 103rd home run of his career.
Three more runs were scored on a base-clearing double by Anthony Rizzo to make it 9-0 Cubs. Rizzo is now tied for the National League lead with 79 RBIs and is on pace for 120 on the season. Heyward continued his offensive production with a sacrifice fly that scored Rizzo to make it a dominant 10-0 in the bottom of the sixth inning. Javier Baez hit his third hit of the game to score Ben Zobrist to make it 11-0 and a six-run sixth inning.
The ground crews cover the field with the tarp in the seventh inning during a one hour and 14-minute rain delay.
Cubs slugger Kris Bryant was one of the players of the game getting on base five times with two singles, a double, two walks, a stolen base, and a RBI.
The Mariners scored a run in the ninth inning to break up the shutout but left the bases loaded to end the game.
July 29, 2016