| | |
| --- | --- |
| Cubs fall to 3-8, Chatwood starts Sunday, Darvish being sued, Cubs worth 3.1 billion, more | |
---
| | | |
| --- | --- | --- |
| Thursday, April 11, 2019, 8:07 AM | | |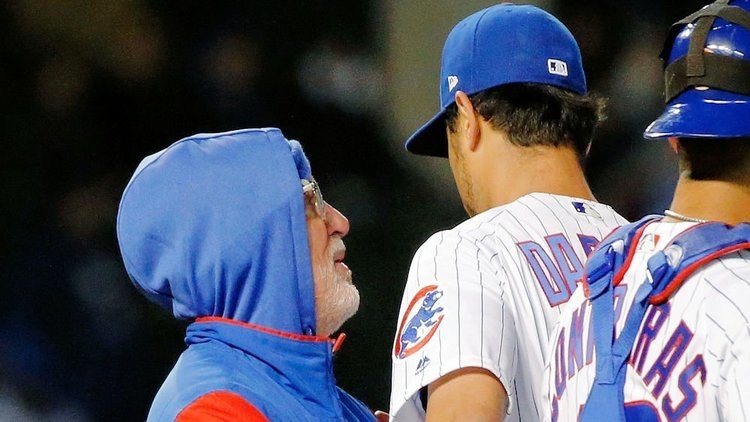 Next Game: Tonight, 7:05 PM. Pirates @ Cubs: RHP Joe Musgrove (1-0, 0.00 ERA) vs. Jose Quintana (0-1, 10.29 ERA).
CUBS NEWS AND NOTES:
Wednesday's Game Recap: With the Brewers dropping two-straight to the Angels, the Cubs needed another "W" to help close the gap. Yu Darvish, trying desperately to win the home fans over, took the mound last night against Pirates' righty, Jordan Lyles.
Darvish took another "L,'" but looked better in the process. Six solid innings, despite allowing five hits (2 HR) and four earned runs. The most significant factors in Darvish's favor were that he struck out 4 and walked nobody, exhibiting much better control. The Cubs were never really in this one, although Heyward added a moment of excitement with his fourth homer of the year.

Joe Maddon on replacing Lester: "We have to figure out how we're going to work it from there. Mike Montgomery is on the IL right now, so you have to wait on him. I think Tyler Chatwood has been throwing the ball well. And again, I don't even know if the guys upstairs have other thoughts regarding this."
Cubs/Angels Probable Pitchers: Friday: LHP Tyler Skaggs (1-1, 2.45) vs LHP Cole Hamels (1-0, 5.73 ERA); Saturday: RHP Chris Stratton (0-1, 6.48 ERA) vs RHP Kyle Hendricks (0-2, 6.48 ERA); Sunday: RHP Trevor Cahill (1-1, 3.50 ERA) vs RHP Tyler Chatwood: 0-0, 6.00 ERA.
Tim Collins: The Cubs have called-up lefty, Tim Collins, to take Jon Lester's (hamstring) place on the roster. Collins was signed very late in the spring after spending time with the Nationals last year. He had back-to-back Tommy John surgeries in 2015 and 2016 and has developed a cutter since returning to the big leagues. He threw 2.2 innings at Triple-A this season, giving up a run while striking out three.
Starting rotation: Lester's early departure on Monday didn't help, but going into last night, the Cubs had the lowest average numbers of innings pitched by any starting rotation in MLB (4.1 per start). The Cubs also currently have the highest rotation ERA in all of MLB (6.49). These numbers will likely improve as the season wears on, but in the interim, that's where the rotation currently stands.
Tommy Hottovy: "We all feel accountable. We all want to shoulder some of the blame. No one is solely responsible when things are bad. And it's not one person when things are good. It's a group effort. We're going to keep grinding. But sure, it was nice."
Yu Darvish: Yu Darvish and his wife Seiko are being sued by their neighbors Craig and Alexis Eylerover over a loss of property value. The neighbors claim that Darvish's cedar fence blocks their views of Lake Michigan on the first floor of their house.
"This was a hard decision for my husband and me to do this (to sue), but obviously our quality of life has been impacted, and our property values have been impacted." The court date is set for July 29th.
(NOTE: I'm considering filing suit against the Eylerovers for impacting my quality of life. The way I figure it, Darvish is going to be stressed over this, which will cause pitching issues. This may cause the Cubs to lose, and when that happens, I'm not nearly as happy as I usually am.)
Mike Montgomery: Monty was playing catch from 12 feet Wednesday and had no issues. He has a bullpen session tentatively scheduled for today. He's hoping to come off the IL, as scheduled, on Monday, but the bullpen session will tell a lot.
Team valuation: According to Forbes, the Cubs are now worth $3.1B, up 7% from last year. Per Forbes, the five most profitable teams are: (1) Dodgers ($95M); (2) Phillies ($94M); (3) Cubs ($87M); (4) Giants/Red Sox ($84M) and the White Sox ($76M).
Try Not to Suck beer: Joe Maddon has teamed up with the Haymarket Beer Company to develop, brew and release his own can of suds, "Try Not to Suck" beer. Proceeds from the sale of the beer will benefit children and families in Chicago's neighborhoods through Joe Maddon's Respect 90 Foundation, and homeless and jobless veterans through RnR Brews and Rags of Honor 1.
Oops: Who could ever forget their first trip to Wrigley Field to see the Cubs, especially for a home opener? Naila O'Connell sure won't. She was loving the day at the park until her nose was broken by one of Anthony Rizzo's foul balls.
Cub Birthdays: Birthday wishes (yesterday) to ex-Cubs Tom Lundstedt (70) and posthumously and Tom Parrott (151). Also celebrating posthumously yesterday was Kevin "Chuck" Connors, better known as "The Rifleman," (98).
NL CENTRAL SCHEDULE (April 7 – April 13, 2019)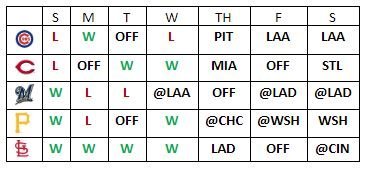 YESTERDAY'S SCOREBOARD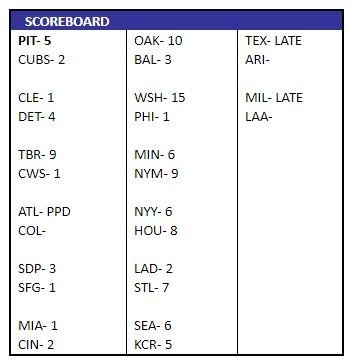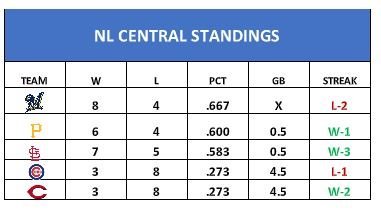 MLB News:
Billy Hamilton: There's no question that Hamilton is one of the fast players in all of MLB, but how fast is he? Tuesday night he managed to score from second base on a sacrifice fly.
Cardinals: Matt Carpenter has signed an extension worth $39M for 2020 and 2021 combined and another $18.5M for 2022 if he gets 1,100 plate appearances over the first two years.
Reds: The Reds are the first team ever to start a season with 2 or fewer wins in their first 10 games while scoring more runs than they've allowed (Run differential: +1).
Yankees: Luis Severino's MRI showed a Grade 2 lat strain that will cause him to be shut down from throwing for a period of six weeks. This is a new injury and unrelated to the shoulder inflammation issue that originally placed him on the IL

Tags: Cubs Baseball
,
Jose Quintana
,
Yu Darvish
,
Mike Montgomery
,
Tyler Chatwood
,
Cole Hamels
,
Kyle Hendricks
,
Trevor Cahill
,
,
Anthony Rizzo
,
Joe Maddon
,
Tommy Hottovy