| | |
| --- | --- |
| Cubs have highest odds to make 2017 World Series | |
---
| | | |
| --- | --- | --- |
| Wednesday, March 8, 2017, 12:05 PM | | |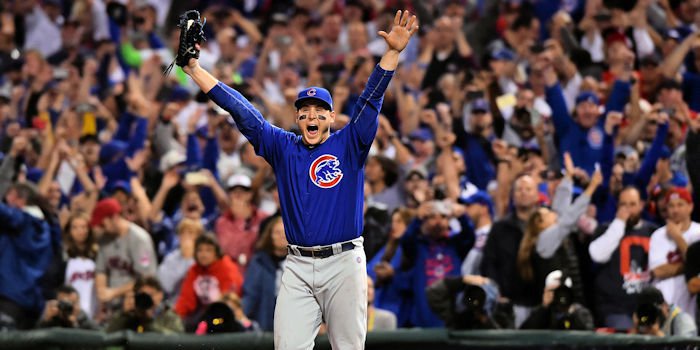 CHICAGO -- The Chicago Cubs won their first World Series title since 1908 so what could be better than that historic accomplishment? Well doing it all over again in 2017. The Cubs were recently labeled according to Vegas Sportsbooks as the frontrunners to win the 2017 World Series at 7-2 odds.
Vegas Sportsbook Bovada also released their betting odds on the projected regular-season win totals and the Cubs led the way with the highest projected win totals at 95.5. Now, Bovada has put out their odds for each major league team's odds for winning their division and their prospective league's pennant. According to the odds, the Cubs have the best odds to win the 2017 National League pennant at 7/4 odds.
Other National League contenders with the highest odds were the Los Angeles Dodgers (5/1), Washington Nationals (5/1), San Francisco Giants (6/1), and New York Mets (8/1).
On the opposite side of the winning spectrum, the Cubs rival Chicago White Sox are tied with the worst odds to win their league's pennant at 66/1 odds.
Latest MLB Pennant Odds
2017 AL Pennant - Odds to Win
Boston Red Sox 9/4
Cleveland Indians 7/2
Houston Astros 13/2
Toronto Blue Jays 10/1
New York Yankees 12/1
Texas Rangers 12/1
Baltimore Orioles 16/1
Detroit Tigers 16/1
Kansas City Royals 16/1
Seattle Mariners 16/1
Los Angeles Angels 22/1
Tampa Bay Rays 50/1
Chicago White Sox 66/1
Minnesota Twins 66/1
Oakland Athletics 66/1
2017 NL Pennant - Odds to Win
Chicago Cubs 7/4
Los Angeles Dodgers 5/1
Washington Nationals 5/1
San Francisco Giants 6/1
New York Mets 8/1
St. Louis Cardinals 11/1
Pittsburgh Pirates 20/1
Colorado Rockies 22/1
Miami Marlins 33/1
Atlanta Braves 40/1
Arizona Diamondbacks 50/1
Philadelphia Phillies 66/1
San Diego Padres 66/1
Cincinnati Reds 75/1
Milwaukee Brewers 75/1
MLB Divisional Odds
AL East - Odds to Win
Boston Red Sox 4/7
Toronto Blue Jays 17/4
New York Yankees 11/2
Baltimore Orioles 15/2
Tampa Bay Rays 18/1
AL Central - Odds to Win
Cleveland Indians 1/4
Detroit Tigers 11/2
Kansas City Royals 7/1
Chicago White Sox 25/1
Minnesota Twins 28/1
AL West - Odds to Win
Houston Astros 6/5
Seattle Mariners 11/4
Texas Rangers 11/4
Los Angeles Angels 9/1
Oakland Athletics 14/1
NL East - Odds to Win
Washington Nationals 5/7
New York Mets 8/5
Miami Marlins 12/1
Atlanta Braves 16/1
Philadelphia Phillies 20/1
NL Central - Odds to Win
Chicago Cubs 1/5
St. Louis Cardinals 11/2
Pittsburgh Pirates 17/2
Cincinnati Reds 33/1
Milwaukee Brewers 33/1
NL West - Odds to Win
Los Angeles Dodgers 2/5
San Francisco Giants 11/4
Colorado Rockies 9/1
Arizona Diamondbacks 16/1
San Diego Padres 50/1