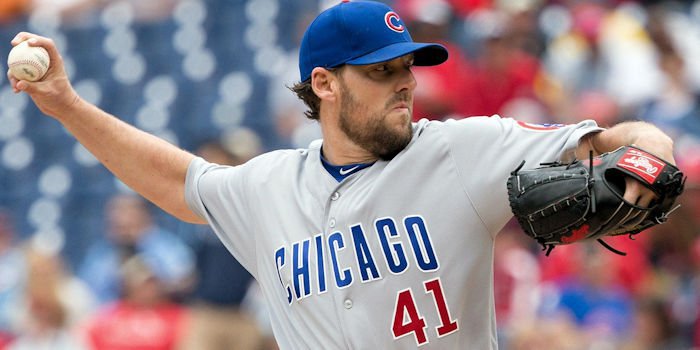 | | |
| --- | --- |
| Cubs lose despite another Bryant homer | |
---
NEW YORK -- The New York Mets swept the Cubs out of the playoffs last year and caused more trouble for them in Thursday evening's game. Kris Bryant was back at it again with another home run and Javier Baez also homered, but it wasn't enough as the Mets came from behind to take the 4-3 win.
After the Cubs had swept the Reds, they carried the momentum to New York to face the Mets. The first inning saw the first batter getting onto base as Ben Zobrist hit a solid single. Kris Bryant took a bite out of the Big Apple hitting a home run, putting the Cubs ahead 2-0 in the first inning. Bryant is now tied for the most home runs in the National League along with Adam Duvall with 22.
Zobrist made a notable leaping catch in the 4th inning to rob Yoenis Cespedes of extra base hits, and John Lackey had five strikeouts and only two hits allowed after four innings pitched. Anthony Rizzo extended his hit streak to 11 games after crushing a ball off of the right field wall to earn himself a double. The Cubs would leave him stranded though as they went to the bottom of the fifth inning still leading 2-0.
The fifth inning caused trouble for Lackey as he walked two in the inning, but was able to get out of the jam as the Mets stranded two players on base. Baez put the Cubs up 3-0 in the sixth with a solo home run (his eighth of the year) as he crushed a 1-2 pitch into the left field seats. Cespedes then smacked a 440 ft. homer to land the Mets on board in the sixth, but the Cubs still held onto the lead going into the seventh with a score of 3-1. Lackey pitched 6.1 innings, five strikeouts, and allowed five hits. Matz pitched 5.1 innings for the Mets with six strikeouts and allowed seven hits.
Brandon Nimmo had his first career RBI in the 7th to put the score at 3-2, with the Cubs barely hanging on. The Mets then took the lead 4-3 after an errant thrown by Baez goes past Bryant, scoring Nimmo for the Mets.
The Cubs began the ninth inning with a walk taken by Montero. Zobrist then crushed a ball to earn a double with no outs and two on. Jeurys Familia struck out Bryant and then intentionally walked Anthony Rizzo to bring Willson Contreras up to bat with the bases loaded. Contreras struck out, and finally, Baez poped out to give the Mets the win.
The Cubs will be back at it again tomorrow as they continue play against the Mets to begin July. Jason Hammel and Jacob deGrom will battle it out on the pitcher's mound.