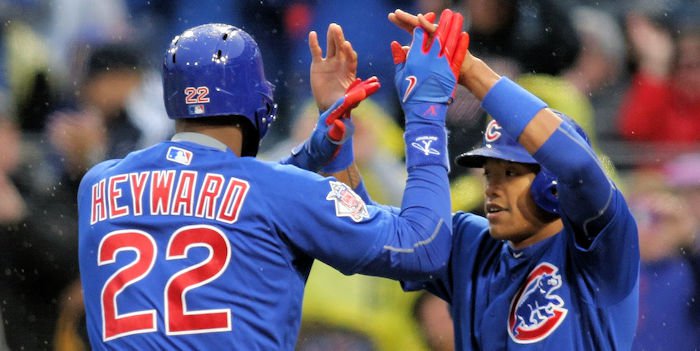 | | |
| --- | --- |
| Cubs sink Pirates in blowout fashion | |
---
PITTSBURGH -- The Cubs came to PNC Park to avenge last weekend's sweep at the hands of the Pirates and avenge it they did. The Boys in Blue dropped a 14-spot Monday night against Pirates' starter Chad Kuhl (1-2, 6.63 ERA), pounding the Pirates 14-3. The 14 runs tied a franchise-high total in Pittsburgh and is the new season high total.
Jason Heyward continued his hitting streak by clubbing a three-run homer over the right field wall, his third of the year. He continues to lead the team in batting average and surged ahead as the team leader in RBI. As regulars like Javy Baez and Ben Zobrist have struggled out the gate, Heyward has been rock solid and always improving on the new swing he took so long to remaster.
Jason Heyward has 10 RBI in his last four games.

And three of these: pic.twitter.com/er2wXItgH8

— Chicago Cubs (@Cubs) April 24, 2017
Addison Russell made a lot of contact, connecting on four singles to go with an RBI for the first four-hit game of his career. Russell raised his average by over 40 points to a respectable .289.
Brett Anderson (2-0, 3.54 ERA) picked up the win. He gave up three runs, but he certainly could have given up more considering the run support. Anderson has had a good start to his career with the Cubs having given up the second-fewest amount of earned runs among Cubs starters. His walk rate is the highest, but just getting healthy innings out of him at this point is what matters.
By making it through six innings, he also becomes the first Cubs pitcher in a week to throw a quality start which really sheds extra light on how overpowering the Cubs' offense has really been. Yesterday, the Cubs were on pace to match last season's output for runs scored. It is likely they surpass that mark if Heyward hits around his career average.
Tuesday's pitching matchup will be Kyle Hendricks (1-1, 6.19 ERA) against Pirate ace Gerrit Cole (1-2, 4.70 ERA). Both righties are struggling to start off the year, but Hendricks particularly so after winning the National League ERA title last year. First pitch is scheduled for 7:05 PM EDT.
Moves like Javy: https://t.co/VUJFaN96Gr pic.twitter.com/kt1iCg1Tyt

— Chicago Cubs (@Cubs) April 25, 2017
.@Addison_Russell picks up his 4th hit (career high) and scores his 3rd run of the game.#Cubs lead 12-1 in the 6th. pic.twitter.com/Lo0Wxbt9AC

— Chicago Cubs (@Cubs) April 25, 2017
.@BAnderson3737 exits with a quality start, RBI single and a 13-3 lead.

And this barehanded highlight ???? https://t.co/TY0ilnDH9y pic.twitter.com/1IknCI4615

— Chicago Cubs (@Cubs) April 25, 2017
Cubs win!

Final: #Cubs 14, #Pirates 3. pic.twitter.com/Op95ONRJRs

— Chicago Cubs (@Cubs) April 25, 2017