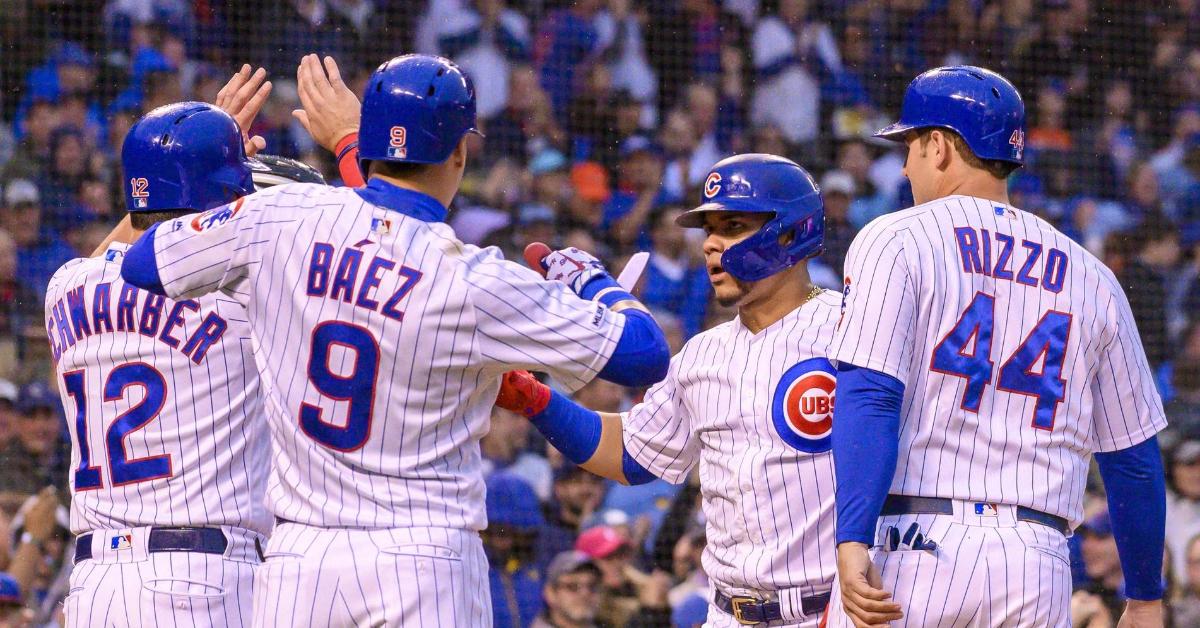 | | |
| --- | --- |
| Cubs vs. Pirates Series Preview: TV times, Starting pitchers, Predictions, more | |
---
| | | |
| --- | --- | --- |
| Friday, September 13, 2019, 12:40 PM | | |
The Cubs are finally back home, beginning their last homestand of the season, as they entertain the Pirates for the weekend. Starting with this series, the Cubs will play only divisional opponents from now until the end of the 2019 season.
Enjoy it while you can, 2019 is just about over.
Injury Report:
CUBS: Kris Bryant (day-to-day- knee); Javier Baez (thumb); Yu Darvish (limited pitch counts- forearm tightness); Craig Kimbrel (elbow- though he is expected to be activated during this series); Addison Russell (concussion protocol).
PIRATES: Chris Archer (shoulder); Lonnie Chisenhall (Hand); Kyle Crick (finger); Gregory Polanco (shoulder); Jameson Taillon (elbow).
Series Overview:
Not that it makes any difference now, as Pittsburgh's been eliminated, but they seem to have picked up the pace, which is certainly not what the Cubs need this weekend. With every passing day the Cubs' hopes for making the playoffs look dimmer and dimmer, while Milwaukee, once thought to be out of it, is charging again.
The Cubs have now run out of time to try new strategies, lineups and batting orders, as they've reached the point where it's go, or go home. I wish that I could tell you the Cubs are going to come charging out of their (year-long) funk, but I just don't see it, and I haven't seen it since May. At this point, the Cubs may as well have a little fun, and enjoy time with teammates and Joe Maddon before the offseason takes its toll on this roster.
Even Theo Epstein sounded much like a disgruntled Cubs' fan Thursday, as he lashed out while being interviewed on 670 The Score. "We have our challenges. Every team has its challenges, Epstein said. "Essentially, we've been a .500 team for months now, even when we were healthy."
Theo went on to say, "I'm embarrassed at the on-base numbers out of our leadoff spot. That's not the way to build an offense."
Mound Matchups
Friday: LHP Jon Lester (12-10, 4.51 ERA) vs LHP Steven Brault (4-4, 4.13 ERA). Game information: 3:05 PM CDT; Televised on NBC Sports Chicago and MLB Network (out of market only).
This will be Big Jon's fourth start against the Pirates, and the Cubs have won all three of those games. Outscoring Pittsburgh 22-4, Lester has received a ton of run support from his offense, while pitching a combined total of only 14.2 innings in those starts. Lester would only pitch two innings before being injured in his first start against Pittsburgh (Wrigley Home Opener on April 8th), when he slid into home.
Over those 14.2 innings, Lester allowed only three earned runs on 15 hits (two homers) and six walks while striking out 13. Jon's ERA vs. Pittsburgh this year is 1.84, although his home ERA against them is 3.12.
Brault has seen the Cubs twice, so far, this year, and they've done well against him. His first outing (April 8th at Wrigley) resulted in a 10-0 loss, in which the Cubs tagged him for four earned runs on four hits (one homer) and two walks, while only incurring two strikeouts. Brault only lasted three innings that day. In his second outing (at PNC Park on August 17th), Brault lasted seven innings, allowing just one earned run (a homer) on two hits and a walk while striking out eight.
Saturday: RHP Kyle Hendricks (10-9, 3.33 ERA) vs RHP James Marvel (0-1, 3.60 ERA). Game information: 1:20 PM CDT; Televised on NBC Sports Chicago and MLB Network (out of market only).
This will make the Professor's third start against the Bucs in 2019, and the Cubs are 0-2 against Pittsburgh with Hendricks on the mound this year. The good news (or bad news, depending on how you view it) is that both of those starts occurred at PNC Park.
Hendricks only lasted three innings in his first outing (July 2nd), allowing two earned runs on four hits, while walking one and fanning four. In his second outing (August 16th), Kyle fared a lot better, lasting seven innings, while allowing one run on three hits and a walk (one strikeout). In both cases run support was an issue, as the Cubs failed to score in any of the ten (combined) innings that Hendricks was on the hill.
Hendricks is a beast at Wrigley, posting a 5-2 record with a 1.77 ERA, versus his road record of 5-7 (4.94 ERA). As always, finesse is the key for Kyle to have a successful outing, but the Cubs have got to give him some run support.
Rookie-righty, James Marvel hasn't ever faced the Cubs, with his only start being against the Cards on September eighth. Marvel lasted five innings in that start, allowing two earned runs on four hits and a pair of walks (two strikeouts).
Sunday: LHP Jose Quintana (13-8, 4.00 ERA) vs RHP Trevor Williams (7-6, 5.21 ERA). Game information: 1:20 PM CDT; Televised on WGN and SAP WGN.
Q has been knocked around a little in his last couple of starts, allowing a total of eight earned runs over eight innings of work. He'd been keeping the ball inside the park but has now allowed three homers in his last two games.
His outing against Milwaukee on September fifth saw him last just five innings on 102 pitches (five hits, five strikeouts, and two walks), but the Cubs won that battle by a final of 10-5. In his last outing (September 10th vs. San Diego), Q was lit up for four runs in just three innings (57 pitches), before Maddon yanked him. Q allowed a total of seven hits (one home run) while fanning only one (no walks).
Trevor Williams will be making his third start against Chicago this year, with the Pirates going 1-1 against the Cubs during his two starts. In his first outing (July 1st at PNC Park), the Cubs clobbered Williams, but Pittsburgh would end up massacring the Cubs 18-5, with Williams lasting 5.2 innings, giving up five earned runs on nine hits (one home run) and three walks (also one HBP) while striking out four.
In his second outing (July 14th at Wrigley Field), Williams would last another 5.1 innings, allowing eight earned runs on 11 hits (three dingers) and three walks, while fanning four. The Cubs would cruise to an 8-3 victory (at Wrigley Field).
Series Prediction:
The Cubs haven't been playing like they want to win, but I think they'll figure out a way to beat the Pirates two out of three in this series. The pieces are all in place for a sweep, but the Cubs just haven't been capable of winning three in a row. If I had to guess on what may go wrong, I'd say it would have to be Lester not having a good start.
Next up: The Cubs face the always problematic Reds for a three-game set.