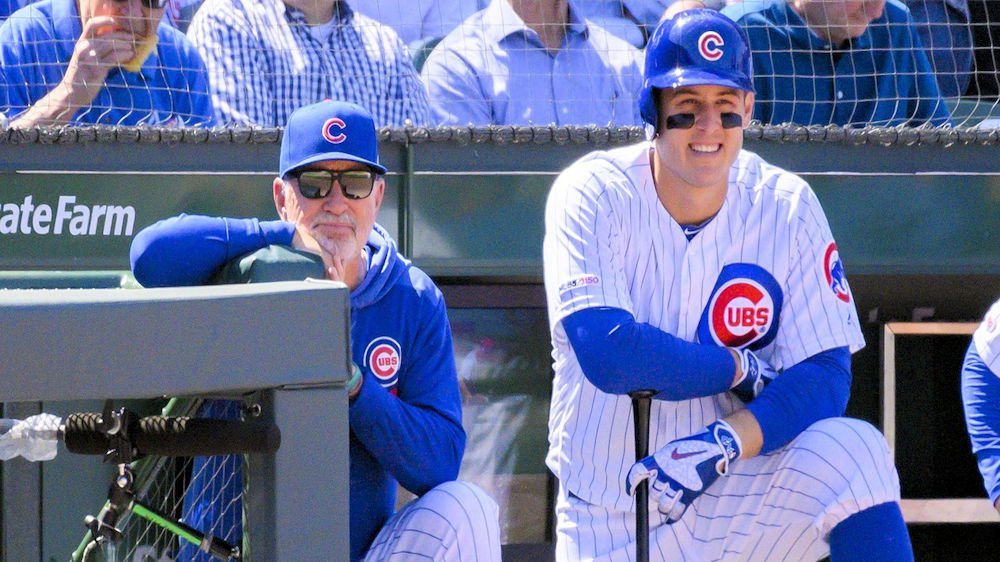 | | |
| --- | --- |
| Cubs vs. Pirates Series Preview: TV times, Starting pitchers, Predictions, more | |
---
Mercifully, the Cubs schedule is down to just seven games. After being swept by the Cardinals at home over the weekend, Chicago was left both eliminated and devastated, clinging to life in the wildcard race. Not that the Pirates are in any better shape, having gone 1-9 over their last ten, which includes being swept by both the Cubs and Brewers.
While the Cubs travel to St. Louis to finish their season, the Bucs will stay home to host the Reds, to finish theirs.
Injury Report:
CUBS: Javier Baez (thumb); Kris Bryant (ankle sprain); Anthony Rizzo (still day-to-day with an ankle sprain).
PIRATES: Chris Archer (shoulder); Josh Bell (groin); Kyle Crick (season-ending injury to finger after punching "teammate," Felipe Vazquez, in a locker room brawl); Felipe Vazquez (restricted list and soon to be banned from MLB, following felony charges involving a minor child); Elias Diaz (knee); Starling Marte (wrist, but is due to be activated for this series).
Series Overview:
The Cubs destroyed the Pirates in Chicago last week, outscoring them by a total of 47-15, for three days. Either the Pirates are just that bad, or the Cardinals are that damn good, as what the Cubs experienced over last weekend with St. Louis was plain brutal.
Now eliminated from winning the NL Central with a week still to play, the Cubs will try to save face, by pounding on Pittsburgh, to try to reach the 85-win mark- 10 less than last year.
The Pirates? They're a hell of a lot worse off than the Cubs, but then again, nobody expected much of them. Complete discourse in the clubhouse, pitchers being arrested on felony charges, oh, and then there's their record that bears almost 20 losses more than they had a year ago.
The Cubs will take their 31-44 (.413) road record into PNC Park, as they face the Pirates with a home record that's ironically identical to the Cubs' road record.
Mound Matchups:
Tuesday: RHP Kyle Hendricks (11-9, 3.26 ERA) vs RHP Mitch Keller (1-5, 7.74 ERA). Game information: 6:05 PM CDT; Televised on NBC Sports Chicago.
Last time around (September 14th), Kyle Hendricks lasted six full innings, holding the Pirates to just one run. This will be his fourth start against Pittsburgh this year, and thus far Kyle has posted a 2-0 record with a 2.25 ERA while pitching against them.
Keller has only faced the Cubs once this season (August 18th), and the Cubs did a number on him. For 4.1 innings, Chicago tagged Keller for six earned runs on seven hits (2 HR) and a pair of walks, while Keller fanned five. In his last two starts (vs. the Giants and Mariners), Keller has given up seven runs throughout ten innings.
Wednesday: LHP Jon Lester (13-10, 4.51 ERA) vs RHP Dario Agrazal (4-5, 5.08 ERA). Game information: 6:05 PM CDT; Televised on WGN.
Big Jon is 3-0 with a 3.20 ERA in four starts against the Bucs this season, but in the overall scheme of things, Lester has struggled like hell this month. He's got a winning record (2-1) for September, but his 5.48 ERA for the month is through the roof.
In Lester's last outing (vs. the Reds), Maddon pulled him after just 77 pitches (5.0 innings), with the teams tied at one apiece. Lester appeared to say nothing as Maddon walked to the mound that day, but oh if looks could kill. The decision would eventually prove fatal for the Cubs, as they lost in extras by a final of 3-2.
Agrazal has yet to face the Cubs this season, but since he rejoined the Pirates' rotation last month, he's been clobbered to the tune of a 6.94 ERA in five starts. Last time out, the Mariners got him for four runs in five innings, while in the outing before that, the Giants tagged him for three in just four innings.
Thursday: Jose Quintana vs RHP Joe Musgrove (10-12, 4.49 ERA). Game information: 6:05 PM CDT; Televised on NBC Sports Chicago and MLB Network (out of market only).
Musgrove has seen the Cubs a total of three times this season, and the Pirates have gone 2-1 in those starts. For those starts, Musgrove has been strong, pitching a combined 16.2 innings, while allowing just two earned runs (0 homers) on nine hits and two walks, while fanning 19.
Series Prediction:
The Cubs should be able to tar and feather the Bucs again, but with the way things have gone over the last four days against St. Louis, who knows anymore? Realistically, the Cubs will probably take two of the three, but I'll go ahead and say the Cubs will sweep this series in a big way, as I won't be able to say it again this year.
Next up: Cubs vs. Cards from Busch Stadium, for the final three days of the Cubs' 2019 season.