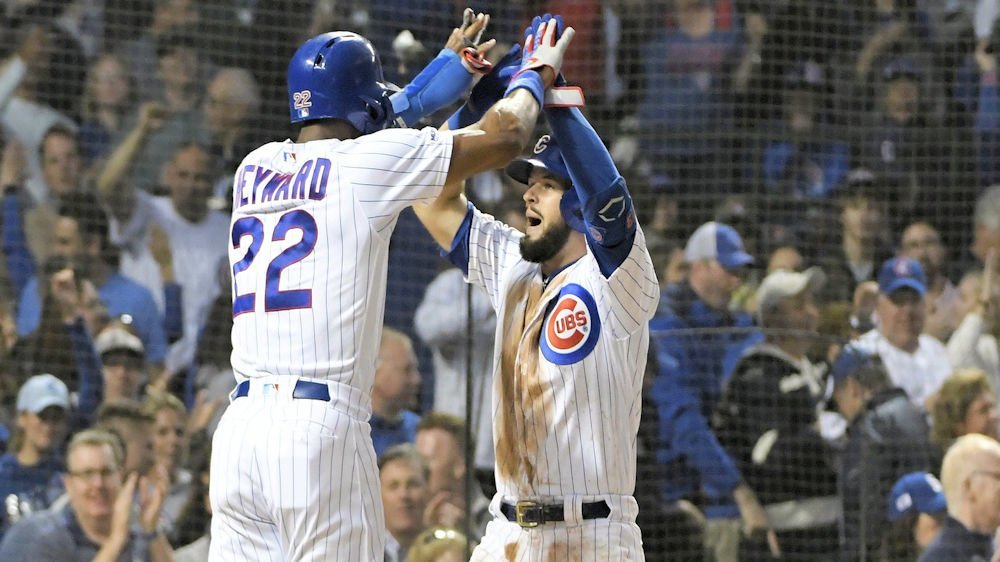 | | |
| --- | --- |
| Cubs vs. Reds Series Preview: TV times, Starting pitchers, Predictions, more | |
---
The Cubs enter this series with Cincinnati, riding a massive wave after massacring the Pirates 47-15 over the last three days. The Reds have played better lately, taking two from the D-Back over the weekend, which has helped everyone in the NL wildcard race, including Chicago.
Meanwhile, the Cardinals have slipped a bit, dropping two to Milwaukee over the weekend, which has allowed the Cubs to pull within two, but the pesky Brewers maintain just a one-game gap between themselves and Chicago.
As the Cubs wind down their final games at Wrigley, they'll face the Reds for three games, then host the Cards for a four-game set. Finishing things on the road, they'll head to PNC Park to play three with the Bucs, then down to St. Louis for their final four with the Cards.
Injury Report:
CUBS: Javier Baez (thumb); Craig Kimbrel (elbow); Addison Russell concussion list); Anthony Rizzo (ankle sprain).
REDS: Nick Senzel (shoulder); Kyle farmer (oblique); Jesse Winker (neck); Alex Wood (back).
Series Overview:
This series could be very dicey for the Cubs, as the Reds always seem to play them like it's the seventh game of the World Series. Complicating things even more, Milwaukee has gone 9-1 over their last 10, so the Cubs have no room for error in this set.
David Bell switched up his rotation for this series last night, which will (or at least should) bode well for the Cubs, as they will no longer have to face Luis Castillo. Sonny Gray will still be pitching, but rather than to square off against Hamels, he'll face Yu Darvish tomorrow night instead. Hamels' performances have been troubling, but the Cubs will have a better opportunity to make up for any shortcomings by Cole, as they'll face Kevin Gausman. Likewise, Jon Lester continues to be shelled, but instead of facing Luis Castillo, he'll now pitch against Tyler Mahle. If there's one thing in the Cubs' favor, it's that Tyler Mahle's 2-11 record and 5.11 ERA speak for themselves.
The Cubs' home record has to be considered, and the Reds' road record is atrocious, but somehow, the teams have played to a 3-3 split at Wrigley Field this year, with the overall series record at 9-7 in favor of Cincinnati. Cincinnati has nothing to lose at this point, as they've now been eliminated from a playoff spot, but for the Cubs, everything is at stake.
The Reds' will undoubtedly miss Nick Senzel (torn shoulder labrum) and Jesse Winker (neck), but not nearly as much as the Cubs are missing Javier Baez (thumb), Anthony Rizzo (ankle) and Craig Kimbrel (elbow). Nico Hoerner has been a Godsend, stepping up to fill some awfully big cleats, but how much better could you get than a Baez-Hoerner double-play combo? If Hoerner keeps his pace throughout the rest of the season, you can bet that he'll be buying a house in Chicago sometime soon.
Mound Matchups
Monday: LHP Cole Hamels (7-7, ERA) vs. RHP Kevin Gausman (3-8, 5.83 ERA). Game information: 7:05 PM CDT; Televised on NBC Sports Chicago.
The Cubs have split with the Reds in the two outings that Hamels has had against them, though during his first outing on June 28th, Hamels only lasted one inning, due to suffering an oblique strain. In that outing Hamels allowed an earned run on two hits while striking out one and issuing a walk. In his last start against Cincinnati on August 8th, Cole lasted three innings while giving up five runs (four earned runs) on eight hits (one HR) and a pair of walks; Hamels struck out just two in that game.
Since returning from his injury, Hamels has had more bad days than good ones, lasting only 34.2 innings in eight starts (average of 4.33 innings per start). During that period, Hamels has pitched to an ERA of 6.49, while giving up 54 hits, eight homers and 16 walks (34 K over that time frame).
Gausman has only seen the Cubs once this year, as he pitched two innings in relief for Alex Wood. The Cubs tagged Wood for five runs in the first three innings, and then nailed Gausman for another pair. Gausman gave up a home run that day (four hits) while fanning two.
Tuesday: RHP Yu Darvish (6-6, 3.97 ERA) vs. RHP Sonny Gray (10-7, 2.80 ERA). Game information: 7:05 PM CDT; Televised on ABC-7 and ESPN.
With Lester and Hamels struggling, Yu Darvish has emerged as one guy that the Cubs can count on. He continues to rake strikeouts (now 204 for the year), while only walking a total of six men over his last 12 outings (99 strikeouts in that time frame).
The Cubs have gone 2-2 against the Reds this year with Darvish on the mound, and he's averaging just over six innings per start against them. During those outings, Yu has given up a total of 10 earned runs on 23 hits (6 homers) and just two walks, while fanning 32; he's also plunked two batters.
The Reds are 2-1 against the Cubs this year when Gray takes the hill. In those outings, Gray has pitched a total of 17.1 innings, allowing seven earned runs on 11 hits, with five of the 11 being home runs. Gray's been stingy with the walks, allowing only one against the Cubs, while fanning a total of 21. Both of gray's wins against Chicago this season have been played at Wrigley, with the loss coming at Great American Ballpark.
Wednesday: LHP Jon Lester (13-10, 4.59 ERA) vs RHP Tyler Mahle (2-11, 5.11 ERA). Game information: 7:05 PM CDT; Televised on WGN and SAP WGN.
This will make Jon's third start against Cincinnati this year, and the Cubs have split the two games. In Lester's first outing (June 30th), the Cubs suffered an 8-6 loss (road game), with Jon lasting 5.2 innings. He'd allow four runs (three ER) on five hits (one homer) and two walks while fanning eight and walking two.
On August 11th, Jon faced the Reds at Wrigley- a game that saw the Cubs win by a final of 6-3. Jon would only go five innings that day, again allowing three earned runs, this time on five hits (one homer) and three walks, while fanning seven.
Mahle has only seen the Cubs one time this year (May 25th), and the Cubs were able to sneak away with an 8-6 win in the outing. Mahle lasted five innings that day, allowing a half-dozen earned runs (3 homers) on nine hits and a walk while fanning five.
Series Prediction:
Prior to the Reds switching their rotation around, I'd initially written, "I so want to call this one a sweep for the Cubs, as they desperately need it, while preparing for their seven upcoming games with the Cards, but I just don't see it." At this point, even without Anthony Rizzo or Javy, I think the Cubs take the series 2-1, with about a 70-30 chance that they'll sweep.
Next up: Cubs vs. Cardinals at Wrigley Field for a four-game set that could potentially either the see the Cubs assume first place in the NLC or drop to third place if things go radically wrong. Tentatively, Kyle Hendricks will face righty, Jack Flaherty, for the first game of the series, which will start on Thursday at 6:15 PM Central (FOX).

Upgrade Your Account
Unlock premium boards and exclusive features (e.g. ad-free) by upgrading your account today.
Upgrade Now