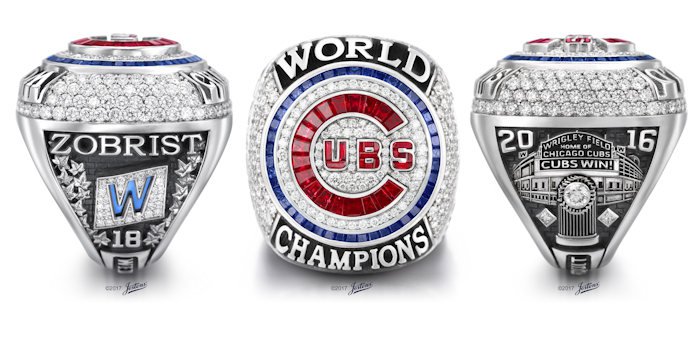 | | |
| --- | --- |
| Fans can win the final Cubs 2016 World Series Ring | |
---
| | | |
| --- | --- | --- |
| Friday, July 7, 2017, 11:43 AM | | |
CHICAGO – Cubs Charities has announced one fortunate fan will win a player-grade 2016 World Series Ring, donated by Jostens. Starting July 7, Cubs fans can purchase Cubs Charities World Series Ring Raffle tickets for $10 each in order to win the prestigious ring. The 2016 World Series Ring offered through this raffle is the only player-grade version available for fans to own, and will be customized with the winner's last name.
The ring, which commemorates the team's historic 2016 season, is made from 14-karat white gold. Its top features the traditional Cubs bullseye logo masterfully crafted from 33 custom-cut genuine red rubies surrounded by 72 round white diamonds, all within a circular perimeter made up of 46 custom-cut, genuine blue sapphires. The bezel is surrounded by 108 round, white diamonds lifting the Cubs logo to victory and signifying the end of a historic 108-year championship draught. Overall, the ring contains 214 diamonds at 5.5 carats, 3 karats of genuine red rubies and 2.5 karats of genuine sapphires.
In accordance with state and local law, Ring Raffle tickets are only available in Chicago. In an effort to ensure more fans get an opportunity to participate in this one-of-a-kind raffle, Cubs Charities has placed Cubs Charities World Series Ring Raffle Kiosks powered by Motorola, utilizing Lenovo tablets, at locations in Wrigleyville and downtown Chicago.
Cubs Charities World Series Ring Raffle tickets can be purchased at Wrigley Field on gamedays near Fan Services in the Budweiser Bleachers and by the Audi Club near Gate D, or at the Cubs Store locations on Michigan Avenue and the Park at Wrigley.
Cubs fans who live within Chicago's city limits can buy a Ring Raffle ticket at the locations listed above or online at www.cubs.com/ringraffle.
The Cubs Charities World Series Ring Raffle will close Monday, September 4, at 10 a.m. CDT, with the winning number announced Tuesday, September 5.
Proceeds from the Ring Raffle will benefit Cubs Charities, which increases access to sports opportunities and targets improvements in health, fitness and education for those at risk.
For the full list of Cubs Charities World Series Ring Raffle rules, visit www.cubs.com/ringraffle.