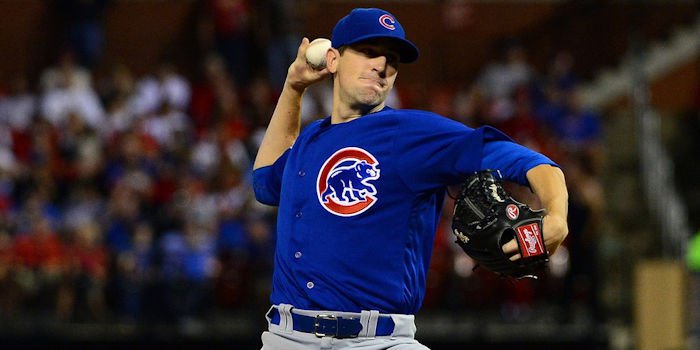 | | |
| --- | --- |
| First Look: Cubs series vs. Brewers | |
---
WHO: Defending World Series Champion Chicago Cubs (2-1) vs. Milwaukee Brewers (1-3)
WHERE: Miller Park in Milwaukee Wisconsin, chance of rain in forecast
WHEN: Friday 8:10 pm (est)
Saturday 7:10 pm (est)
Sunday 2:10 pm (est)
Pitching Matchup
Friday: Cubs Brett Anderson (LHP) vs Brewers Jimmy Nelson (RHP)
Saturday: Cubs Kyle Hendricks (RHP) vs Brewers Junior Guerra (Maybe due to injury) (RHP)
Sunday: Cubs Jake Arrieta vs Brewers Zach Davies (RHP)
Pitching breakdown
Cubs are still on the road, now heading to play the Brewers for a three-game series. The starting three pitchers could not be any different between the two sides. For the Cubs Joe Maddon selected starting pitchers Brett Anderson, Kyle Hendricks, and Jake Arrieta. There are 23 years of experience between all three. While Brewers manager Craig Counsell went with Jimmy Nelson, Junior Guerra, and Zach Davies all together having only eight years of experience. The young Brewers pitching staff will be under loads of stress having to face the Cubs talented lineup.
As of now, the Brewers have new management leading the way. Craig Counsell has only been their manager for less than a year but has the knowledge to lead this team as he was named 13th smartest sports athlete in 2010 and they have highly regarded pitching coach Derek Johnson on board last season. He was the coordinator for the Cubs' minor league team for three seasons and had a great career at Vanderbilt for 12 years. Although the staff experience will help, the Brewers pitchers are young and fairly new to the major leagues.
Preview of Friday's Cubs Brett Anderson (LHP) vs. Brewers Jimmy Nelson (RHP) matchup
Brewers pitcher Jimmy Nelson has only played four major league seasons for a total 80 games played. His April average ERA is 3.16, slightly better than his 2016 ERA of 3.40. He has won five games and lost seven games pitching at home. Jimmy has struggled to pitch at night in the 2016 season putting his ERA at 4.47. Facing against right-handed batters creates many problems, for example, he has an OPS of .802. Right-handed hitters have an OBP of .365 and an SLG of .763. If Cubs bats are hot, Nelson will have to be on fire to win.
Cubs Pitcher Brett Anderson had a horrific 2016 season only playing four games with an ERA of 11.91. Anderson in the 2015 season played in 31 games and had an ERA of 3.69. His career ERA of 3.86 makes his average in 2015 season the same; his away ERA is 3.07. In 2015 he had 5.49 ERA in April but his best month was in May. Anderson also struggles against right-hand batters having a OPS of .737. Hitters averaged .276 while their OBP was at .319 facing right batters. The numbers between the two are quite similar; this game will go down to who bats better in clutch situations. As far as 2016 numbers go, the two pitchers are relatively even.
Preview of Saturday's Cubs Kyle Hendricks (RHP) vs. Brewers Junior Guerra (RHP) matchup
Brewers pitcher Junior Guerra has never pitched the month of April besides his last start on April third. Guerra got hit by a pitch on his right calf and might not be able to compete in this game making his status day to day according to Craig Counsell. If he were to play, his career ERA of 2.94 was improved upon in 2016 with an ERA of 2.81, slightly better. Keep in mind that he has only played two seasons but having an impressive ERA of 2.94. Having a home ERA of 2.23 and a May ERA of 3.47. He struggles a little bit getting started and it showed in his first game before the injury. Right handed batters do slightly better than left-handed hitters having a OPS of .645, with an OBP of .289 and an average of .231. Therefore, not a pitcher the Cubs bats can take lightly.
Cubs pitcher Kyle Hendricks has a career ERA of 2.92 and a 2016 ERA of 2.13. An away ERA of 2.95 with an April ERA of 3.91 cannot hide that he is not as good vs. left-handed batters with an OPS of .616. This gives him an AVG of .219, OBP of .277, and SLG of .339. At Miller Park, he has an ERA of 3.97 and has struggled against the Brewers.
Preview of Sunday's Cubs Jake Arrieta (1-0)(RHP) vs. Brewers Zach Davies (RHP) matchup
Brewers pitcher Zach Davies has a career ERA of 3.92 and a 2016 ERA of 3.97. His home ERA is 3.75 with an ERA of 8.75 in April. Left-handed batters seem to have their way with a OPS of .768. Left-handed hitters have an AVG of .272 over Davies across his entire career. Finally, he has an SLG of .445 and OBP of .323 in his 2016 season against left-handed batters.
Cubs veteran pitcher Jake Arrieta pitched an impressive game against the Cardinals on Tuesday night giving up no earned runs on four hits in six innings.

Upgrade Your Account
Unlock premium boards and exclusive features (e.g. ad-free) by upgrading your account today.
Upgrade Now