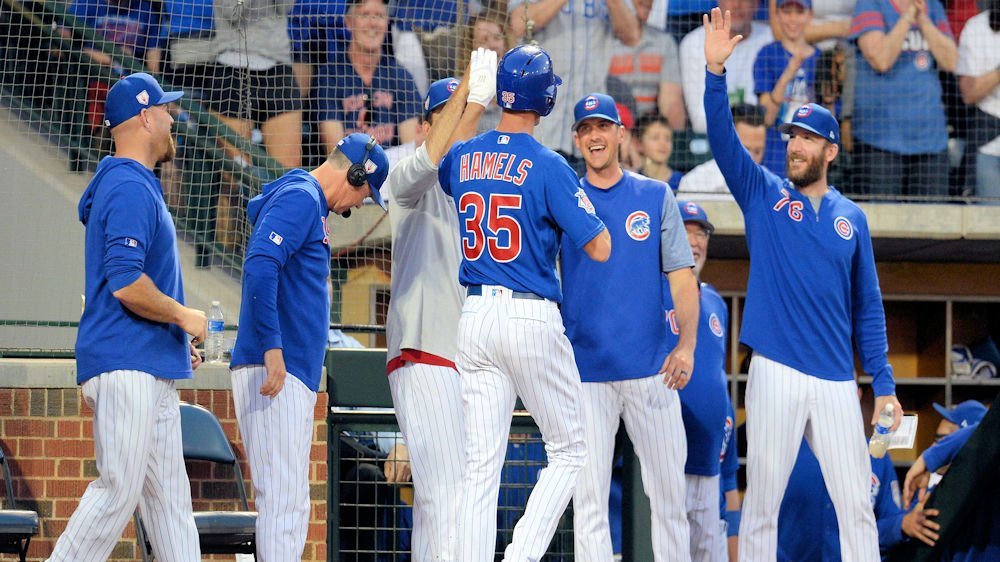 | | |
| --- | --- |
| Fly the W, Hamels bomb, Strop healthy, Zo pitching, Cubs buy a Fiat, and MLB notes | |
---
| | | |
| --- | --- | --- |
| Tuesday, March 26, 2019, 12:32 PM | | |
LAST spring game! Today, 2:05 PM (CDT): Red Sox @ Cubs (Pitchers TBD). Televised: NBCSCH, ESPN+. MLB TV, Cubs.com, Redsox.com.
Cubs' Opening Day: 2 days. March 28 @ Rangers; (Lester vs. Minor). Game time: 3:05 PM Central. (WGN, MLB.TV).
Cubs' Home Opener: 13 Days. April 8 vs. Pirates: Game time: 1:20 PM Central. (ABC-7, MLB.TV)
Monday's Game Recap: After pummeling the Padres on Sunday afternoon (which concluded the Cactus League season), the Cubs returned to Sloan Park last night, to host the Red Sox in the first of a two-game exhibition series that will officially end the preseason. The second of those games will be played this afternoon.
The Cubs sent veteran Cole Hamels to the mound to square-off against righty Rick Porcello for the R-Sox. Hamels would help his cause with a game-tying homer in the third, as the Cubs went on to defeat the Reds Sox 3-2.
Cubs pitchers are outslugging Red Sox DHs tonight.

Just sayin'. pic.twitter.com/dQvSNF2lLm

— Chicago Cubs (@Cubs) March 26, 2019

Starting Rotation: The Cubs' rotation order, barring any problems or injuries, will be Lester, Darvish, Hamels, Hendricks, Quintana (L-R-L-R-L).
Good news: Pedro Strop and Daniels Descalso were scheduled to play last night and will be ready for Opening Day.
Yu Darvish: In a minor league appearance on Sunday, Darvish, nursing a blister on his right, ring-finger threw 71 pitches in 4.2 innings. His first pitch went sailing over the right-center-field wall, and it was clear that he was having control issues. In Yu's defense, Darvish was wearing a bandage on his finger, and minor leaguers generally get aggressive at the plate when a big-leaguer comes to town. Darvish did settle down considerably after the first.
Yu Darvish's line: 4.2 IP, 4 H, 2 R, 0 BB, 8 K, 1 HR, 1 HBP, two groundouts, two flyouts, two infield flyouts, 71 (45 strikes), nine swinging strikes, 10/19 first-pitch strikes. Darvish will pitch a bullpen on Thursday without the bandage, and if all goes well, he will get a start this week in Texas.
Maddon on Duensing: "We just felt like he wasn't in a position right now to help us."
Carl Edwards Jr: CJ has confirmed that he was fined for intentionally plunking Austin Nola last week, but no suspension.
Tony Barnette: Barnette says he completed "two really boring bullpen sessions." Although he'll open on the IR, it does give the Cubs another experienced relief arm.
More relievers coming? Rumors say the Cubs and Giants have been chatting about lefty relievers Will Smith and Tony Watson. Interesting, as these names were mentioned over the winter in a possible deal involving Jason Heyward and Ian Happ. The Cubs are also said to be looking again for a veteran catcher.
Addison Russell: Despite a good spring and improvements with his off-field issues, the Cubs say that Russell's status with the Cubs remains "one day at a time."
"Now pitching for the Cubs, Ben Zobrist": We've seen Rizzo and others on the mound, why not Zo?
As @benzobrist18 is entering another MLB season, thought I'd dig up some old @EHSHornetsBB video. Pitching, hitting, and a little "rain-out" fun. Great memories from a fun group of players! pic.twitter.com/2o86dv3V1C

— Bob Gold (@bobgold72) March 23, 2019
Cubs say "Thanks": Talk about a thank-you gift… The Cubs players chipped in and bought the groundskeeper a new Fiat as thanks for keeping the field nice. Not my choice of cars, but hey- it's free.
Cubs players presented this Fiat to a groundscrew guy that took care of the fields during spring training. pic.twitter.com/UEXSE2v4Yt

— Jesse Rogers (@ESPNChiCubs) March 25, 2019
How'd they finish? People say spring training doesn't mean anything, though I disagree. The games don't mean anything in terms of what will happen come October, but I still somehow think that it paints a picture of what to expect during the regular season. I guess there are anomalies though, as, in 2016, the Cubs finished last in the spring.
In 2018, however, the spring training records for the NLC's teams, once combined (Cactus and Grapefruit), showed the division finishing in the order of Milwaukee, Chicago, St. Louis, Pittsburgh, and Cincinnati. Sound familiar? This year's results look almost the same.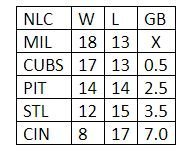 Cubs birthdays: Celebrating yesterday were ex-Cubs Neal Cotts (39), Scott Sanders (50), Jeff Künkel (57), Jim Ellis (74), and posthumously, Emil "Dutch" Leonard (110), Denver Grigsby (118), Howard "Polly" McLarry (128), Bill Carney (145), and Frank Dwyer (151).
Monday's MLB Scoreboard: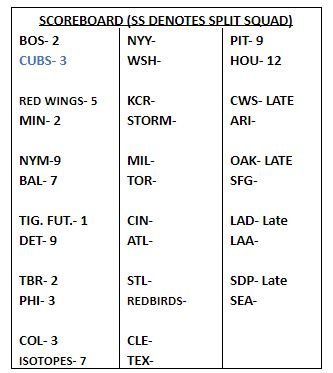 SPRING TRAINING GAMES:
TUESDAY (EST) 12:35 PM: DET @ TBR. 1:10 PM: CIN @ ATL. 2:05 PM: COL @ MIN, CLE @ TEX, PIT @ HOU. 3:05 PM: BOS @ CUBS. 3:40 PM: CWS @ ARI. 4:10 PM: SDP @ SEA. 7:05 PM: MIL @ TOR. 9:45 PM: OAK @ SFG. 10:10 PM: LAA @ LAD.
WEDNESDAY: NO GAMES SCHEDULED.
THURSDAY: MLB OPENING DAY.
News from around MLB:
Angels: When asked about testing the waters of free-agency (before his mega-extension), Mike Trout says, "It never crossed my mind. I think if I waited two years, it wouldn't have felt right moving to another team, going straight to a winning team. Teams go through ups and down. I want to be a part of everything." (Sorry, Bryce.)
Dodgers: LA has signed RHP Justin Grimm to a minor league deal.
Indians: After fouling a pitch off his leg on Sunday, Cleveland's Jose Ramirez (3B) had to be carted off the field. Ramirez was taken for x-rays (negative) and consultation on his knee due to a contusion. The Tribe is already with shortstop, Francisco Lindor.
Nationals: Sean Doolittle is a class act. "PSA for Nats fans: I'm changing my number to 63. Earlier this spring I left the team for a week to attend to a family emergency. 63 carries a special significance for me and my family, so I've switched my number as a tribute to them, to acknowledge their love and support. I'm also aware that many fans have bought shirts or jerseys with my name & number on the back and I can't tell you how much that means to me. To help fans update their Nats swag w some #63 gear for 2019 my wife & I will be doing some giveaways during the season so stay tuned!"