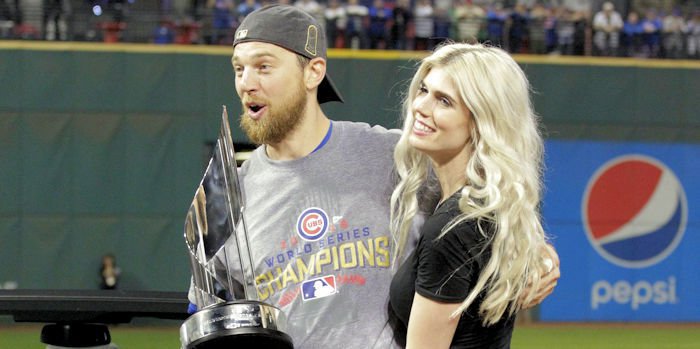 | | |
| --- | --- |
| Cubs News: Inside Look: Team Zobrist | |
---
CHICAGO -- Two things come to mind when understanding Julianna Zobrist - a role model and relationship goals. The Florida native, fourth of six children, was raised in rural Iowa dreaming of becoming a singer/communicator and a microbiologist. Music would bring her to Nashville to study commercial voice at Belmont University.
Julianna 'met' Ben in 2001 on Instant Messenger. When the couple married in December 2005, Ben gave Julianna an 88-key MIDI keyboard to turn her poems into songs. The 35-year-old Illinois native had planned to become a youth pastor (both their dads are pastors) after attending Calvary Bible College in Missouri. An offer to play baseball at Olivet Nazarene University changed those plans. For his senior year, Ben transferred to Dallas Baptist University.
The Houston Astros selected him in the sixth round of the amateur draft in 2004. Ben's major league debut came two years later after being traded to Tampa Bay. In 2015 he was traded again and again – preseason to Oakland, then midseason to Kansas City. After the Royals had won the World Series that year, he signed with the Chicago Cubs as a free agent in December. One year, four teams.
Together they published Double Play, their autobiography, in 2014 about their lives, faith, and careers. Ben admitted to suffering from anxiety and depression after being sent back to the minors by Tampa Bay in 2007. Julianna wrote about being sexually molested at age 12 at a camp, It was a struggle deciding what to share," Zobrist said via tampabay.com. "There are things in our lives we aren't proud of and the story of what happened to me as a girl at camp, the molestation, that's not something easy to share. We took those parts out and read it, and then we put them back in. Without the tougher parts, it didn't make sense. It was like playing a song on a piano made of only white keys."
The Zobrists are each other's greatest supporters, and they savor the rare occasions their careers find them literally on the same playing field. Julianna sang "God Bless America" before Ben played in game 4 of the 2016 World Series at Wrigley Field.
After helping his team end a 108-year championship drought, Ben was named the Cubs Most Valuable Player (MVP).
The 32-year-old balances her marriage and family as her career takes her across the country, speaking and performing. Shatterproof, her first studio album, has charted two Billboard singles, "The Dawn" and "Alive." Julianna wrote the latter for a fellow baseball couple whose struggles lead them to become believers. She is currently writing a new book, one that will continue the theme of her studio album, "Every single song was written because of an experience of mine," Zobrist said via cbn.com. The message behind Shatterproof is one that God has been teaching me. That is opening my eyes to the sort of spiritual bullying that we do, especially amongst women. We are always trying to quantify our morality or our relationships with God through various opinions or preferences that we may hold. It's kind of leveraging relationships based upon those preferences instead of just being confident in who you are because of the work of Jesus. So, that's where the song title Shatterproof comes from. It is finding your security, your identity, and your authority in the person and work of Jesus Christ."
How does the mom of three (Zion, Kruse, and Blaise) manage? Knowing how blessed they are, the couple carefully plans their schedules by putting their family first and paying close attention to details. No matter where they are, the family tries to have a daily schedule. Mornings are spent together at the breakfast table before a time for prayer. Next is a family activity before Ben leaves for the ballpark. Julianna home schools the children to allow them to keep their 6-day rule - the couple never spends more than six days apart at a time. This year that means trips to Arizona for spring training, to Chicago once the season begins, on road trips with Ben, all before returning to Nashville for the off-season.
Julianna plans her music career around Ben's baseball schedule. She has an assistant so she can continue working on her music and writing. Facing the comments made by others inspired many of the songs on her album, "There's so many opinions on how you should mother and how you should not be a career woman, whether or not you should vaccinate or put kale in your smoothies," Zobrist said via forbes.com . Everybody's idea of success looks different, and everyone's idea of how they would live my life personally looks different... I think it would be very powerful for women to begin supporting one another and to begin encouraging more readily than they are to criticize."
Baseball marriages, in general, do not have an excellent track record. Julianna misses having her church family to rely on when they are away from home. She calls the family's many trips 'adventures' - her upbeat way to help stabilize their children's lives. Ben and Julianna, #TeamZobrist, faith, family, fun, baseball, and music, are world champion role models.