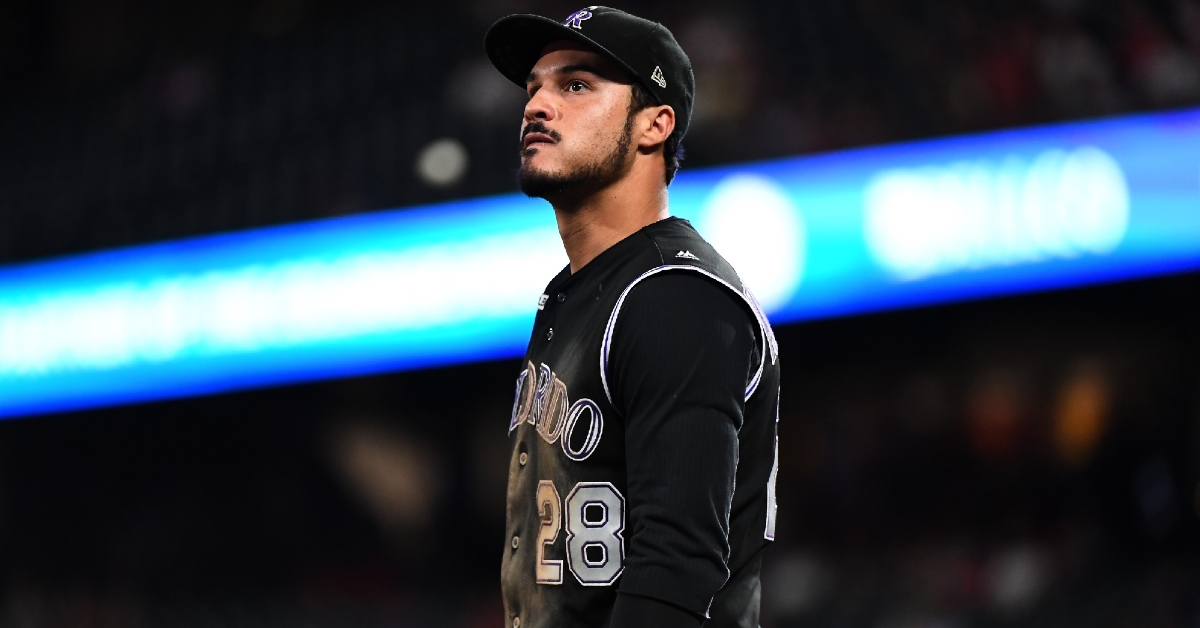 | | |
| --- | --- |
| Is Nolan Arenado really an option for Chicago? | |
---
All offseason long, and even going back to the last offseason, several talks about the Cubs possibly parting with their core players were underway, but nothing has come of it. Not yet, anyway. Following their subpar 84-78 season, which led to a third-place finish in the NL Central, those trade rumors have begun to pick up more steam with even more names being thrown in the hat.
By now, Willson Contreras and Kris Bryant appear to be the popular choice among experts as to whom they think may be dealt from this team. Bryant would land a better package, but it seems Contreras is a better option at this time as he may be easier to replace compared to Bryant. Especially when you consider what is going on with the Bryant and his grievance hearing, who really wants to make a big trade when they don't know how long they will have him under control.
With all the talking surrounding Bryant and if/when/where he will be dealt, we tend to sound out any background noise when it comes to others who could be on the move. What looked to be just smoke in mirrors a few weeks ago is suddenly picking up more steam as Nolan Arenado's name is now being tossed in trade talks after that started to come up last September.
Given the talent level that Arenado brings to the table, I would be lying if I said I didn't want the Cubs to test the water on him to see what the Rockies are looking at. After all, you have a 300 hitter who plays gold glove defense and will give you 35 homers and 100 RBI's every season, which is something Bryant has done just once in his career. It would also allow the Cubs to move Bryant to the outfield and trade other pieces away that could make the team better long term.
Are the Cubs an option for Arenado at this point, especially when their sole purpose all offseason has been to shed payroll. Well, that may have been true before the Cubs ran into this financial crisis, or before you look at just precisely how untradeable he is right now. The fact remains that the Cubs were interested in Arenado back when he was approaching free agency, and he desires to anchor third with a 200-million-dollar contract remain accurate. Arenado, Bryant, and Anthony Rendon would be the only ones worth that salary.
With Rendon now with the Angels, and Arenado fresh into a new extension of his own, this possibility seems like a fantasy more than a reality. Or is it? What if the Cubs genuinely believe they will not be able to retain Bryant, but believe they can get a nice haul for him? What if at the same time they get this haul, they can simultaneously take on the Arenado contract at a lesser price? Not only would you have locked up your third baseman long term, but you improved the team dramatically in the blink of an eye.
For all or any of this to happen, a lot of things would need to happen, and when looking more deeply at it seems to be more of a thinking out loud thought than actual reality. The problem is, whenever a superstar is available on the open market or that teams are discussing trading them, then you do some wild speculating to try and figure out if a deal is possible. That is just part of being a fan of the game, and everyone knows that.
MLB insider Jon Morosi wrote this yesterday regarding the Arenado situation.
"One source said that as many as a half-dozen teams are in contact with the Rockies regarding the possibility of an Arenado trade. The Braves, Rangers, and Nationals are believed to be among the group. The Cubs also loom as a possible suitor, especially if they trade former National League MVP Kris Bryant in a move to obtain young pitching."
The one line, the Cubs as a possible suitor for Arenado right now, how is that even a possibility. There was undoubtedly a time when I could have seen this happen, and that type of move is the creative and bombshell shake-up that this roster could use to improve in 2020 drastically and beyond. Right now, knowing that it appears the Cubs are dead set on staying under the luxury cap for this season and knowing what kind of return the Rockies would require, how is this even a thought, or how are the Cubs even mentioned as one of these teams.
Look at his contract. He is owed 236 million dollars should he not opt-out and stay until 2026 and has full no-trade rights. However, on the flip side, he can opt-out in two years. So, it could be a lose-lose for the Cubs if they pursued him. Should the Cubs and Arenado become a thing and he never opts out, then the Cubs are tied to a substantial financial piece that could affect their spending for the next four or five years.
Let's say the other end took place, and Arenado leaves after two years. Yes, his money would come off the books, but it would hurt your team in the process, knowing you had to give up a ton just to bring him here in the first place. Is that a risk this front office is willing to entice?
Right now, all this talk is just speculation, and we don't know what the Rockies are thinking. What we do know is that it has become more likely that he will be traded than it was just three months ago. The teams inquiring about him understand the risks and the rewards. This is what makes baseball fun. It is a game of chess where the best minds tend to make things happen.