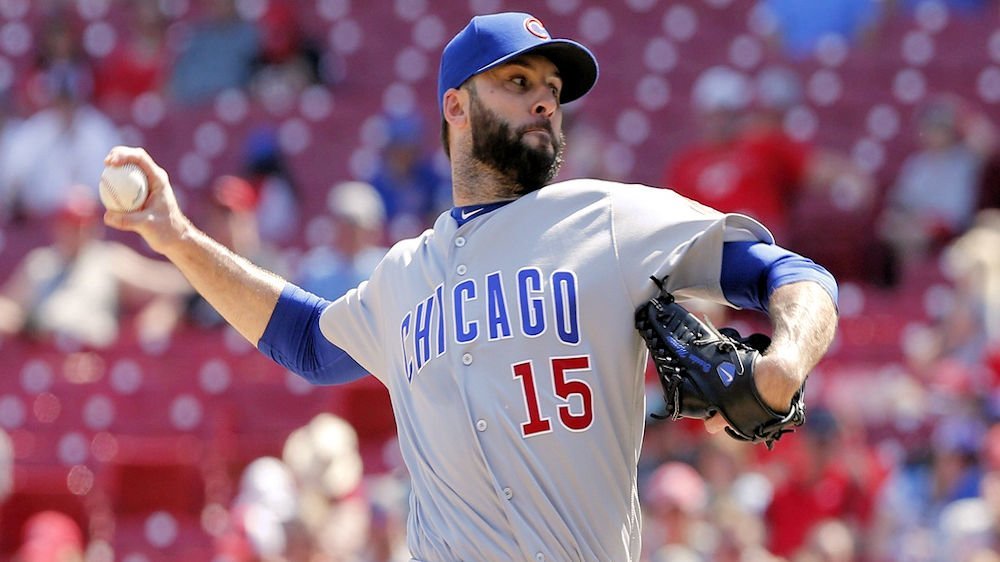 | | |
| --- | --- |
| Latest news and rumors: Cubs announce coaches, Morrow's elbow, and more | |
---
Cubs' news and notes
2019 Cubs' Opening Day: 112 days.
Brandon Morrow: After undergoing arthroscopic debridement surgery to clean up cartilage in his right arm on November sixth, and according to Theo Epstein, Morrow may not be ready for Opening Day. Epstein has not typically spent big-money on closers in the past, but he may want to start considering hedging his bets on Morrow for 2019.
Cubs' coaching announcements: The Cubs have named officially Tommy Hottovy as Jim Hickey's successor, hired Chris Denorfia to serve as the quality assurance coach, and Terrmel Sledge as the assistant hitting coach. The Cubs also expanded Mike Borzello's title, naming him the associate pitching coach in addition to catching/strategy coach.
Cubs: According to Jesse Rogers on ESPN 1000 this morning, "Cubs are not on the verge of a deal or anything with anyone at this point, but maybe by the end of next week. Rogers also tweeted, "Theo not ruling anything out but again downplayed the idea of a huge increase in payroll."
Billy Hamilton: Rumors continue to swirl suggesting Hamilton could be a target for the Cubs. While the Cubs have a speed demon by the name of Terrance Gore stashed away in Des Moines, Hamilton makes almost more sense. True, Gore is at the league minimum, but he also has only thirty-five innings in the field and all of about sixteen major league at-bats. Hamilton is no powerhouse, but he plays a mean centerfield and is no stranger to getting on base.
David Kaplan: If your looking for words of solace about the slow start to the Cubs off-season transactions, The Kapman has some words for you: "I know the narratives that I read keep repeating that the Cubs won't be players for the big name players who are available this winter. My take? I'm not buying it. It's too damn quiet. They are in lockdown mode at the corner of Clark and Addison. Never count out Theo and Jed."
Jesse Rogers on Cubs strategy: With increasing concerns about the money the Cubs may have available for free-agent purchases this winter, Rogers stated in an ESPN article this morning, what I've been saying for months - and it's not the news most of you wanted to hear. "In any case, the Cubs would be more likely to strike a deal with a club willing to take on major league contracts, such as those of Kyle Schwarber, Ian Happ, Albert Almora, Wilson Contreras, Victor Caratini and, yes, perhaps even Bryant, whose name has come up with other teams."
Latest news and rumors from around the league
Michael Brantley: Brantley is looking to make his stock rise by reportedly telling clubs that he is willing to play first base again. Although he no MLB at the position, he did play several games at first in the minors.
Braves: Atlanta has hired former Phillies' pitching coach Rick Kranitz.
Indians: Cleveland has exercise RHP Carlos Carrasco's $10.25M option for 2020 and has signed him to a two-year extension for 2021 and 2022 with vesting option for 2023. The deal is for $44M total through 2022, with a $14M club option for 2023 which includes a #M buyout.
Mariners: With the mass exodus of players in Seattle recently, it's no secret that GM Jerry Dipoto is serious about a massive overhaul. No one in Seattle seems safe at this point, and newly acquired first-baseman, Carlos Santana is being shipped out before he ever shipped in. The Mariners say they're not opposed to keeping Santana but have already engaged in talks with several teams about trading him.
Red Sox: Boston has reportedly come to terms with right-hander, Nathan Eovaldi. The deal is said to be four-years, $67.5M.
Reds: Is Cincinnati making a run? According to reports, the Reds are pursuing outfielder A.J. Pollock. And are still in the running to land Dallas Keuchel.
Royals: Despite rumors surrounding the Cubs, KC is said to be looking hard at former Reds center fielder Billy Hamilton.
Twins: Minnesota is reportedly close to securing a one-year deal with former Brewers second-baseman, Jonathan Schoop. The agreement is to be $7.5M, plus incentives. The Twins have also announced a one-year deal with infielder Ronald Torreyes, though the terms have not been released. You remember Torreyes- he was with the Cubs for like eight minutes a week or so ago…