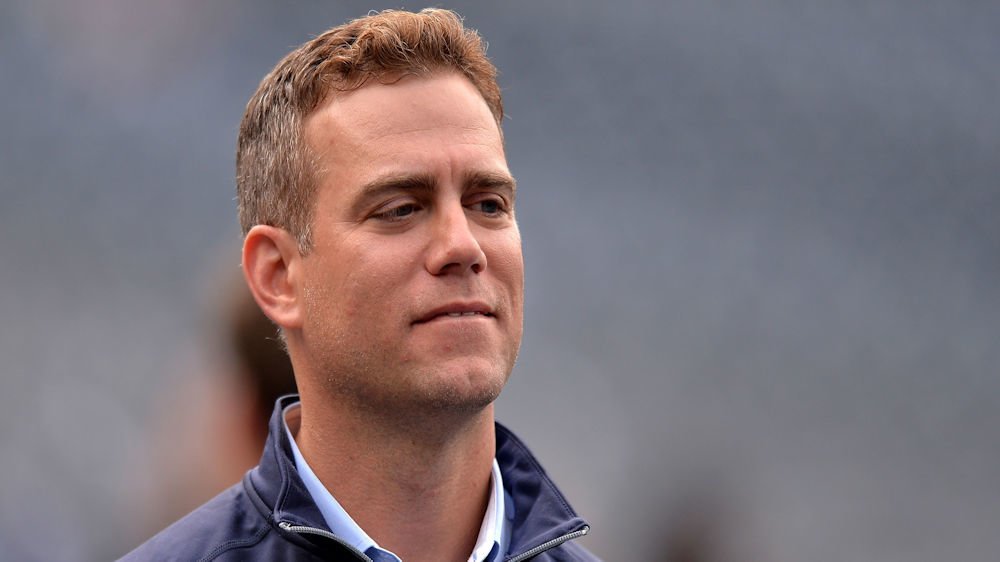 | | |
| --- | --- |
| Latest news and rumors: Cubs get 3 players from Rule 5 Draft, La Stella trade, and more | |
---
The winter meetings are now over, and to tell you that today was any more exciting than Monday through Wednesday would be a lie. Not many players were signed, and not many were dealt, making for a very boring week.
The latest reports say that Harper and Machado, the two most coveted free agent this year, will most likely not sign anywhere until at least January, although Scott Boras threw in a teaser by saying a deal could be only meetings away.
For the Cubs, they neither traded nor signed anyone, making the Rule 5 Draft almost something to behold- hey, at least they signed prospects this week.
Cubs' news and notes
2019 Cubs' Opening Day: 105 days.
Rule 5 Draft: The Cubs roster stood at 36 men before the draft, making them eligible to draft four players. Players selected must remain on the 40-man all year.
Cubs take: LHP Luis Lugo (KCR), RHP Alexander Vargas (NYY), C Rafelin Lorenzo (PIT).
Cubs lose: RHP David Garner (drafted by Toronto) and LHP Yapson Gomez (drafted by Cleveland). Garner did not pitch for the Cubs organization in 2018 due to a suspension for violating the league's drug abuse policy.
Tommy La Stella trade: The Cubs have acquired lefty reliever Conor Lillis-White from the Angels to complete the Tommy La Stella trade.
Bench coach: According to several reports, the Cubs have contacted Mark DeRosa about the bench coach opening. Reports saying both DeRosa and David Ross are doubtful, due to their broadcast contracts, though Ross is still being considered a longshot.
Fergie Jenkins: Happy 76th birthday to Fergie Jenkins- one of the Cubs' all-time greats.
Tim Dillard: Former Brewers' pitcher, Tim Dillard (son of former Cubs' INF Steve Dillard), wrote an interesting and humorous article today about the winter meetings, and what they're like for a player seeking work.
I had a chance to talk to Tim privately about both his article and the ups-and-downs for players. He left me with an interesting quote: "The hardest part in a player's career is also the best part of a player's career… the moment they realize how little control they have in this game. Most call it unfair, others take advantage of it and thrive in the freedom that it brings."
Latest from Las Vegas and the winter meetings
Trevor Bauer: Bauer had a little fun trolling himself on Twitter. When told that a fan wanted him to pitch for the Cubs, Bauer replied, "I won the World Series in 2016 for you, just ask Cubs Twitter."
I won the World Series for you in 2016, just ask @Cubs Twitter

— Trevor Bauer (@BauerOutage) December 13, 2018
Andrew McCutchen: McCutchen's deal is $10M for 2019, $17M for 2020, $20M in 2021, and either a $15M club option or a $3M buyout for 2022.
Daniel Murphy: Ken Rosenthal says the defensive shift is part of the reason the Brewers are interested in Murphy, despite his below average fielding. Brewers feel the shift will compensate for Murph's lack of mobility.
JT Realmuto: Six teams are reported to be in the mix for the Marlins' catcher at this point: Reds, Mets, Rays, Braves, Dodgers, and Padres.
Three-way trade: Indians acquire 1B Carlos Santana, 1B/OF Jake Bauers and cash; Mariners acquire 1B/DH Edwin Encarnacion, 2019 competitive balance draft pick, cash; Rays acquire INF Yandy Diaz, RHP Cole Sulser in 3-team trade.
Brewers: The Brewers have acquired LHP Alex Claudio from the Rangers in exchange for Milwaukee's competitive balance pick (39th overall) in 2019.
Phillies: Philadelphia said to be "very much in pursuit" of relievers Zach Britton and Andrew Miller.