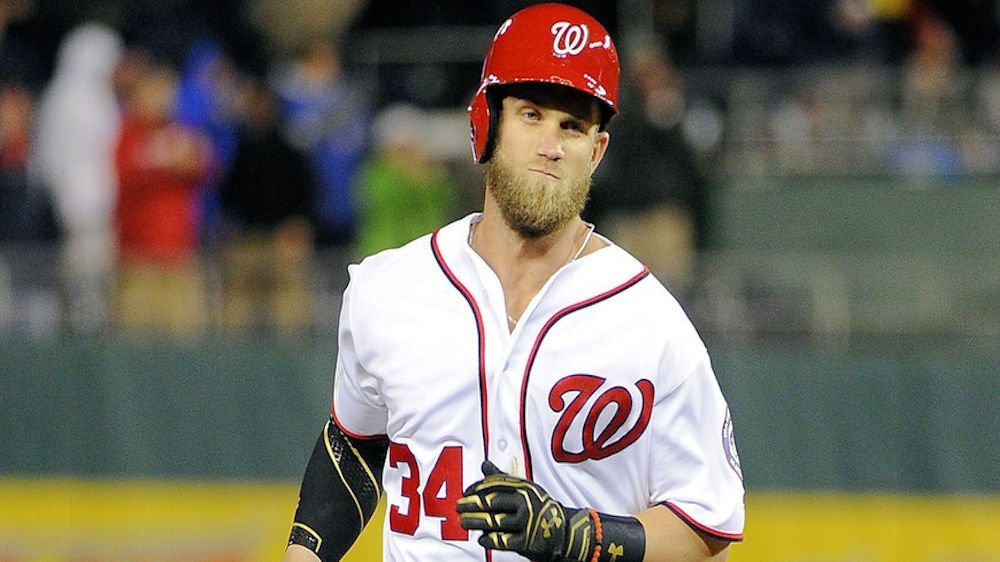 | | |
| --- | --- |
| Cubs News: Latest news and rumors: Harper, Hoerner, Rizzo and more | |
---
Cubs' Opening Day 2019: Magic number 132. Cubs vs Rangers, March 28, 2019.
Dan Bernstein/Bryce Harper: Contrary to my observations about the lack of the big name, free-agents currently being linked to the Cubs (below), Dan Bernstein (670 The Score) still thinks that Chicago is in the running for Bryce Harper. No respectable team is going to withdraw from the race early, making this a very generic statement in my opinion. I won't say that there is no way it will happen, but it appears as though Harper is being more closely linked to the Yanks, the Phillies and perhaps even to the Nationals. It would be nice, but don't hang your hopes on Bernstein.
Conspicuously absent: I can't help but notice the name "Chicago Cubs" is missing from every free-agent article that I read lately; I still wouldn't panic about this though. Just because the Cubs may not be pursuing some of those huge free-agent names any longer, doesn't mean that they won't be buying or trading this year. The Cubs will be losing some guys to free agency and will undoubtedly be trading some, and when they do, those spots will have to be filled. Hang in there.
Nico Hoerner: The Cubs' top five prospect finished the Arizona Fall League with a bang. In the final game of the season, Hoerner went three-for-five with two RBI and finished the AFL with a batting average of .337. Teammate Trent Gambrione finished the season batting .327. Good stuff to come from these guys in Chicago in the not-so-distant future.
Anthony Rizzo: Our unofficial captain is asking for your help. Anthony Rizzo is asking for donations (to help his Hope 44 fund), of five and ten dollar Target and Visa gift cards in order to help provide a Christmas for those suffering from cancer.
Mookie Betts: Betts became the first player in AL history to win a World Series, then pick up the MVP, Silver Slugger and Golden Glove awards in the same year.
Kevin Cashman: The Yankees' Gm has an interesting way to raise money and awareness for homelessness children; he spends one night a year sleeping on a sidewalk. Last night was that night. Cashman brought a cardboard box, a light-weight sleeping bag, and proceeded to spend the night outdoors in Manhattan with the snow falling. Kudos to him.
Rangers: Texas snatches free-agent, veteran catcher Jeff Mathis from the D-backs and signs him to a two-year deal.
Phillies: Although it has been long speculated that the Phillies were going to be spending huge amounts of money this off-season, owner Jon Middleton has made it official. "We will spend big bucks in free-agency; maybe even be a little stupid about it." In addition to pursuing Manny Machado and Bryce Harper aggressively, the Phils are now rumored to be going after Patrick Corbin as well.
Orioles: Baltimore has named Mike Elias as their new GM. Elias had served as the Astros' Asst. GM since 2012 and was in charge of domestic and international scouting for the club.
CubsHQ: A new correspondent has joined the team; welcome aboard Arthur Caron. Next, Scott Watkins has got some really interesting stuff that he's been working on. No spoilers here, so just keep checking the site. Finally, I also wanted to thank my wife, Marianne, for designing a logo for The Hot Corner. Amazing what she can accomplish when I'm not bugging her…
That's it for the Hot Corner this week. Stop by Monday evening and I'll have more for you, and we'll have weekend editions if things start happening. Hope you all have a great weekend. #EverybodyIn