| | |
| --- | --- |
| Lester's fastballs, Brewers win, Cubs heads shaved, farewell WGN, and latest MLB notes | |
---
| | | |
| --- | --- | --- |
| Sunday, March 3, 2019, 8:35 AM | | |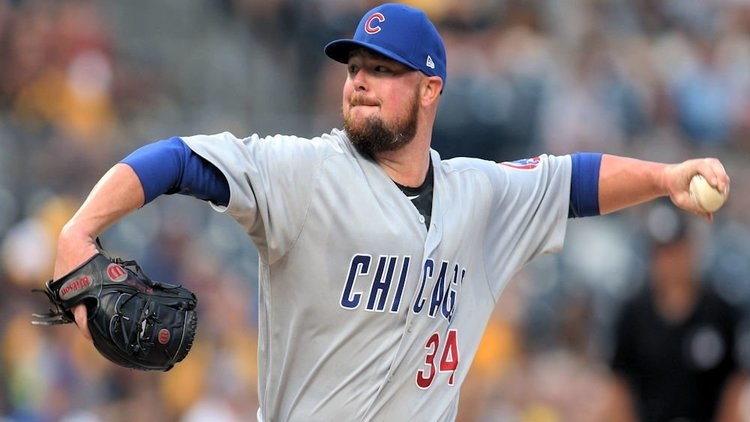 Upcoming games: Sunday, March 3, 3:05 PM EST: White Sox @ Cubs (TBD vs. Yu Darvish); Monday, March 4, 3:05 PM EST: Cubs @ Reds (TBD vs. Alec Mills)
Cubs' Opening Day: 26 days. (March 28 @ Rangers
Saturday's Game Recap: The Cubs would never lead yesterday, as the Brewers would take Game 2 of the spring-series by a final of 7-4, evening the spring series at one each. Steve Cishek made his spring debut, pitching himself out of a jam to provide a scoreless inning in the loss.

John Lester: After he finished pitching today, Jon Lester had this to say: "You're always just trying to work on fastball command [at this point in the spring]," he said. "Behind in the count, I'm not going to nitpick at all. During the season in that situation, I'll maybe try something different than just firing heaters."
Jon Lester on sticking to preparation, not Brewers: pic.twitter.com/aO3yhK8ZhL

— Mark Gonzales (@MDGonzales) March 2, 2019
Hamels/Montgomery: The Cubs have announced that Alec Mills will get the start on Monday, while Cole Hamels and Mike Montgomery pitch a sim-game back at camp. No explanation was given as to why Hamels, the expected starter for Monday, was scratched.
Brandon Morrow: The Cubs' closer took a little time off the field to mentor Diego Serrano, a child with Type 1 Diabetes. Morrow, who was diagnosed as a Type 1 diabetic when he was a senior in high school, wears an insulin pump to help regulate his blood sugar levels.
I am honored to make my very first tweet about my Type 1 Diabetes Brother, Mentor & Inspiration @2Morrow23. Thank you for taking time to discuss T1D, Life and Baseball and for #Cubs for welcoming me!! You have been a huge part in my recovery and I will make you proud! #JDRF #T1D pic.twitter.com/Zwpl5TCfb5

— Diego "DJ" Serrano (@_DJ_Serrano) March 1, 2019
The right stuff: My friend, Michael Cerami, has it all figured out when it comes to the Cubs having just what they need for success. A little of this, a little of that, and you come up with a winning team.
THESE #Cubs already have everything you want ...

The Grizzled Veteran: Jon Lester
The Flashy Superstar: Javy Baez
The Obvious Talent: Kris Bryant
The Energy: Willson Contreras
The Captain: Anthony Rizzo
The Style: Pedro Strop
The Glove: Jason Heyward
The Bat: Kyle Schwarber

— Michael Cerami (@Michael_Cerami) March 1, 2019
Joe Maddon: If the Cubs can win 90 games this year, Joe Maddon will join Tony La Russa as the only managers in MLB to have five 90-win seasons in each league.
Luke Farrell: Rangers' reliever and former Cub, Luke Farrell, was taken to a hospital on Saturday after taking a line drive to his jaw in the ninth inning, courtesy of Giants' prospect, Jalen Miller. Farrell went to the ground but walked off the field under his own power. The extent of the injury was a broken jaw.
NL Central: I realize that I'm comparing apples to oranges (or rather Cactus to Grapefruit) here, but I couldn't help myself. If the first eight games of spring would have counted towards the standings, I'd have to say I like what I see.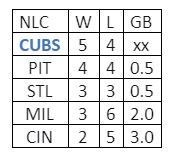 Getting buzzed: Joe Maddon held his Respect Bald fundraiser on Saturday, an event that saw players and coaches (including Anthony Rizzo and Joe Maddon, himself) getting their heads shaved for charity. Over the years, several players have participated, raising a lot of money for Joe's cause.
Anthony Rizzo cut off all the blond for Joe Maddon's fifth annual #RespectBald fundraiser #Cubs pic.twitter.com/XDcng0qkVC

— WGN TV News (@WGNNews) March 2, 2019
Farewell, WGN: As it stands now, with the Cubs' new TV deal, the last Cubs' game on WGN will be September 27, 2019, when the Cubs travel to St. Louis to face the Cardinals. WGN has been televising Cubs' games since April 1948.
Saturday's Scoreboard: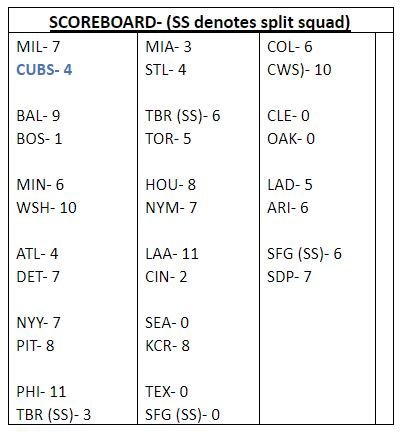 Sunday's games (EST): 1:05 PM: TEX @BOS, HOU @ WSH, TBR @ PIT, MIA @ ATL, DET (SS) @ NYY (SS), NYM @ STL, PHI @ MIN, NYY (SS) @ TOR. 3:05 PM: CWS @ CUBS, KCR @ CLE, SDP @ TEX (SS), CIN @ MIL, TEX (SS) @ LAD, DET (SS) @ BAL. 3:10 PM: OAK @ LAA, SFG @ COL, ARI @ SEA.
Monday's games (EST): 1:05 PM: STL @ DET, HOU (SS) @ ATL, BAL @ MIN, WSH @ MIA, NYM (SS) @ HOU (SS), BOS @ NYM (SS). 3:05 PM: CUBS @ CIN (SS), LAD @ SFG, COL @ TEX, LAA @ CWS. 3:10 PM: CLE @ SDP, CIN (SS) @ D-BACKS.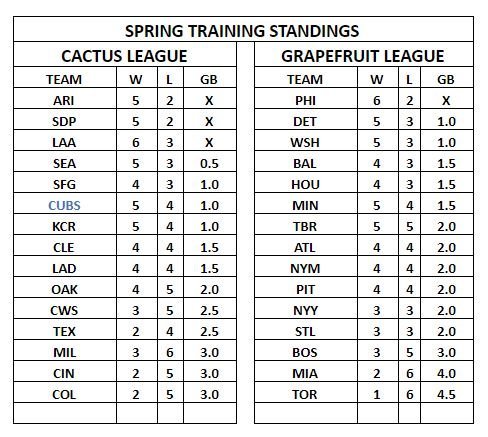 Other news from around MLB:
Angels: According to MLB Trade Rumors, The Angels have reportedly considered offering a 10-year, $350M extension to Mike Trout.
Nationals: In addition to Doolittle, Rosenthal (who reportedly looks excellent) and Barraclough, the Nats have now set their sights on landing Craig Kimbrel.
Phillies: According to BetOnline.com, the Phillies chances of winning, now that they've signed Bryce Harper, have tremendously increased. WS odds went from 12/1 to 8/1. NL Pennant odds went from 7/1 to 4/1, and the NL East odds went from 2/1 to 5/3. The projected win total went from 85.5 to 89.5, while the chances of making the playoffs increased from 3/2 to 4/5.
Reds: Although Cincinnati fell to the Angels by a final of 11-1, former Cubs' pitcher, Anthony Bass, pitched another perfect inning. Bass, a non-roster invitee, is competing for a spot after signing a minor league deal with the team. Thus far this spring, Anthony has thrown 2.2 innings in three appearances, allowing no runs (ERA 0.00) and posting a WHIP of just 0.37. Anthony and I chatted for a while after the game yesterday, and I can tell you that while he's focused and feeling great physically, he knows that he has to keep posting zeros if he's to earn one of just a couple available spots on the roster.

Tags: Cubs Baseball
,
Yu Darvish
,
,
Steve Cishek
,
,
Cole Hamels
,
Mike Montgomery
,
Brandon Morrow
,
,
Willson Contreras
,
Anthony Rizzo
,
Pedro Strop
,
Jason Heyward
,
Kyle Schwarber
,
Joe Maddon