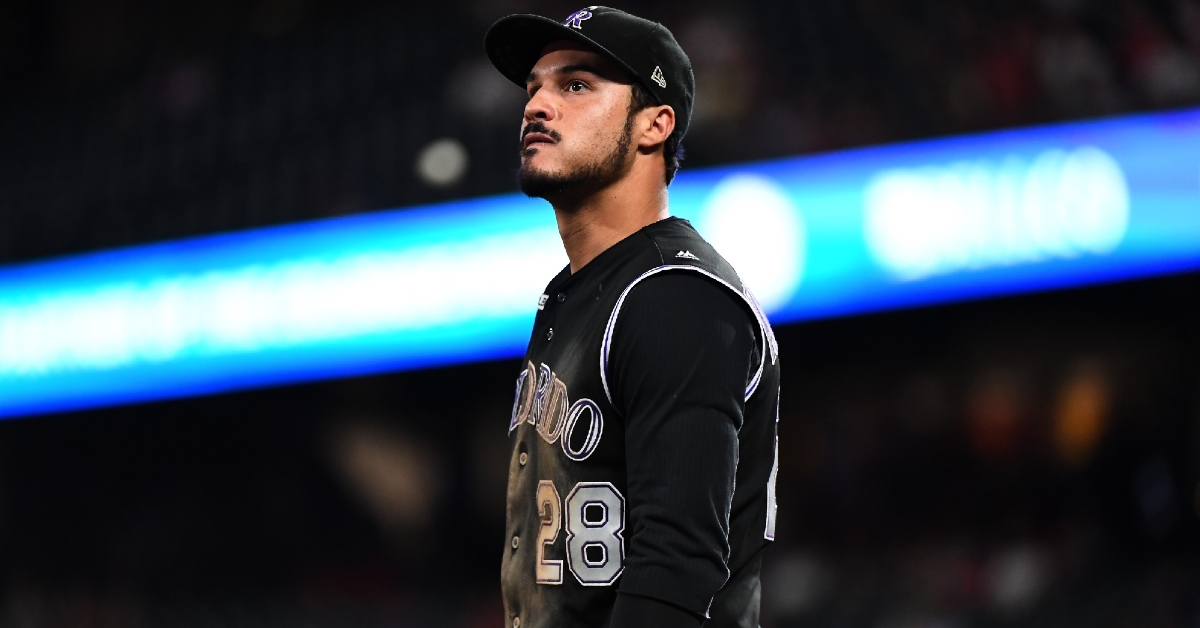 | | |
| --- | --- |
| Cubs News: Let's talk hypothetical trade for Nolan Arenado | |
---
It has been announced Friday that the Cubs and Kris Bryant have reached an 18.6 million dollar settlement to avoid arbitration in 2020. It is still up for grabs what team Bryant will be playing for in 2020, but now it is all settled that the now 28 year old will make 18.6 million this season.
The Cubs and Bryant are still waiting on Bryant's service time grievance to be settled before they potentially trade Bryant. This is not another don't trade Bryant article, this is more of a let's analyze how that trade would go.
First and foremost, it appears almost certain that Bryant will lose his grievance and remain two years from free agency — making him that much more valuable in a potential trade.
The Dodgers, Nationals and Braves seem like potential fits of teams who need a third baseman and also have the prospect capitol to please Theo Epstein and the Cubs with their offer. The Braves and Twins are the teams that seem to be finalists to land Josh Donaldson for the next season and beyond.
But as I mentioned, there are multiple dominos to fall. First, Bryant's grievance must be resolved — and if the Cubs plan to trade him they should hope that he loses it.
The next thing that must happen is Donaldson to sign, then teams looking for a third basemen will be forced to pay more than just money, but also players.
Third the Cubs should pin the Nationals, Dodgers, Braves/Twins or even Rangers to yield the best possible return for Bryant. It has been rumored that a trade with the Nationals would likely yield back Victor Robles and a pair of pitching prospects. One with the Braves may get the Cubs a third base prospect like Austin Riley and some pitching prospects as well. The Cubs have also been rumored to potentially add on a Daniel Descalso or someone of that sort to the deal to shave some salary.
Let's say the Cubs pull the trigger with the Nationals, then they get Robles and some prospects.
Here's where it gets interesting. JP Morosi has reported that the Cubs "loom as a potential suitor" for Arenado and then Jeff Passan reported the Cubs have one of the best chances to land Nolan Arenado should the Rockies move him.
Initially that sounds impossible to pull off because the Cubs owe Bryant 18.6 million and would owe Nolan Arenado almost double that, nearly 35 million — so how would they make that work?
The nifty part of the deal would almost certainly include trading Willson Contreras to the Rockies, but also pairing a heavier contract like Jason Heyward in the deal, and adding a prospect potentially to convince the Rockies to bite.
In 2020, Heyward is owed 23 million and Contreras is expected to be due 4.5 million dollars. This would mean the Cubs shave off almost 50 million dollars from Bryant, Heyward, Contreras and a potentially Daniel Descalso type, while taking on about 35 from Arenado.
Ending right there would keep the Cubs below the luxury tax temporarily, but also give them about 15-20 million dollars to potentially replenish the bullpen. But having Arenado locked up long term would also give the Cubs some flexibility to convince Tom Rickets to let the Cubs do the spending to sign Nicholas Castellanos, who is expected to make somewhere around 18-22 million dollars next year.
This would put the Cubs just a tad above the luxury tax I believe, but here is how their lineup would look.
Victor Robles CF
Nicholas Castellanos RF
Nolen Arenado 3B
Javier Baez SS
Nico Hoerner/ Ian Happ/ David Bote/ Tony Kemp 2B
All of a sudden this underachieving team looks primed to contend in 2020, with some pitching prospects that could fill in the rotation and bullpen when the older Jon Lester among others move on.
It seams impossible to think all the cards could fall in to place, but if there is one executive in baseball who could pull it off — my guess is Theo Epstein can.

Upgrade Your Account
Unlock premium boards and exclusive features (e.g. ad-free) by upgrading your account today.
Upgrade Now

Tags: Cubs Baseball
,
,
Daniel Descalso
,
Willson Contreras
,
Jason Heyward
,
Anthony Rizzo
,
,
Kyle Schwarber
,
Victor Caratini
,
,
David Bote
,
,
Theo Epstein