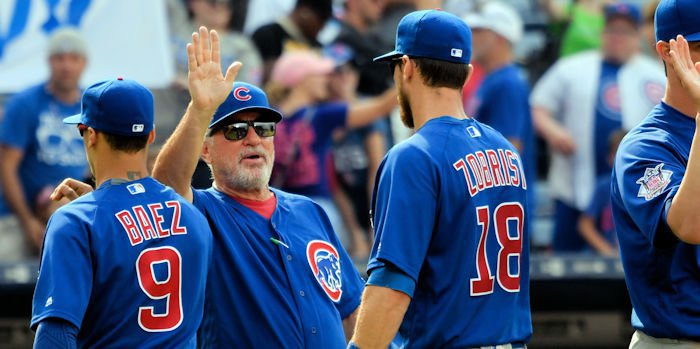 | | |
| --- | --- |
| Cubs News: Maddon: "Whatever you put out there will come back to you" | |
---
Can you imagine Chicago Cubs' manager Joe Maddon feeling dejected? There was indeed a sad moment right after he was turned down for a coaching position. He boarded a plane for Texas to start working as a roving hitting instructor. Wanting to decompress, he was not planning to engage in any conversations. However, he did start talking to a woman sitting next to him. Among other things they discussed, she told him, 'Whatever you put out there will come back to you.'
That comment allowed Maddon to put a new perspective on his career. Twenty plus years later, he shared via mlb.com, "Understand whatever you put out there will come back to you. If you give respect, you'll get respect in return. That's the message and the only message I want to get out of that. If you really believe that and live by that, a lot of things will come your way, and on the baseball field, a lot of good things will come your way."
Respect 90 (the 90 is the number of feet between home and first base) isn't just a saying for Maddon. It is the name of his Cubs' charity. Before a March spring training game this season, the foundation sponsored the 'Respect Bald' event. Players and fans had their heads shaved and donated almost $70,000 to benefit pediatric cancer research and support. Last summer Respect 90 held the annual main event and it raised over $270,000 to provide boxing programs for at-risk youth.
Cubs Charities started back in 1981 after 27-year old infielder Steve Macko passed away from cancer. The team's doctor, Jacob Suker, wanted the team to raise money for cancer research and treatment programs. Originally called "Cubs Care," the first event was a team 'meet and greet' for fans.
A decade later, the Robert R. McCormick Foundation joined forces with Cubs Care. The Foundation contributes 50 cents for each $1 raised by the team charities. Together the Foundation and the team pay all administrative costs, allowing every dollar fundraised to go to at-risk youth and their families. Over the years more than $20 million has been given out in the form of 700 grants in education, youth sports, health, and wellness.
Cub-stock 2016...you are all loyal, passionate, and tough...we did it together...thank you #WeDidNotSuck2016 pic.twitter.com/FpIbcpXN9B

— Joe Maddon (@CubsJoeMadd) November 5, 2016
Cubs Care, a fund of the McCormick Foundation and Cubs Charities support the following programs:
Academy for Urban School Leadership
Action for Healthy Kids
Advocate Charitable Foundation
Anthony Rizzo Family Foundation
Big Brother Big Sisters of Metropolitan Chicago
Boys and Girls Club of America
Breakthrough Urban Ministries
Center on Halsted
Chicago Gateway Green
Chicago House
Chicago Park District
Chicago Parks Foundation
Chicago Police Memorial Foundation
Chicago Public Library Foundation
Chicago Run
Chicago Scholars
Christopher House
Chronic Care International
City Year Chicago
Fergie Jenkins Foundation
Gigi's Playhouse
Girls in the Game
Heartland Health Center
House of the Good Shepherd
Housing Opportunities for Women
Illinois Patriot Education Fund
Lake View YMCA
Local Initiatives Support Corporation (LISC) Chicago
Major League Baseball Charities
Metropolitan Family Services
Misericordia
National Runaway Safeline
One Goal
Rehabilitation Institute of Chicago
Respect 90 Foundation
Ronald McDonald House Charities
Presence St. Joseph Hospital
Tutoring Chicago
Union League Boys & Girls Club Cubs RBI
Urban Alliance
Urban Initiatives
USO Military Youth Programs
Wood Family Foundation