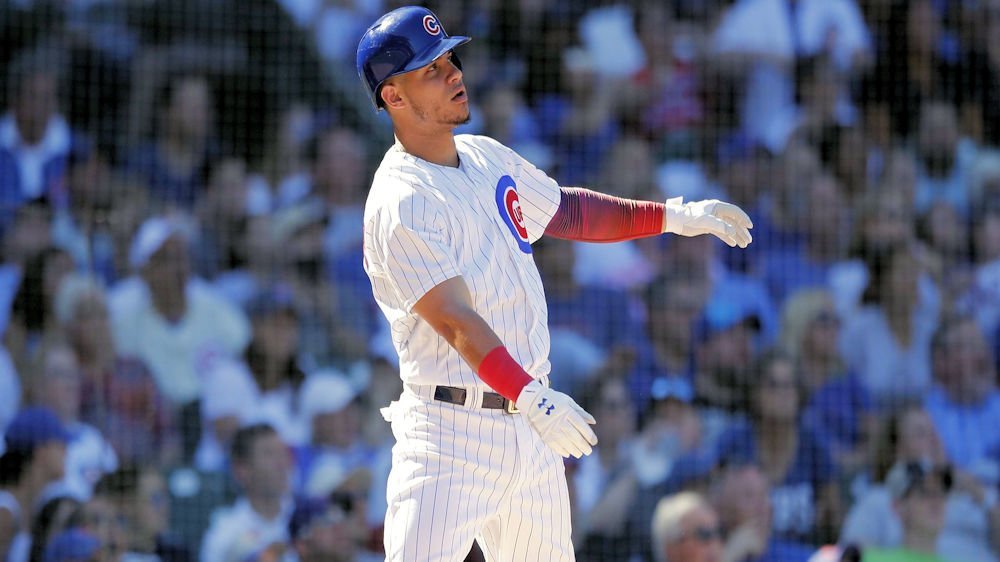 | | |
| --- | --- |
| Cubs News: Maddon furious after Contreras' show-boating | |
---
| | | |
| --- | --- | --- |
| Monday, September 17, 2018, 3:46 PM | | |
Victor Caratini has been solid lately; so solid, that Joe Maddon had benched Willson Contreras for a few games in favor of starting Caratini. So, what happens as a result? Contreras started hitting like a maniac again.
That's great news for the Cubs, and especially great for Willson's morale, but you've got to run when you hit the ball.
When Contreras came on to pinch-hit in the fifth for Jose Quintana, the Cubs were trailing by a score of 2-0, due to a pair of solo home runs given up by Quintana in the first and fourth innings. Contreras got a good pitch to hit from Reds' starter, Luis Castillo and he (almost) clobbered it.
Basking in the limelight of what he thought was a game-tying home run, Contreras literally started walking toward first base, while taking in the moment of both tying the game and ending a slump. He was just about ten steps into his stroll to first when he realized the ball wasn't going to clear the basket. Kicking it into overdrive at the last minute, he managed to wind up with a double, but things could have been catastrophic.
Disrespect 90. pic.twitter.com/uRewpOA2lQ

— Cut4 (@Cut4) September 16, 2018
I get it. The Cubs' are slumping offensively as a team, and Contreras' slugging woes have had him more than just down and out. As frustration among the players continues to mount, you can see it more clearly on Contreras' face than you can on the faces of any of his teammates. This kid loves to play hard and the struggle has been real.
Joe Maddon seldom seems to chastise his players, at least publicly, but he was reportedly furious after Contreras' show-boating almost led to an out. "Horrible," Maddon said when asked about Contreras' bat-flip double. "I did not like that at all. That will be addressed. The whole team didn't like it."
Before you go beating up on Willson Contreras for almost turning a solid double into an out, bear in mind that "almost" doesn't count. If we're going to start pointing out the bad things that could have contributed to another ugly loss, let's not forget Russell's back-to-back throwing errors or Happ's continued campaign of going 0-for whatever.
I agree, I, too, would have been furious had there been a tag made at second, but there wasn't. Plain and simple- the kid made a mental error. He's apologized to the appropriate people, he's acknowledged his mistake and he's expressed regret for his cavalier attitude; let's not continue to relive it.
The issue seems to present more of a conundrum for Joe Maddon than it does for the fans. If you, as fans, want to make Contreras pay, you'll quit buying his jerseys or seeking autographs from him, but Maddon is trying to win a pennant and beyond.
Run support has been nearly non-existent and now your starting catcher has appeared to have broken out of a month-long slump. A lack of hustle could have been costly, but then again, it wasn't like Contreras refused to run out a ground ball hit weakly to second- he thought he'd hit a home run. How do you "punish" him if you're Joe Maddon?
When I become critical, everybody rushes to point out to me that Happ, Russell and most of the team for that matter, are still young. I'd submit that Contreras, now in only his second full season, also fits that description and that he's made fewer "beginners" mistakes than most.
Without knowing Willson Contreras personally, I'd almost guarantee that he's learned from his mistake. Rather than to bench him, possibly causing a reinvigorated bat to cool off again (thus further punishing the entire team), why not just chalk it up to a one time mistake and let the kid go back to doing what he does best?
#FreeWilly