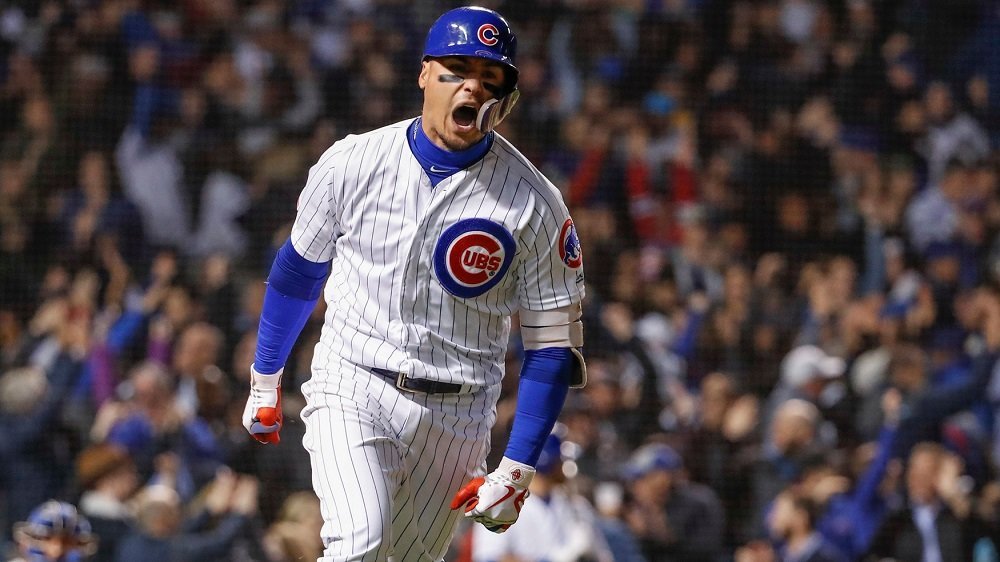 | | |
| --- | --- |
| Merry Christmas, Cubs fans! | |
---
As you enjoy the morning with your families, I just wanted to take a moment on behalf of all of us at CubsHQ to wish each one of you a very safe and Merry Christmas.
I'll throw this out there now: I'm not the biggest fan of the holiday season. There isn't any deep-rooted story or drama behind it – at least nothing that should land me on Dr. Phil or Jerry Springer. I didn't ever go a year without plenty of gifts when I was little, and I never received coal in my stocking as a kid. It's not that I hate Christmas – far from it – I just hate what Christmas has become, which is way too commercialized (Festivus nails it for me!).
Happy #Festivus!#Festivus Checklist:
??Aluminum Pole
??Festivus Dinner
??Airing of Grievances
??Festivus Miracles
??Feats of Strength pic.twitter.com/LBp5UL5ull

— RetroNewsNow (@RetroNewsNow) December 23, 2019
I grumbled last week when I learned that my wife decided to buy me a small gift. Not that we couldn't afford it, but rather because we agreed long ago that if we wanted something (within reason), we'd just go out and buy the damn thing. My wife is a little complex, so returning the favor involved a lot more time than I wanted to spend. She never asks for anything, so I had no clue what she'd even like in return. I can't stand shopping, so imagine the "overwhelming holiday joy" that I experienced as I braved the store parking lot and entered to browse.
Every year, #Festivus concludes with the Feats of Strength. pic.twitter.com/iDYcmAdYPs

— And This Blog Belongs To The Reds (@ATBBTTR) December 23, 2019
This whole thing is like some game we play with each other. She asks every year what I want, and every year I tell her, "Warm weather and baseball." I usually don't get warmth until around April, but hey, at least the Cubs start playing in late February.
All we want for Christmas is baseball ?? pic.twitter.com/Lp45lhcLKO

— Iowa Cubs (@IowaCubs) December 21, 2019
There certainly doesn't seem to be much of a Christmas miracle occurring at Wrigley Field this Christmas. I'd have liked nothing more than to tell you that Theo left a .315 hitter, a centerfielder, a trio of relievers, and a new contract for Nicholas Castellanos under the tree at 1060 W. Addison, but no dice.
Cubs Yule Log idea: Instead of Christmas music or just fire sounds in the background, it's random audio of Pat Hughes and Ron Santo's in-game discussions. pic.twitter.com/U5iw3FdtTF

— Corey Freedman (@CFCubsRelated) December 25, 2019
Kris Bryant is still a Cub, so I suppose about 50% of you will be happy, while the remaining 50% mutter something under their breath about Theo Epstein. The truth is, at this point, I don't know what to make about what's (not) going on. All I know is that it's Christmas, so Spring Training begins in about six weeks.
In the meantime, we have New Year's Eve/Day to look forward to, so better get that list of resolutions ready now. Question: Am I the only one who spends more time thinking of resolutions, than I do actually abiding by them?
Here are my 10 Cubs' New Year resolutions for 2020
Resolution #10: I've made up my mind to stand by David Ross during his inaugural year. The guy has precisely zero minutes of coaching/managerial experience, and there's going to be a learning curve. He'll make mistakes, but bear in mind, from the looks of things, he's going to be working with a skeleton crew.
Resolution #9: I'm going to cut Daniel Descalso a little slack. I still think there's a good chance that the Cubs lick their wounds and DFA him, but if they keep him, I'll try to be supportive. (Wish me luck)
Resolution #8: I accept the fact that we probably won't be seeing even a middle-tier reliever getting signed, nor will they sign that hefty bat or re-sign Nicholas Castellanos. If I'm wrong, then hey – that's one less of these things that I have to worry about upholding.
Resolution #7: The Cubs won't go out and get a starter to fill Cole Hamels' spot, but I'm OK with this. Tyler Chatwood turned himself around, and he deserves to get the nod. If Chatty gets bypassed again this year, your old buddy Ken is going to blow a royal head gasket.
Resolution #6: I accept the fact that because so many of the Cubs' players had bad years last year, that it is highly unlikely that they'll all get it turned back around. My picks for bounce-back candidates for 2020 (one from each sector): Starter: Jon Lester; Infielder: Javier Baez; Outfielder: Jason Heyward; and Reliever Craig Kimbrel.
Resolution #5: No more putting off until tomorrow, what should have been done yesterday. I will now be scheduling cutting the lawn, doctor's appointments, parent-teacher conferences, and household chores around game times. If it's a 1:20 PM start, you can believe my butt will be on the riding mower by 9:00 AM. Too many times last year, I either put off cutting the grass or had to split it over two days due to the ballgame's start times.
#CubsFirst
Resolution #4: Last year, I managed to see all but three games; this year, I'm going to get 'em all. Maybe. (See #2 below)
Resolution #3: When I went to Wrigley last June, it marked almost 30 years since I'd been there. I resolve to get back there sometime within the next two seasons. That place is too iconic, too incredible, and too surreal to go three decades between visits.
Resolution #2: I intend to start blowing up the phones at the Marquee Network until I get a definitive answer on how I'm going to see the games next year.
And my #1 Resolution: I will not scream aloud at the TV every time the Cubs start playing this coming season horrifically. I understand that David Ross, the umpires, the Cubs, and the opposing team are all unable to hear me and that it does no good for my blood pressure to scream at a television screen.
(This one ought to last about two weeks into the season.)
That's it for me today! I'm out of here until tomorrow, by which time I hope to be able to bring you something… anything regarding the North Siders. In the meantime, Merry Christmas to all, and to all a big blue W, waving in the wind – now go stuff yourselves!

Upgrade Your Account
Unlock premium boards and exclusive features (e.g. ad-free) by upgrading your account today.
Upgrade Now

Tags: Cubs Baseball
,
,
David Ross
,
Daniel Descalso
,
Cole Hamels
,
Tyler Chatwood
,
,
,
Jason Heyward
,
Craig Kimbrel
,
Theo Epstein