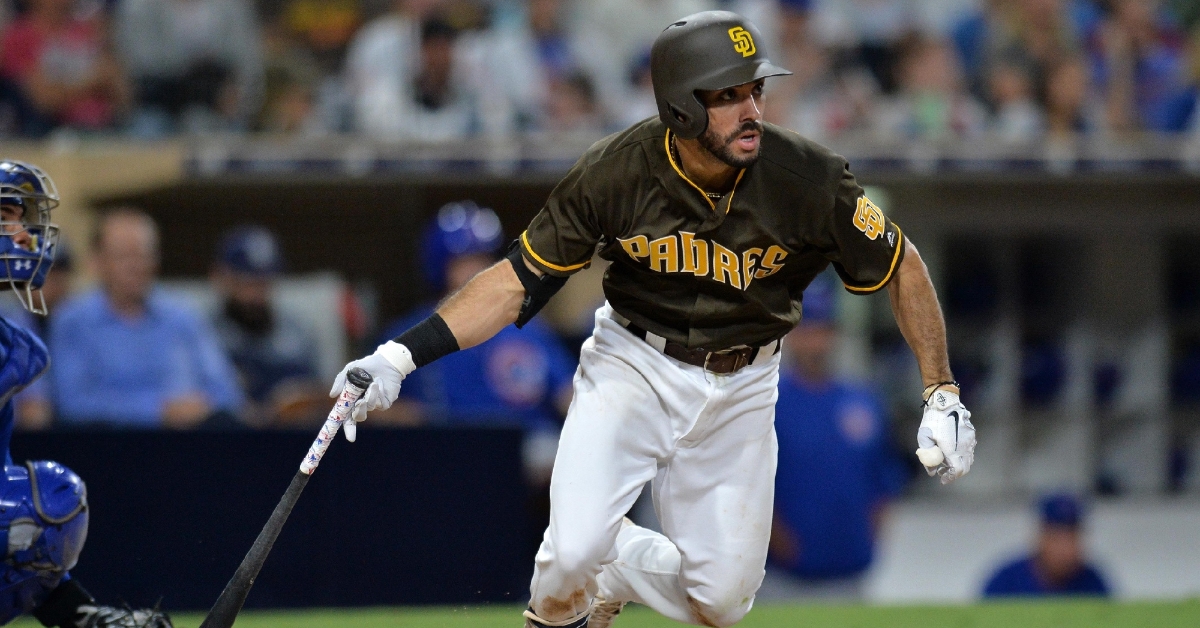 | | |
| --- | --- |
| Non-roster positional invitees for Cubs: Who stands a real chance? | |
---
Yesterday, in Part-1, I covered the 12 pitchers who'll be joining the Cubs in Mesa, Arizona, as non-roster invites for Spring Training. The remaining nine non-roster invites were divided among four infielders, two outfielders, and three backstops.
Somewhere in that mix, the Cubs are hoping to find a legitimate leadoff man, a center fielder and second baseman who are both offensively and defensively sound. Personally, I don't see it happening, at least not with this bunch.
Infielders:
2B Carlos Asuaje: The Cubs grabbed Asuaje (age 28) as a free agent from Arizona back in early January. Although the Cubs have him for the year on a pre-arbitration deal, they can hang onto him for a total of five years before he gains free agency (his previous free-agent status was due to being waived). No injury history.
As far as fielding is concerned, Asuaje has been fairly solid over his short three-year career (157 games, 1,162 innings), committing six errors in 605 chances (91.6% accuracy). But his bat lacks consistency. Asuaje did decent in 2018, batting .270 in 343 at bats (307 plate appearances), but he fell of terribly in 2019, slashing just .196/.286/.280 (189 AB, 218 plate appearances.). He can draw walks, but doesn't hit for power, as indicated by his slugging percentage. Not the worst player in the world, but he won't hold a candle to either Nico Hoerner or Robel Garcia.
SS/2B/OF Trent Giambrone: We saw a lot of Trent Giambrone during last year's preseason. He's a decent fielder, plays multiple positions, and is a decent hitter. In four seasons in the minors (highest level Triple-A), Giambrone's managed a slash line of .250/.325/.416, but can hit for power, with 56 jacks in 421 games (that's once about every seven games). He will steal bases (17 in 2019), and he hits for extra bases just over 15% of the time when he makes contact. Solid player who will see the pros one day, but maybe not this year.
1B/2B/PH Corban Joseph: I have no idea what Theo was thinking here. Joseph is a 31-1/2-year-old who's spent parts of three seasons (2013; 2018-2019) in the majors. His career slash line is just .170/.213/.261 (94 plate appearances, 88 at-bats), and when he does hit, he doesn't hit for power.
2B/3B/OF Hernan Perez: Perez (almost age 29) may be the one guy in this group with a real shot. With a fielding percentage of .956 for eight Major League seasons, Perez's biggest struggles over the last two years have been at the plate. After slashing .272/.302/.428 for the Brewers in 2016, Perez's slash line dropped modestly for the next two seasons before crashing last year (.228/.262/.379). If he can regain what he lost in the batter's box, Perez could very well make the roster as the Cubs break camp. If Perez makes the team, he'll play for $1 million as a big leaguer.
OF/PH Outfielders:
Noel Cuevas: For a guy who's listed as a pinch hitter, Cuevas (age 28) sure doesn't show me much, though he's only had 76 games of MLB experience. In 2018, he batted only .233/.268/.315 in 152 plate appearances (146 at-bats). He played in just one game for the Rockies in 2019, going 0-2. Baseball-Reference predicts him to slash .242/.301/.384 in 2020, but honestly, I can't see it.
OF Ian Miller: Miller (age 28) has only seen 17 plate appearances (17 at-bats) in the majors. Minnesota called him up for 12 games, using him in the outfield, but they did so sparingly. He slashed .176/.176/235 last year, but it projected to hit .245/.313/.420 this year. I don't see him replacing anyone in the current Cubs' outfield roster, so he had better make a name for himself in Mesa.
Catchers:
The Cubs chose to invite three non-roster catchers to camp this spring, as they attempt to find a third string catcher to replace Taylor Davis. Willson Contreras and Victor Caratini have the #1 and #2 spots locked down for the foreseeable future, so rest easy.
PJ Higgins: The Cubs drafted Higgins (almost 27) in the 12th round during the 2015 draft. He looked decent in spring games last year, but with no room and Davis still around, he was shipped back to Iowa, then demoted to Tennessee. In five seasons in the minors, he's accrued a respectable slash line of .272/.357/.369. While he lacks power, he does get on base. In addition to catching, Higgins also plays third and first, which is where he was most of the time last spring.
Jhonny Pereda: Pereda, age 24 this season, is another Cubs' prospect that saw time in camp last year. He's been in the Cubs farm system since 2013 but hasn't matured much as a hitter (career .248/.332/.319 in 1,668 at bats). He's still young and may still mature, but he's not risen above Double-A to this point, and his numbers there were below his career average. Maybe next year, kid.
Josh Phegley: Phegley (age 32) has spent the last five years catching in Oakland after spending his first two years with the White Sox. Another subpar hitter (career .227/.282/.411), Phegley wouldn't bring much more than a veteran status to the clubhouse. The Cubs picked him up as a free agent on January 18h for organizational catching depth.
If anyone has a shot, it's going to be Hernan Perez, but he won't have one either if he doesn't get his bat going. Thus far, I wouldn't expect to see much from any one of the other on-roster invites, but surprises can happen.
There's your non-roster invite breakdown for this year. Now… BRING ME BASEBALL!

Upgrade Your Account
Unlock premium boards and exclusive features (e.g. ad-free) by upgrading your account today.
Upgrade Now