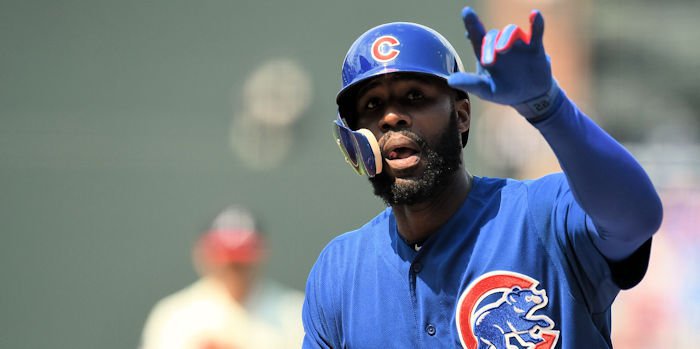 | | |
| --- | --- |
| Ranking the Cubs outfielders on their defense | |
---
In baseball, most of the hits that score runs are hit somewhere in the outfield. The best teams almost always play excellent outfield defense, and the 2019 Cubs have loaded themselves up with guys who can play the outfield. We ranked each player based on their defense; take a look and tell us what you think:
Jason Heyward is the best outfielder on the Cubs and in the discussion for the top defensive outfielder in baseball. When the Cubs gave Heyward his giant contract, they did so in large part due to his fielding ability.
Heyward has 5 Gold Gloves and hasn't shown any signs of slowing down. Heyward's six defensive runs saved last year ranked him tied for 4th among right fielders. Many of the runs were prevented with Heyward's arm, which received a 6.9 rating on Fangraphs, which was third in baseball behind only Kyle Schwarber and Jackie Bradley Jr.
2) Albert Almora Jr.
Almora Jr. would most likely be at the top of this list if he becomes an everyday starter. When he has played the outfield he has shined, being one of the better defensive center fielders in the league. Almora Jr.'s talent was on full display these past few days as he took over the vast outfield of Marlins Park.
Almora Jr. has already saved three runs this season and tied for 3rd in the majors last season with nine defensive runs saved. That number is even more impressive when you consider Almora Jr. was credited with 177 outfield play opportunities, second to last on the list of qualified centerfielders. Almora Jr. also has a range factor of 3.53, well above the league average of 2.42 for center fielders. With more consistent starts Almora Jr. will collect a few Gold Gloves.
3) Ben Zobrist
Zobrist may not be the most flashy defender on the Cubs, but he is one of the most reliable. He has played just about every position on the baseball diamond and understands how the game is played better than anyone. He typically takes great angles and always makes the sure play.
While he may not have the pure outfield talent of Almora Jr. or the arm of Schwarber, he may be the most consistent player on the team. His defensive metrics are all about league average, but he is usually trusted late in games to play a corner outfield spot.
4) Kyle Schwarber
It surprised me to put Schwarber this high, but looking at the defensive metrics, it was a pretty easy call. While he's never going to be in the lineup for his glove, he has shown the ability to play outfield at a high level.
Schwarber's arm was given a score of 7.9 on Fangraphs, giving him the highest rated arm of any outfielder in the majors. Schwarber saved two runs last year which was the 8th most among left fielders. While Schwarber's range factor is 1.76 and that's slightly below the 1.85 average for left fielders, that number is not overly concerning due to the small left field at Wrigley and the fact that Albert Almora Jr. is there to track down balls hit into the gap.
5) Kris Bryant
Kris Bryant is on this list despite because of his versatility and athleticism, despite being a third baseman. Bryant won the MVP in 2016 due in large part to his ability to play all over the diamond, including every outfield spot.
In a limited sample size of 27 games last season, Bryant had -1 defensive runs saved, but a good range factor of 2.25. Bryant is an excellent third baseman and should stay there most games, but he can cover the outfield if necessary.
6) Ian Happ
Happ is currently playing in Iowa, but he should still be considered for this list. Happ has very low metrics in the outfield, but much of that is due to him learning new positions. He was drafted as a second baseman but has played a lot of outfield in the majors due to his athleticism.
Last year Happ had a tough -6 runs saved and a below average range factor of 1.91. While Happ still has room to grow he will need to improve these numbers to get regular playing time. Happ has talent as he continues to learn better outfield technique, he should improve.
7) Mark Zagunis
Zagunis is ranked at the bottom of the list due to the minimal sample size. We have seen glimpses of his potential, but until he has had more playing time, it is difficult to rank him any higher. Zagunis was a solid defensive player in the minors and played well in spring training, but has yet to get consistent playing time in the majors.