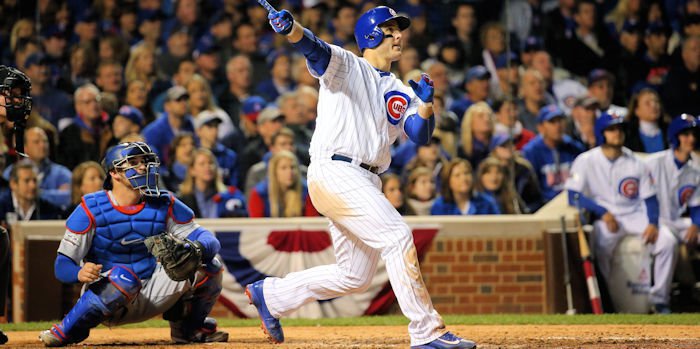 | | |
| --- | --- |
| Rizzo helps lift Cubs over Mets with three-run homer | |
---
CHICAGO -- Anthony Rizzo blasted a home run in the 3rd inning to give the Cubs the lead they were hoping for. The Mets were unable to retaliate as the Cubs improve their record to 56-36 overall, and won the game with a score of 5-1.
The Cubs took 2 of 3 games against the Rangers, and hoped to get a win in game one of their series against the Mets Monday evening. The Cubs have beat the Mets seven straight times at Wrigley.
The Cubs had stranded players on base in the first and second innings, but that changed in the third with one swing of the bat as Anthony Rizzo put the Cubs ahead 3-0 with a 423 foot home run. Willson Contreras then hit a liner that was lost in the unforgiveable ivy, earning himself a double. Matt Szczur singled to left, but Contreras was thrown out at home to end the inning. Rizzo's 11 game hitting streak ended yesterday when he went 0-4, but he came back blasting one tonight to hopefully continue a new hitting streak.
Fast forward to the 6th inning and the Cubs added an insurance run to their lead as David Ross hit a sacrifice fly to center scoring Szczur, and putting the score at 4-0. The Mets came alive in the 7th as Flores hits a home run to left center to get the Mets on the board, but they still trailed going into the 8th, 4-1.
Jon Lester left the game in the 8th inning to a standing ovation as he pitched 7.2 innings, allowing only 4 hits,1 run and striking out 3. It was Lester's first appearance since July 9th in which he only pitched 3 innings and allowed two home runs before being taken out of the game.
Albert Almora Jr. singled to left in the 8th to score Szczur adding another insurance run to their lead making it a 5-1 game.
Hector Rondon was able to get the last 2 outs of the game to give the Cubs the W they were hoping for and Szczur had 3 hits in the game, the first time he's done this before.
The Cubs will continue play against the Mets tomorrow evening at Wrigley (the Cubs have the best home record in the National League) as Jake Arietta will face Noah Syndergaard on the pitcher's mound.
Grace Roglis celebrates her ??th birthday today, just blocks away from where she grew up a #Cubs fan! pic.twitter.com/9fwlMGfCXE

— Chicago Cubs (@Cubs) July 19, 2016
?? The Cubs are gonna win today. ?? pic.twitter.com/IJTODFYlV7

— Chicago Cubs (@Cubs) July 19, 2016