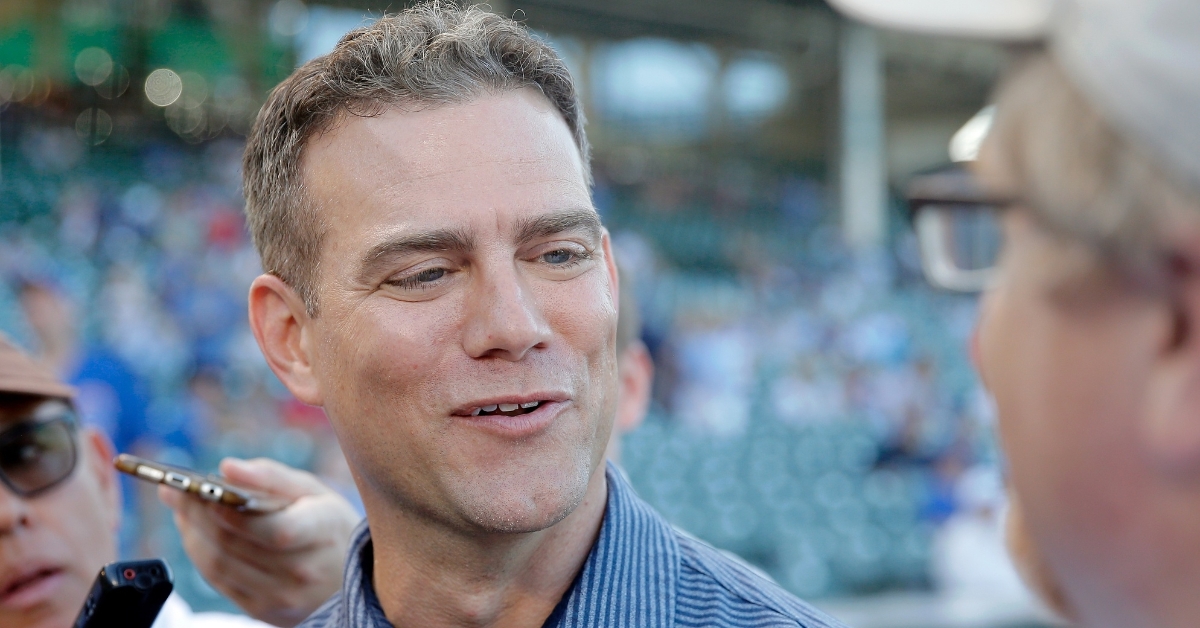 | | |
| --- | --- |
| The Cubs' offseason: Status quo, or will players go? | |
---
The names keep flying off the board, but Theo Epstein has remained vigilant, not doing much of anything, other than maintaining the status quo. Cole, Strasburg, Kluber, Rendon, Bumgarner, Smith, Grandal – none of them waited long to sign, giving GMs and managers an idea of what they'll be working with in 2020 while giving their fans something to hang onto for the duration of the winter. This isn't so much the case in the Windy City – again.
I knew that when it came to free agents, this winter was going to be another quiet one in Wrigleyville, but I certainly thought that things would get shaken up with trades, at least a little, by now, but nothing yet. Are changes coming, or is this just some new way to shake the Cubs' core into sobriety, that is, to let them know that things can't go on as they have been for the past couple of seasons?
When the Cubs finished playing at the end of September, I mentioned a Kris Bryant trade would be in the works. Initially, I was scoffed at by a handful in the media for even suggesting the thought, though the idea seems to have become more gospel than just a rumor these days. First, it was the Rangers, then the Braves, and most recently the Nationals – a team that may have bought the deal, had it not been for Theo Epstein reportedly wanting CF Victor Robles in the package. There were mumblings of KB to KC for Whit Merrifield, but the Royals quelled those rumors in a hurry, intending only to dangle Merrifield as a proverbial carrot, rather than to deal him.
No sooner did the Kris Bryant whispers finally begin to gain traction, when Willson Contreras' name surfaced, followed by Anthony Rizzo's and Yu Darvish's. Darvish has already announced that he won't be going anywhere, and although there are mixed messages about Rizzo's status, the odds are, he'll remain a Cub for the next couple of years.
So, what about Contreras? Once Willson's name appeared in trade rumor dialogue, it gained traction much faster than did the rumors of a possible deal involving KB, but those rumblings ran into a brick wall and never resurfaced. Then again, it could have had something (or everything) to do with Theo announcing that the price tag on the Cubs' coveted backstop would be "absurd." Whatever the reason, Contreras seems at least somewhat safe again.
Moving KB wasn't something that was going to happen overnight. Anthony Rendon and Josh Donaldson would almost undoubtedly have to be signed first, if for no other reason than to set KB's market value, then maybe a few lower-tier guys would have to come off the board.
No sooner did Rendon take a deal, then the landscape got a little more cluttered and complicated, as Colorado offered up Nolan Arenado, though it's unlikely that anyone is going to bite on that contract (seven-years/$260M).
Rockies are willing to listen to trade inquiries on superstar 3B Nolan Arenado (and anyone else); they've gotten many calls on him since trade deadline. Would shake up monster 3B market (Rendon, Donaldson, Bryant) but no one sees as likely yet. Has full no-trade so up to him.

— Jon Heyman (@JonHeyman) December 11, 2019
With the Mariners now open to trading Kyle Seager, things may get a little further complicated for Theo, as Seager is in the midst of his seven-year deal, though his is only worth $100M, making him far more affordable than Arenado.
AL Notes: Mariners, Seager, Orioles, Davis, Matheny https://t.co/KT1YLY9ROj pic.twitter.com/VzjGIM0kF3

— MLB Trade Rumors (@mlbtraderumors) December 15, 2019
There certainly must be a reason that Bryant's name continues to resonate through the trade rumor mills, and I generally believe that where there's smoke, there's fire. To date, the most credible thing I've read about KB came from Braves' beat writer, David O'Brien, who stated, "Looks like a couple of pitching prospects and a bat would get it done for Bryant."
Talking with someone close to #Cubs, sounds like 2 pitching prospects and a bat would get it done for Bryant. They're assuming he loses grievance & has 2 yrs left before free agency). #Braves match up better than other potential suitors if they're willing to part with prospects.

— David O'Brien (@DOBrienATL) December 11, 2019
Personally, I'm tired of the status quo. This isn't the same team that won the 2016 World Series – not even close. Less than 25% of those names remain on the roster, and the majority of those who do remain, have underperformed. As players from the championship team have been traded or have left for free agency, replacements have, for the most part, been subpar. After amassing 103 wins in 2016 (.640), the Cubs have settled for an average of just 90 wins since then, which is only good enough for an average winning percentage of .557.
It's time for a change.
No matter which player may inevitably get dealt, a certain population of the fans will be OK with it, while others are livid. Epstein has said that he won't trade players just to trade them, indicating that at the very least, he may not knee-jerk and settle for garbage. Nobody ever said baseball was fair, and while there are probably a dozen guys who are far more detrimental to the Cubs' success than KB, not many of them have any trade value.
If there's a bright side to the trade talk, it's that the Cubs may have a chance to come up with somebody big this offseason. Clearing KB's salary could feasibly lead to the team re-signing Nick Castellanos, or maybe they wind up with a guy like Merrifield, but either way, it has to be better than signing rehabbing Tommy John players.