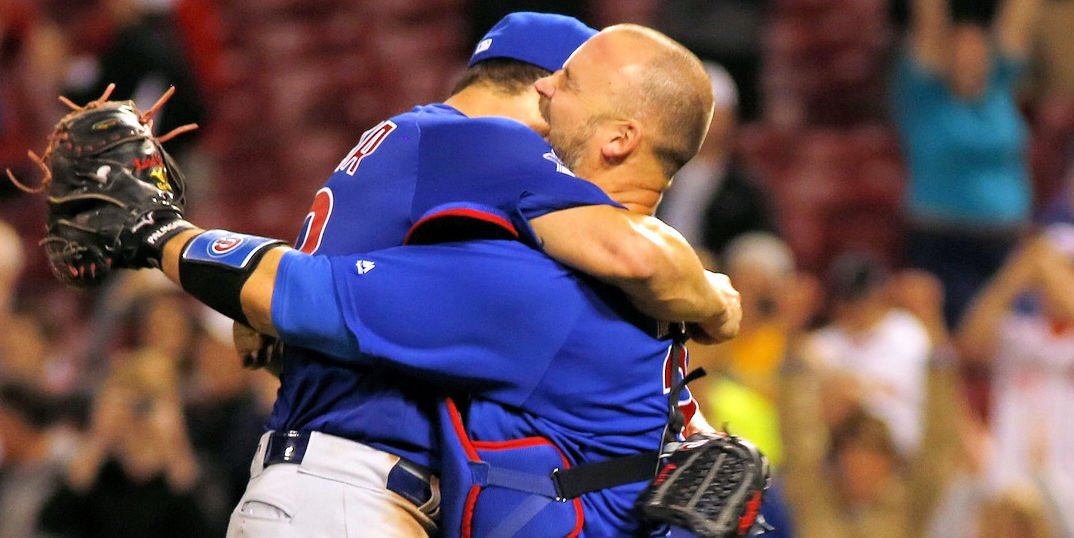 | | |
| --- | --- |
| Top 3 Cubs catchers of all-time | |
---
The Cubs are one of the World's most storied franchises and have had their fair share of all-time greats over the years.
An offseason of reckoning is underway, and change occurring from coaching staff to the minor leagues to the roster at the major league level.
We here at CubsHQ decided to chronicle each position's three top players in Cubs history. This is all just for fun, as you probably have your own opinion on the best Cubs players at each position.
Here are the all-timers with the Cubs at the catcher position.
Randy Hundley
Hundley spent ten years of his 14-year career with the Cubs. Hundley was a defensive-minded fan favorite behind the plate and was a pretty good backstop.
Hundley was an all-star once, had multiple top 20 MVP finishes, and finished fourth in the rookie of the year voting in his rookie season.
As I mentioned defensive-minded, Hundley also earned a gold glove in 1967. That and more earns him a spot on our all-time Cubs' catchers list.
Gabby Hartnett
Hartnett is a player that not many people are familiar with, but those people missed out on 19 years of a great catcher.
From 1922-1940 as the Chicago Cubs catcher and a dominant force across the MLB. He finished his career with 236 home runs and drove in 1,179 runs across his 20-year career — he played his last year with the Giants before retiring after the 1941 season.
Hartnett collected various accolades across his two-decade-long career, including eight top 20 MVP finishes, two top-two finishes, and one MVP award in 1935. Hartnett made six consecutive all-star games from 1933-1938 and was named to the MLB Hall of Fame in 1955.
Michael Barrett (for fighting skills only)
Barrett may have never dazzled offensively in his career, but will forever be remembered for creating one of the most iconic moments in not just Cubs, but Chicago sports history.
On a hot summer day in the crosstown classic, AJ Pierzynski came barreling down the third baseline and rammed into Michael Barrett behind the plate — after that, Pierzynski got up and nudged Barrett and slammed home plate.
Barrett then retaliated by punching Pierzynski and ignited the biggest brawl in Cubs/Sox history.
Barrett underwhelmed in his career at the plate, hitting just 98 homers and driving in 424 runs in his 12-year career. But Barrett's place is forever settled due to the boxing tactics he brought to the plate — and that also earns him a spot on our list.
Honorable mention -- 2016 Catcher Trio and Jody Davis
I knew it would be difficult to put Miguel Montero on this list and leave out game seven hero David Ross and the youngster Willson Contreras. So I decided to include all three on this list.
Miguel Montero hit a few huge bombs in his Cubs career. In his 13 year career, Montero hit 27 of his 126 career home runs in pinstripes, including the epic game one of the NLCS grand slam that left Wrigley Field rocking.
Montero is also an unsung hero of game seven, as his RBI single was the winning run.
David Ross played his final two seasons of his 15-year career on the Northside of Chicago. Ross was utilized for his leadership and ability to manage the pitching staff. Ross used his smarts to earn a front office job with the Cubs and eventually a managing gig with the Cubs.
Ross' legacy will forever be remembered for homering off of Andrew Miller in the final game of his MLB career.
Willson Contreras is an up and coming star in the major leagues. He has hit 67 homers and 227 RBI and hit for a .267 average in four seasons. His most recent seasons have led to back to back all-star appearances — and if he stays with the Cubs, he can continue to rise in the rankings.