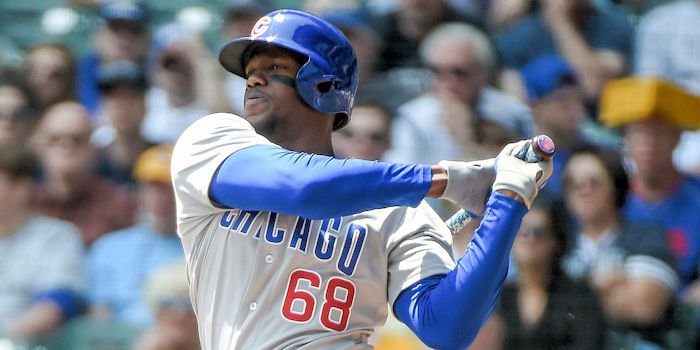 | | |
| --- | --- |
| Cubs News: Will Soler be traded with addition of Jon Jay? | |
---
CHICAGO -- On Tuesday evening, the Cubs signed veteran outfielder Jon Jay to a one-year contract worth an estimated $8 million dollars. This is good and bad for the Cubs – beneficial because it gives them another above average platoon player in the outfield if he can stay healthy. This is also unfortunate because it means the inevitable... Dexter Fowler will probably be leaving the team.
Fowler will be very well sought after – and it seems the likely suitors are in the AL East, either Baltimore or Toronto. Rumor has it the Angels are also interested, although that move is a head-scratcher because their center fielder is also widely considered the best player in baseball – and reigning AL MVP – Mike Trout (boy, how good would HE look in Cubs pinstripes?).
So with the writing on the wall for Fowler, does Jay come across as the player to replace him in the outfield? Jay has had a history of injury, and has not played a full season yet in the bigs, making him a good platoon player in center field with Albert Almora and possibly Jason Hayward when Zobrist is given playing time in right field. This also says that the Cubs don't have the trust in Almora just yet to play center field at a full-time capacity. I believe the one year deal will be a real testing ground for Almora – does he have what it takes to be a full-time player?
So I've mentioned the downside to Jay – injury prone, never been a full-time starter, either for the Cardinals or Padres. However, the positives – he's an above average defender with a pretty good arm, is a good hitter (career .291 hitter with a career .340 on-base percentage), and has speed. He is your quintessential, prototypical leadoff hitter, which will be sorely needed when Fowler signs elsewhere during free agency.
Due to the signing of John Jay, what does this do for Jorge Soler? Sure, he's not a centerfielder, but he is a right or left fielder. The signing of John Jay may mean he becomes another simple utility player, and Hayward can play center field every day giving Soler playing time at right, or even left when Schwarber gets a break in the outfield. But you don't pay a utility player $8 million a year to be an every other day type of player. So my expectation is that Jay is signed to be the starting Center Fielder, and will have competition in spring training from Albert Almora.
Expect Soler to be moved in the offseason – either in a small move with a bit of significance (another starting pitcher maybe?), or in a package to land a big name trade target – such as the likes of a Chris Archer. No, not going to go with that "other" Chris, as the "other" team in Chicago is throwing their spoiled child temper tantrum. "I won't trade with the Cubs, and you can't make me! WAHHH!!!"
My personal thought is the Cubs will package Soler with another player (a possible top prospect or another player from the active roster who can be expendable) and try and trade them for a pitcher the likes of Sonny Gray. The Cubs were high on Gray before the trade deadline last year, so this makes sense for them to try and make this move. The A's are obviously rebuilding, and Soler would be a great fit as a DH for that Americal League ballclub. Theo, if you're reading...you're hearing the idea here first. You're welcome.
We all know this offseason promises to have some more fireworks, as Theo and Jed never sit and rest, they're always trying to make moves to make this team better. It will be interesting to see what happens with a player the likes of Soler, or maybe even Baez – could you package both of them together for Archer? Or what about a pitcher the likes of Yu Darvish? If someone like him can stay healthy, he'd be a welcome addition to the North side (although it would take the farm to get him).