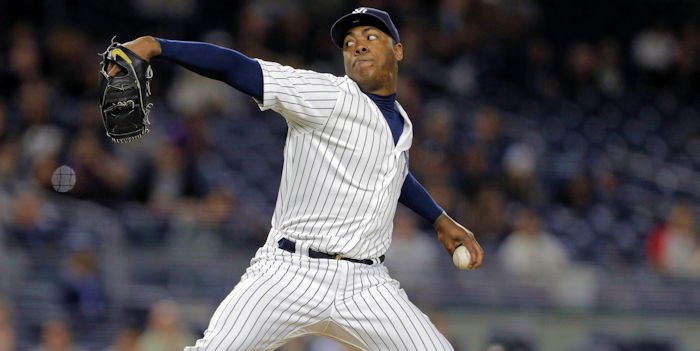 Cubs acquire Chapman from New York in 4 for 1 deal
---
| | | |
| --- | --- | --- |
| Monday, July 25, 2016, 3:48 PM | | |
CHICAGO – The Chicago Cubs today acquired left-handed pitcher Aroldis Chapman from the New York Yankees for infielder Gleyber Torres, right-handed pitcher Adam Warren, and outfielders Billy McKinney and Rashad Crawford. Chapman is expected to join the Cubs for tomorrow night's game against the Chicago White Sox at U.S. Cellular Field.
Chapman, 28, is 3-0 with 20 saves and a 2.01 ERA (7 ER/31.1 IP) in 31 relief appearances with the Yankees this season. He has struck out 44 batters and walked only eight in 31.1 innings while pitching to a 0.89 WHIP. Chapman has limited foes to a .179 batting average, a .233 on-base percentage and a .286 slugging percentage, good for a .519 opponent OPS. Chapman joins the Cubs having not allowed a run in his last nine appearances, covering 11.1 innings, starting June 30, limiting opponents to a .367 OPS in that span.
The Holguin, Cuba native originally signed a six-year major league contract with the Cincinnati Reds in January of 2010 and was traded to the Yankees last December as the headliner of a five-player trade. He signed a one-year deal with the Yankees to avoid arbitration in his final season of eligibility in February. Chapman made his New York debut on May 9 after beginning the season serving a 30-game suspension for violating Major League Baseball's domestic violence policy.
Chapman has gone 22-20 with 166 saves and a 2.16 ERA (84 ER/350.1 IP) in 355 career appearances covering seven seasons with Cincinnati (2010-15) and New York (2016). The four-time N.L. All-Star (2012-15) has exceeded 30 saves in each of the last four seasons while his career 89.7 save percentage ranks second among all active pitchers with at least 175 opportunities.
Overall in his career, Chapman has pitched to a 1.00 WHIP while limiting opponents to a .157 batting average, a .265 on-base percentage and a .232 slugging percentage, good for a .497 opponent OPS, the second lowest career opponent OPS of any active relief pitcher. Chapman has limited left-handed hitters to a .123 batting average and righthanders to a .168 mark. He has struck out 590 batters in 350.1 innings pitched for an average of 15.16 strikeouts per nine innings, the best ratio of any active relief pitcher.
Torres, 19, is batting .275 (98-for-356) with 23 doubles, nine home runs and 47 RBI in 94 games with Single-A Myrtle Beach this season. He originally signed with the Cubs as a non-drafted free agent in 2013.
Warren, 28, went 3-2 with a 5.91 ERA (23 ER/35.0 IP) in 29 appearances, all but one in relief, with the Cubs this season. He was acquired by the Cubs from the Yankees for infielder Starlin Castro last December 8.
McKinney, 21, is batting .252 (75-for-298) with 12 doubles, one home run and 31 RBI in 88 games with Double-A Tennessee this season. He was acquired by the Cubs with infielder Addison Russell, righthander Dan Straily and cash from Oakland for righthanders Jeff Samardzija and Jason Hammel on July 5, 2014.
Crawford, 22, is batting .255 (84-for-329) with 18 doubles, three home runs and 30 RBI in 83 games with Myrtle Beach this season. He was originally selected by the Cubs in the 11th round of the 2012 Draft.