| | |
| --- | --- |
| First Look: Cubs to host Brewers and Reds | |
---
| | |
| --- | --- |
| Friday, September 7, 2018 1:58 PM | |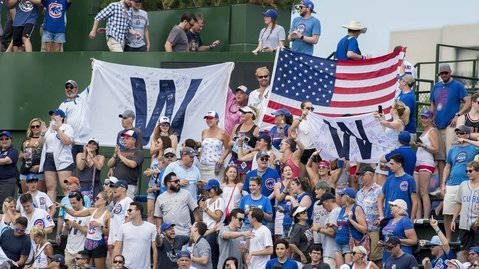 CHICAGO — The Chicago Cubs will host a six-game homestand with visits by NL Central division opponents the Milwaukee Brewers September 10-12 and the Cincinnati Reds September 14-16.
On Tuesday, Major League Baseball announced the 30 club nominees for the 2018 Roberto Clemente Award, the most prominent individual award for Major League players. The Roberto Clemente Award is the annual recognition of a player who best represents the game of baseball through extraordinary character, community involvement, philanthropy and positive contributions, both on and off the field.
The Cubs nominee this year is pitcher Jon Lester. In 2006, Lester was diagnosed with anaplastic large cell lymphoma, a rare, fast-spreading but treatable cancer of the lymph nodes. After beating his fight against cancer, he and his wife, Farrah, launched their NVRQT (Never Quit) campaign to raise awareness and funds for pediatric cancer research with proceeds benefiting the Pediatric Cancer Research Foundation (PCRF). Since the campaign's inception in 2012, Lester has helped raise nearly $2 million for PCRF. Also through NVRQT, Lester hosts groups of children going through treatment at select road games through his program called "Road Rallies." Through these rallies, Lester has hosted more than 600 children at 24 ballparks.
Also nominated, but representing the Texas Rangers, is pitcher Cole Hamels. Throughout his career, Hamels donated more than $20 million to educational and nonprofit organizations both domestically and internationally, in the hopes of making a difference in a child's life. In 2009 Hamels, along with his wife Heidi, founded the Hamels Foundation, which works to provide hope and a brighter future for children by providing financial support for educational opportunities.
Homestand highlights follow.
Food and Beverage Offerings:
Wrigley Field will once again serve foodie spins on ballpark favorites this season. The Cubs and hospitality partner Levy are focusing on freshly prepared, chef-driven menu items including house-smoked short ribs and pork shoulder; house-made pickles, chips, slaws and condiments; and creative twists on classic Chicago flavors. For more information, visit www.cubs.com/food.
Hot Doug's continues its rotating selections on Platform 14, located behind the center field scoreboard in the Budweiser Bleachers. Served this homestand are the Paul Popovich, a Mexican chorizo sausage with spicy salsa and pepper jack cheese; the Les Lancaster, a beef and pork thuringer sausage with beer mustard, caramelized onions and cheddar cheese; and the Glenallen Hill, a spicy Vienna Beef Polish sausage with honey mustard, sauerkraut and smoked gouda cheese.
Never skip fry day! #FoodieFridays pic.twitter.com/DTMmg3d03u

— Chicago Cubs (@Cubs) September 7, 2018
Cubs Charities and Community events:
In honor of Roberto Clemente Day, Cubs Charities will recognize Ricardo Estrada, CEO of Metropolitan Family Services, Monday, September 10, during a pregame ceremony for his dedication to the community. Estrada has nearly three decades of leadership experience in human services, philanthropy and government.
Cubs Charities will again join Major League Baseball in the fight against pediatric cancer Wednesday, September 12, by going "gold" for Childhood Cancer Awareness Day at Wrigley Field. Before the game, a Cubs player will visit Advocate Children's Hospital in Park Ridge to deliver 200 custom-made Cubs-themed hospital gowns to pediatric cancer patients. Later, Cubs players and coaches will wear gold ribbon decals, wristbands and batting practice shirts, as well as participate in a special pregame activity alongside pediatric cancer patients and their families. Net proceeds from that day's 50/50 raffle will be split among players' charities serving children battling cancer, including the Anthony Rizzo Family Foundation, Jon Lester's NVRQT campaign, Joe Maddon's Respect 90 Foundation and the Brian Duensing Foundation.
During the pregame ceremony Wednesday, September 12, Peoples Gas will present Cubs Charities with a $100,000 check to support Cubs RBI Scholars, an academic enrichment program for high school baseball and softball players in the Cubs RBI network.
On Friday, September 14, Cole Hamels will present both the Academy for Urban School Leadership (AUSL) and Working in the Schools (WITS), with a $5,000 check on behalf of the Hamels Foundation, which is dedicated to enriching the lives of children through the power of education by giving them the tools they need to achieve their goals.
Cubs manager Joe Maddon will once again support Chicago nonprofit organizations through his "Respect Community" charity T-shirt initiative. After every Friday home game, Maddon will represent a different Chicago nonprofit by wearing the organization's T-shirt during his postgame press conference. Joe Maddon's "Respect Community" shirt Friday, September 14, will represent Metropolitan Family Services, which provides a wide variety of programs and services designed to strengthen families and help them realize their full potential.
Six-game homestand vs. #Brewers and #Reds on deck next week! https://t.co/CEkxtxLk2b #EverybodyIn pic.twitter.com/o3tlPY9vn7

— Chicago Cubs (@Cubs) September 7, 2018
Monday, September 10, Chicago Cubs vs. Milwaukee Brewers, 7:05 p.m.

· Promotion: El Mago T-shirt with special QR code message presented by Mastercard, up to the first 10,000 early arriving fans
· Community Night presented by PEAK: Autism Awareness Night
· National anthem: Guest of the Cubs Stefan Xidas
· First pitch: Lead singer of the award-winning rock band Kansas and Chicago native Ronnie Platt
· 7th inning stretch: Former Chicago Bears players Matt Forte and Lance Briggs
· Broadcast: NBC Sports Chicago, 670 The Score, WRTO 1200, Cubs.com

Tuesday, September 11, Chicago Cubs vs. Milwaukee Brewers, 7:05 p.m.

· Community Night presented by PEAK: Special Olympics Night
· First pitch: NASCAR driver Kurt Busch
· Broadcast: WGN, MLB Network, 670 The Score, Cubs.com

Wednesday, September 12, Chicago Cubs vs. Milwaukee Brewers, 7:05 p.m.

· Pregame: "Let's Go Gold" for Childhood Cancer Awareness Day
· Promotion: Cubs Digital Alarm Clock presented by ENGIE, up to the first 10,000 early arriving fans
· Community Night presented by PEAK: Cancer Awareness Night
· First pitch: PGA golfer Billy Horschel
· First pitch: Former Cubs pitcher Paul Reuschel
· First pitch and 7th inning stretch: Actor and comedian Kevin Hart
· Broadcast: ABC 7, ESPN, 670 The Score, Cubs.com

Friday, September 14, Chicago Cubs vs. Cincinnati Reds, 1:20 p.m.

· Promotion: Cubs Patch Cap presented by Budweiser, up to the first 5,000 early arriving Budweiser Bleacher adults, age 21 and older
· Community Night presented by PEAK: Vanderbilt University Day
· First pitch: Chicago-based rapper Valee
· First pitch and 7th inning stretch: Former Chicago Blackhawks defenseman Chris Chelios
· Broadcast: WGN, MLB Network, 670 The Score, WRTO 1200, Cubs.com

Saturday, September 15, Chicago Cubs vs. Cincinnati Reds, 3:05 p.m.

· Promotion: Kris Bryant Replica Sunglasses presented by Jewel-Osco, up to the first 10,000 early arriving fans
· 7th inning stretch: Hall of Famer Ryne Sandberg
· Broadcast: NBC Sports Chicago, 670 The Score, Cubs.com

Sunday, September 16, Chicago Cubs vs. Cincinnati Reds, 1:20 p.m.

· Promotion: Albert Almora Bobblehead presented by Xfinity, up to the first 10,000 early arriving fans
· Community Night presented by PEAK: Teaming Up Against ALS
· First pitch: Heroic Noblesville West Middle School teacher Jason Seaman
· 7th inning stretch: Actor, comedian and Chicago native Tom Dreesen
· Broadcast: ABC 7, 670 The Score, Cubs.com
· Postgame: Kids Run the Bases, first 1,000 children 13 and younger