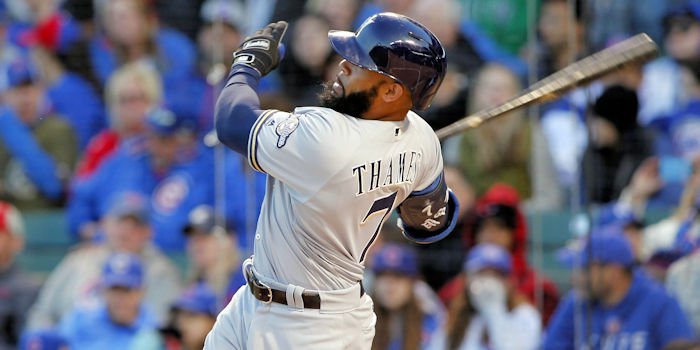 | | |
| --- | --- |
| Lackey, Bosio suggest that Brewers slugger might be on PEDs | |
---
Cubs veteran pitcher John Lackey suffered a loss in his last start against the Brewers going six inning giving up seven hits, and four runs on the evening. Lackey got hit hard by several players including Eric Thames who had a homer during the game and has been on fire this season after playing in the Korean League.
The 30-year old Thames is batting an impressive .408 with seven homers, 12 RBI, and .500 on-base percentage through 14 games this season.
During his time overseas, he hit 124 homes in Korea compared to only six dingers at the major league level.
Lackey was suspicious of Thames rebuilding his body after his time overseas.
"You watch film on recent stuff and try to figure out a way, you know, to get him out. But I mean, really even the homer hit the other way, I mean, you don't see that happen here very often. That's kinda one of those things that makes you scratch your head."
Lackey winked to the media members while implying that Thames might be cheating or using some sort of illegal substances to gain an advantage.
ICYMI: The #Brewers didn't need a heater in the dugout last night. They had @EricThames. pic.twitter.com/Nu73UILQJt

— Milwaukee Brewers (@Brewers) April 18, 2017
Cubs pitching coach Chris Bosio thinks that Thames has matured into a Ken Griffey Jr. or Barry Bonds type in his second act in the major leagues or something fishy might be going on with his tremendous power.
"Well, the bottom line is [Thames] has hit the ball and we gotta figure out a way to get around [it]," Bosio said. "All that other stuff, I'll let other people worry about. But he's doing stuff that I haven't seen done for a long time. You start thinking about Ken Griffey Jr., Manny Ramirez when he went to the Dodgers, Barry Bonds … You're talking about some of the greatest players to ever play this game. So, yeah, it's probably a 'head-scratcher' because nobody knows who this guy is. And when he was here before, his body has changed. But, like I said, I'll leave that to everyone else and we're just gonna try to worry about how to pitch him better and get him out."
The Brewers signed Thames this offseason to a three-year, $16 million deal.