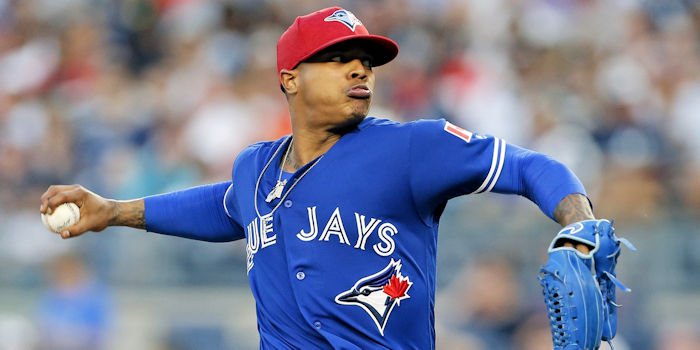 | | |
| --- | --- |
| Report: Cubs interested in Blue Jays starter | |
---
The Chicago Cubs are currently .500 on Saturday with a 43-43 record through 86 games as major league baseball closely approaches the 2017 All-Star break.
Cubs President of Operations Theo Epstein will have to determine what if any trades that he wants to do to give his team the best possible chance to win this year but also to think about the long-term future of his ballclub.
The Cubs are interested in Blue Jays starting pitcher Marcus Stroman if the price is right according to multiple reports.
Buster Olney thinks that Stroman would be a nice fit for the Cubs as they want someone that has multiple years on control left for their starting rotation.
"The Chicago Cubs and Houston Astros are among the teams seeking someone exactly like Stroman: a starting pitcher under contractual control beyond 2017," Olney said. "Stroman, 26, won't be eligible for free agency until after the 2019 season. The Los Angeles Dodgers, stacked with talent, could also be interested."
In 2017, Stroman has a 9-5 record with 3.28 ERA, 93 strikeouts, and possesses a 1.26 WHIP. He is currently ranked fifth in AL in wins, sixth in AL in IP, 7th in AL in ERA, and 2nd in AL in CG (2).
For his career, he has a 32-21 record with 3.80 ERA with 382 strikeouts and 1.23 WHIP.
He was drafted in the first round (#22 overall) by the Blue Jays in the 2012 MLB Draft.