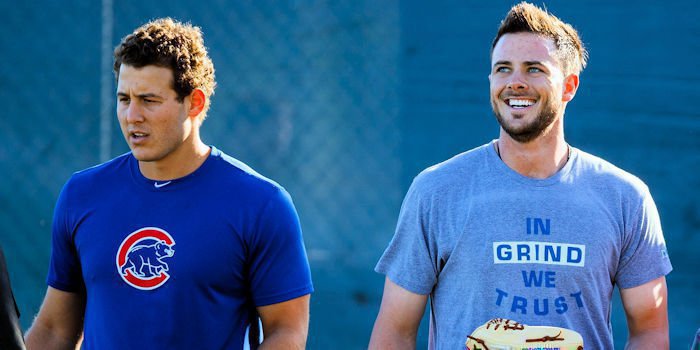 | | |
| --- | --- |
| Two Cubs ranked in Top 5 of MLB's Marketable Players | |
---
Sports Business Daily released their most marketable players in major league baseball this week and Cubs duo Kris Bryant and Anthony Rizzo were both ranked in the top five.
Bryant was ranked No. 3 on the list behind only centerfielder Mike Trout and right fielder Bryce Harper.
"Not many athletes had a better '16 than Kris Bryant. After taking MLB by storm his rookie year in '15, Bryant won NL MVP while serving as a key cog in the Cubs' World Series title, their first in 108 years," SBD said. "SI's Tom Verducci: "Baseball is our strongest regional sport, but to be a true national star I believe you need the exposure and confirmation from the national stage that is the World Series."
In 2016, Bryant hit .292 with 39 homers, 102 RBIs, 121 runs, .939 OPS, and an on-base percentage of .385 as he helped the Cubs win their first World Series since 1908. In two seasons at the big league level, he has batted .284 with 65 homers, 201 RBIs, and .377 on-base percentage.
He was drafted by the Chicago Cubs in the first round (2nd overall) in the 2013 MLB Draft.
Rizzo was ranked No. 5 on the list of behind the others mentioned and Dodgers ace Clayton Kershaw (#4 overall).
"Rizzo last year debuted his own cereal, RizzO's, through his deal with PLB Sports," SBD said. "He has made three All-Star teams and has an incredible off-the-field story in having beaten Hodgkin's lymphoma and starting the non-profit Anthony Rizzo Family Foundation. He has graced the cover of ESPN The Magazine and appeared on NBC's "SNL" this past November. Like Bryant, Rizzo's marketability should continue to rise provided the team sustains its success."
In 2016, Rizzo batted .292 with 32 homers and 109 RBIs.