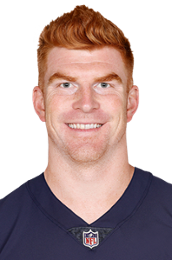 #14
Andy Dalton
Quarterback
| | |
| --- | --- |
| Position: | Quarterback |
| Ht./Wt.: | 6-2, 219 lbs |
| Hometown: | TCU |
B I O
PRO CAREER:


Has started 142 of 144 games played, throwing for 33,764 yards, 218 touchdowns and 126 interceptions while completing 62.2 percent of his passes
Also has 22 career rushing touchdowns, the fourth most in the NFL among quarterbacks since entering the league in 2011
Originally drafted in the second round (35th overall) of the 2011 NFL Draft by Cincinnati; spent nine seasons as the starting quarterback for the Bengals, leading the team to the postseason in each of his first five NFL seasons - the longest postseason streak in franchise history
Boasts a record of 74-66-2 as a starter, including a 70-61-2 mark with the Bengals, the most wins by a quarterback in franchise history
Left Cincinnati as the Bengals all-time leader in career passer rating (87.5), 300-yard passing games (28), winning percentage (.533), completions (2,757), touchdowns (204) and touchdown/interception ratio (1.73)
In his nine seasons in Cincinnati, Dalton started all 133 games he played, three times earning Pro Bowl honors and surpassing 3,000 passing yards in each of his first seven NFL seasons - joining Cam Newton and Peyton Manning as the only three quarterbacks to achieve such a standard


2020 SEASON (Cowboys):


Went 4-5 as a replacement starter for Dak Prescott and finished out the Cowboys' Oct. 11 comeback win over the Giants following Prescott's season-ending ankle injury
In nine starts, Dalton passed for over 2,000 yards with 14 touchdowns with a 64.5 completion percentage
Most notable performance came in a 37-17 win in Week 16 over the Philadelphia Eagles, throwing for a season-high 377 yards on 22-for-30 passing (73.3%) with three touchdowns


2019 SEASON (Bengals):


Started 13 games and missed three, completing 314-of-528 passes for 3,494 yards with 16 touchdowns against 14 interceptions. Suffered career-lows in touchdowns (16) and quarterback rating (78.3)
Threw for a season-high and career-best 418 yards and two touchdowns in Week 1 at Seattle (9/8
Returned to start in Week 12 and became the Bengals all-time leader in touchdown passes, surpassing Ken Anderson's 197 by throwing a touchdown against the N.Y. Jets (12/1), and finished his Bengals career with 204 scoring throws - one-of-45 quarterbacks in NFL history to pass the 200-passing touchdown mark
Threw for 396 yards on 33-of-56 passing at Miami (12/22), tossing four touchdowns and recording a quarterback rating of 104.5 in an OT loss to the Dolphins


2018 SEASON (Bengals):


Started 11 games, but injured his thumb attempting to recover a fumble against Cleveland (11/25), and was placed on Reserve/Injured the following day
Finished the season passing 226-for-365 (61.9 percent) for 2,566 yards with 21 touchdowns, 11 interceptions and a 89.6 quarterback rating
Led four game- winning drives in the fourth quarter - at Indianapolis (9/9), at Atlanta (9/30), against Miami (10/7) and at Tampa Bay (10/28
On Thursday Night Football against Baltimore (9/13), passed for 265 yards and four touchdowns (107.7 rating). All four scores came in the first half, marking the second time in his career he tossed four touchdowns in a half
Threw for a season-high 352 yards against Carolina (9/23)
Totaled 337 yards on 41 throws with three touchdowns and an interception (109.5 rating), leading a 16-play, 75-yard drive in the fourth quarter that ended in a 13-yard go-ahead scoring pass with 0:07 remaining; it was Dalton's 24th career 300-yard passing game, moving ahead of Boomer Esiason for the most in Bengals history.


2017 SEASON (Bengals):


Started all 16 games and completed 297-of-496 passes (59.9 percent) for 3,320 yards, 25 touchdowns and 12 interceptions (86.6 rating)
Had a six-game stretch without an interception - the longest streak in the NFL in 2017 and in his career
Posted a season-high passer rating of 146.0 at Cleveland (10/1), which included season-highs in completion percentage (83.3 percent on 25-of-30 passing) and touchdowns (four)
Had two scoring passes over 70 yards, both to A.J. Green - a 77-yarder against Buffalo (10/8) and a 70-yarder at Tennessee (11/12)


2016 SEASON (Bengals):


Started all 16 games and completed a career-high 364-of-563 passes (64.7 percent) for 4,206 yards and 18 touchdowns against eight interceptions with a 91.8 quarterback rating
Posted a 114.0 rating in the season-opening win at the N.Y. Jets (9/11), including 54-yard scoring pass to A.J. Green, despite being sacked seven times, most of his career
Had a season-best 130.0 rating against Philadelphia (12/4), passing 23-for-31 for 332 yards and two touchdowns
Registered a career-long completion of 86 yards (to Brandon LaFell) at Houston (12/24)


2015 SEASON (Bengals):


Recorded his best season as a pro, making the Pro Bowl after starting 13 games and going 255-for-386 (66.1 percent) for 3,250 yards with 25 touchdowns and seven interceptions
Inactive for Games 14-16 and for the Wild Card playoff game, due to right thumb fracture suffered against Pittsburgh (12/13)
With a 106.3 season passer rating, broke Carson Palmer's club season record of 101.1, set in 2005 and finished second in the NFL to Russell Wilson (110.1), joined Ken Anderson (four times) and Boomer Esiason (twice) among Bengals to win an AFC passing title, and it was the Bengals first since 1989 (Esiason at 92.1)
Seven interceptions was a team record for the fewest in a season, the previous low (nine) occurred three times
Opened the season with four straight games with a passer rating of 115.0-or-better, joining LA Rams John Hadl as only players to do that since 1973, the NFL's first year of using passer ratings
Suffered a thumb fracture against Pittsburgh (12/13) while making a tackle after throwing an interception, ending not only his season, but a streak of 77 consecutive starts, a Bengals quarterback record


2014 SEASON (Bengals):


Started all 16 games and the Wild Card playoff game, earning Pro Bowl honors as an injury replacement for Aaron Rodgers after completing 64.2 percent of his passes (309-of-481) for 3,398 yards and 19 touchdowns
Scored five rushing touchdowns, tying Jack Thompson's 1979 team-record for Bengals quarterbacks
Against Tennessee (9/21) became the only Bengals quarterback to catch a touchdown pass, making a catch in the flat on a throw from wide receiver Mohamed Sanu and sprinting 18 yards for the score
In the Wild Card game at Indianapolis (1/5/15), completed 18-of-35 passes for 155 yards with no touchdowns or interceptions


2013 SEASON (Bengals):


Led the Bengals to an 11-5 record and AFC North title, becoming only the second Bengal to win three NFL monthly or weekly AFC awards in a season, joining safety David Fulcher from 1989
Set Bengals records in passing yards (4,293) and touchdown passes (33) while completing 363-of-586 passes and adding 20 interceptions for a quarterback rating of 88.8
Named AFC Offensive Player of the Month for October, averaging a 116.8 passer rating over four games as the Bengals posted 4-0 record


2012 SEASON (Bengals):


Started all 16 games and finished 329-for-528 (62.3 percent), for 3,669 yards with 27 touchdowns and 16 interceptions (87.4 rating), finishing third in the AFC in touchdown passes; also had four rushing touchdowns
Earned AFC Offensive Player of the Week for his performance against the N.Y. Giants (11/11), posting a 127.6 rating while completing 21-of-30 passes for 199 yards and four touchdowns


2011 SEASON (Bengals):


As rookie, started all 16 games and led four wins featuring fourth quarter comebacks on his way to first alternate to AFC Pro Bowl squad, eventually earning a spot as the replacement for New England's Tom Brady
Became the first NFL rookie quarterback to win as many as eight starts and throw for at least 20 touchdowns; also became the first rookie quarterback not drafted in the first round to start every game in a 16-game season
Set Bengals rookie records for touchdown passes (20) and passing yards (3,398), while completing 300-of-516 passes with a 80.4 quarterback rating



*Courtesy Cubs.com
VIDEO HIGHLIGHTS

No videos currently available.

Please send YouTube video links for this player to

webmaster@cubshq.com

.
Latest Andy Dalton News
Andy Dalton FAQ
What position does Andy Dalton play for the Chicago Cubs?
Andy Dalton is a Quarterback for the Chicago Cubs
When did Andy Dalton join the Chicago Cubs?
2021
What years did Andy Dalton play for the Chicago Cubs?
2021
What is Andy Dalton's number at Cubs?
14
Did Andy Dalton play for the Chicago Cubs?
Yes
Did Andy Dalton go to Cubs?
Yes
What college did Andy Dalton go to?
Andy Dalton attended Chicago Cubs
What is Andy Dalton's hometown?
TCU
How tall is Andy Dalton?
Andy Dalton currently stands at 6-2
How much does Andy Dalton weigh?
Andy Dalton currently weighs in at 219 pounds
Where is Andy Dalton from?
Andy Dalton is from TCU
What city is Andy Dalton from?
What state is Andy Dalton from?