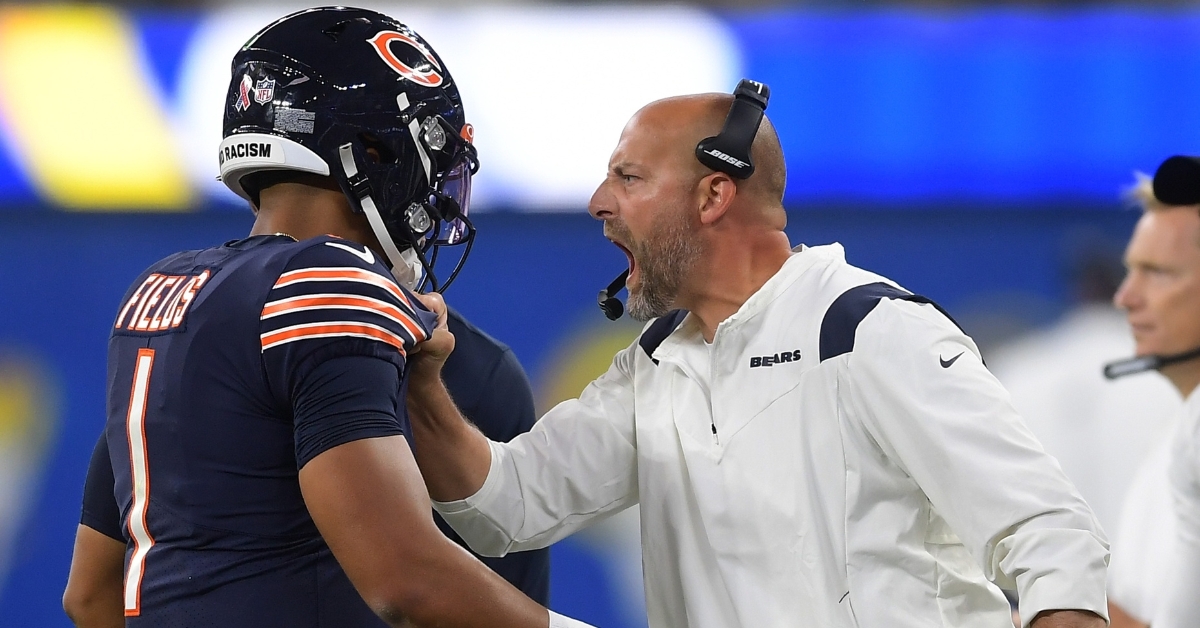 | | |
| --- | --- |
| Prediction, Three things to watch during Bears-Bengals | |
---
As we inch closer to week 2 of the NFL season, the Chicago Bears (0-1) are set to open their home slate of games against the Cincinnati Bengals (1-0). The Bears are coming off a terrible loss to the Los Angeles Rams and are looking to wash that sour taste out of their mouth in a big way. On the other hand, the Bengals are coming off an emotional win against the Vikings last week that saw them blow a two-score lead in the fourth only to rally back and win in OT.
This was one of those games on the schedule that you could point and say the Bears should win this game. As history shows us, there is no such thing as a give me game in the NFL, but if there ever was one, this could be that circumstance. The Bears are a much better team than the Bengals from top to bottom, and their roster can back that up.
The biggest difference to me would be the coaching as Matt Nagy continues his questionable play-calling, whereas Zach Taylor knows what he wants Joe Burrow and the offense to do. This will be the first time in 16 months where Chicago will have full capacity for a home game, and the Bears need to use that to fuel their energy on the field. Here are some things to look for in week 2.
More action for Justin Fields: Let's be honest, it was great to see Justin Fields on the field in week one, but the Bears didn't utilize him enough in that game. Sure, he did score a touchdown, but outside of that, he was limited to just two passing attempts while Andy Dalton ran the rest of the offense.
We have constantly heard Nagy talking about Dalton being his guy and the reasons why, but he hasn't told fans what he does better than Fields at this point. Then you go and hear the press conference from Bill Lazor, who feels that Fields is ready to handle anything thrown his way. Something is seriously wrong with that picture, and there appears to be some disconnect between Nagy and the rest of the offensive coaches.
Whether it is his ego or just plain not understanding how to run an offense, Nagy is under a microscope and needs to put his best talent on the field. Fields is part of that talent, and Chicago needs to use him more than they did in week one. He will not start on Sunday, but Fields should be much more involved without limitations giving the Bears a different look offensively.
The defense needs to show up
While the questions revolving around the offense remain a real thing, the defense is an even bigger concern, especially when looking at what Matthew Stafford and the Rams did to them last week. In his first game as a defensive coordinator, Sean Desai didn't give fans a ton of confidence when looking at the team's overall performance.
Not only was the secondary gashed in every which way as that continues to be a problem, but Khalil Mack and Robert Quinn did next to nothing in the pass-rushing side of things, putting more pressure on the secondary. I will give Mack and Quinn a slight pass last week because the Rams have one of the best offensive lines in football, but neither of them did much last year, at least compared to what the team was expecting from them.
Those two need to generate pressure on the QB, as does Eddie Goldman and Akiem Hicks. The more pressure they can put on Burrow and an offensive line that allowed six sacks against the Vikings, the easier it will be for the secondary to make plays. This is one of those games where the Bears defense should rise to the occasion, especially when the Bengals offensive line is a work in progress.
A reunion of sorts for Dalton
No player faces more pressure on Sunday than Dalton, and it will come with some emotional attachments tied to it. Entering his 11th season in the league, Dalton spent his first nine seasons with the Bengals, leading them to the playoffs five times, including four straight years.
Now with the Bears, this will be his first chance to play against his former team as he still has plenty of connections within that organization. Often when a player faces their old team, they tend to have career games as they use it as motivation to prove that team made the wrong decision in letting them go.
Given the pressure that Dalton has to succeed, this could be a huge confidence booster of a game should he be able to deliver. If Dalton goes out and puts together a great game, then he will remain the starter for the next few weeks as some of the chatter will go away. However, if he plays equally as bad as last week against a far less superior team in Cincinnati, the talks of Fields starting will become louder by each passing day.
Prediction
Not only are the Bears angry, but they are disappointed in their performance last week and are looking to make up for that at home this week. On paper, this game shouldn't even be close as the Bears have more talent across the board except for receiver, where the Bengals do have three very reliable options for Burrow to throw too.
Knowing that Burrow is coming off an ACL injury and that he still seems skittish at times, the Bears need to get pressure on him early and often in hopes of forcing him into mistakes. The Vikings did a great job getting pressure on him last week, and it forced Taylor to become more cautious with play-calling, which allowed the Vikings to get back into the game.
Mack and Quinn will be crucial on defense this week as they need to put as much pressure on Burrow as they can. I like a lot of the young pieces the Bengals have, especially when it comes to Joe Mixon, Tee Higgins, Burrow, and Jamar Chase, so look for them to give the Bears a battle early. However, Chicago should pick things up in the second half to take down the Bengals 27-17.

Upgrade Your Account
Unlock premium boards and exclusive features (e.g. ad-free) by upgrading your account today.
Upgrade Now