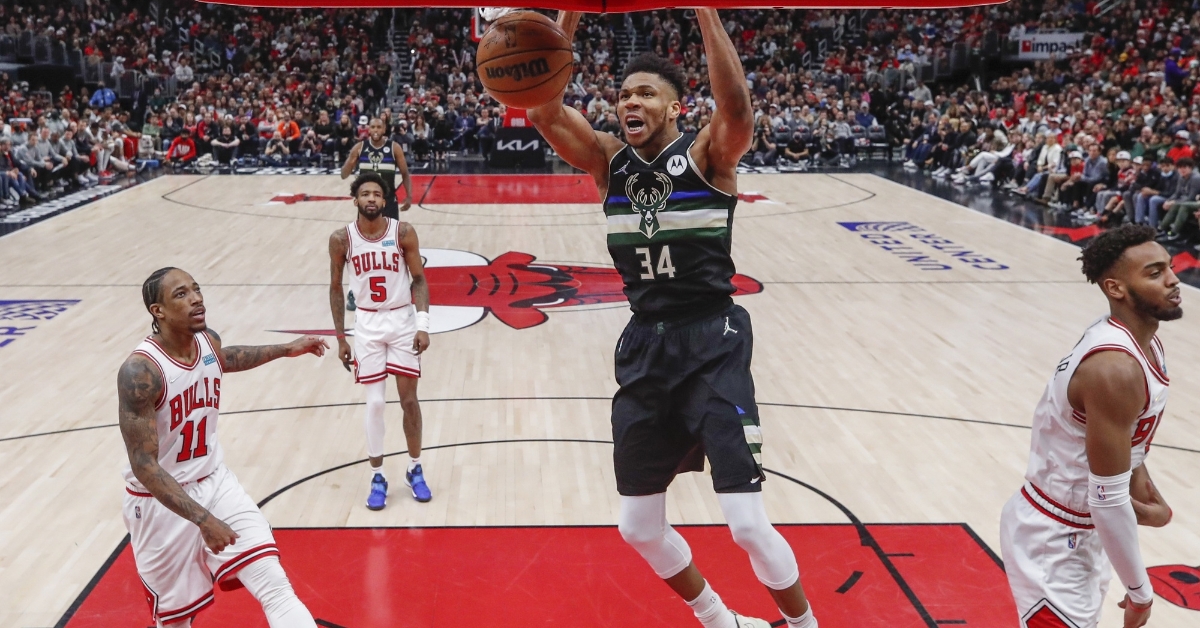 | | |
| --- | --- |
| MVP Giannis Antetokounmpo open to playing for Bulls | |
---
| | | |
| --- | --- | --- |
| Tuesday, August 16, 2022, 8:23 AM | | |
While the NBA season officially doesn't start until late Sept/early October in terms of preseason games, it is always nice to have some positive news surrounding Chicago. In case you missed it, a big bombshell dropped late Sunday night could significantly impact the future of the NBA.
Current Milwaukee Bucks PF and two-time MVP Giannis Antetokounmpo is arguably the best player in the NBA, depending on who you ask. The numbers and success he has the past four seasons back that up, and being that he isn't even 30 years old, he will only get better.
Playing for the Milwaukee Bucks, the Bulls get a first-hand look at how good Giannis is four times during the season, and then potentially more as they faced him five additional times in the postseason. The results have not been great, as Giannis is 21-2 against the Bulls over his last 23 meetings and still has three years left on his current deal in Milwaukee.
However, there is always that what if question, and that rings true here as what happens to Giannis when this contract is up. Obviously, the ultimate goal for him would be to remain in Milwaukee, but everyone knows how the free agent market works, and should he reach free agency, he will be the most highly coveted free agent product.
If you listen to a recent interview from Giannis himself, he acknowledged that free agency is something he has thought about and would also consider playing for the Chicago Bulls if he indeed doesn't re-sign with Milwaukee.
That is a jaw-dropping, bombshell type of statement as that could alter the Eastern Conference and the entire NBA landscape depending on who the Bulls have on their roster at that time. Let's, for example, play along with the idea that Giannis would indeed entertain the idea of coming to Chicago.
The way the Bulls roster sits right now, you would have Patrick Williams, Zach Lavine, Lonzo Ball, and Dalen Terry as four players who would most likely be around at that time. Adding Giannis to that mix would make that group instant title contenders, especially when you look at what Lavine can do and the potential that Williams could be playing at by then.
Giannis is a bonafide double-double and even triple-double candidate who averages close to 30 PPG, 10 RRP, and around 10 APG. Add in the blocks and steals he can often bring to the table, and Giannis has transcended into one of the game's most complete players in such a short amount of time, and there is no secret that the sky is the limit for him and we have no idea what his full potential could be.
Another thing that Giannis has had to deal with is carrying the Milwaukee Bucks every step of the way, which was in full swing this season. Once Khris Middleton went down against the Bulls in the postseason, it became a team of Giannis and whoever else would step up.
Guys like Jrue Holiday and Brook Lopez showed up at times, but Bobby Portis was the second-best player on the Bucks roster in the postseason, and if that is the case, you have more pressing issues to deal with. We have seen with Lebron for the duration of his career that you can only carry a team for so long.
As good as Giannis is and as good as he has become, his days of carrying a team could be over, especially when you look at how deep the Eastern Conference is starting to get. Even with guys like DeMar DeRozan and Nikola Vucevic most likely gone by the time Giannis hits free agency, the Bulls will still have Williams, Lavine, and Ball on the roster as well as other players.
That would give Giannis one of the best-supporting casts he has ever had from an offensive side of things, with Lavine being the first true secondary scorer he has had. That group of players would take the pressure off of Giannis, which in return could lead to even better offensive numbers than he is putting up right now.
I want to urge fans that this is only a statement made, and nothing can even come from it for years. However, the fact that he mentioned the Bulls as a team he wants to play for has to have fans somewhat excited for the future.
Make no mistake about it, I respect Giannis and his ability on the court, but when it comes to playing against him, Bulls fans can't stand it. Adding him to their roster would make them forget all the pain he has put them through and would bring a ton of excitement into the city of Chicago.