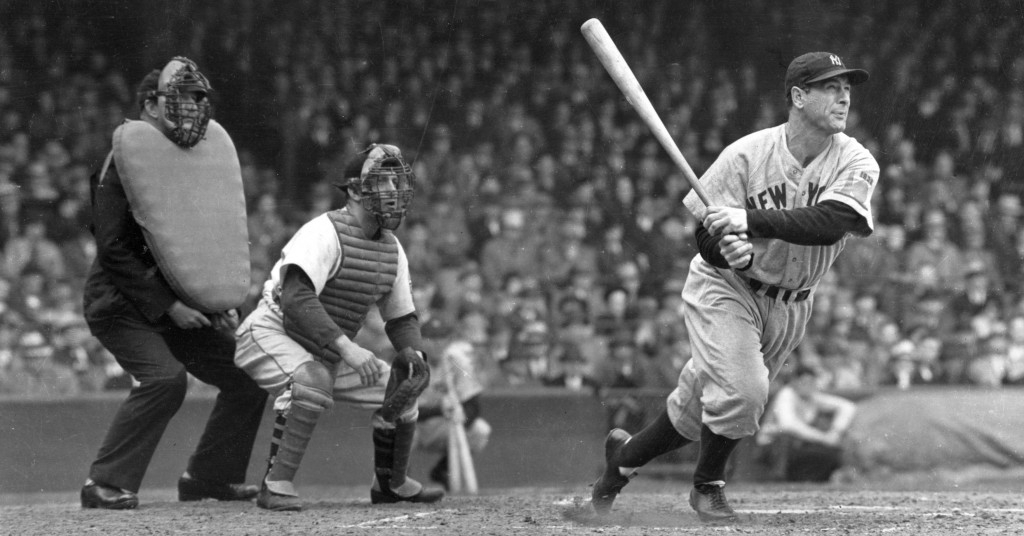 | | |
| --- | --- |
| Cubs join MLB in celebrating Lou Gehrig Day | |
---
| | | |
| --- | --- | --- |
| Tuesday, June 1, 2021, 1:44 PM | | |
CHICAGO – The Chicago Cubs join Major League Baseball in celebrating the inaugural Lou Gehrig Day tomorrow, June 2, with an "All in 4-ALS Super-Heroes" themed day at Wrigley Field, complete with a Cubs Authentics auction sale, a $20,000 guaranteed jackpot for Cubs Charities 50/50 Raffle, a bobblehead offer, an Obvious Shirts T-shirt giveaway, special in-game entertainment and more. The focus of the June 2 celebration at Wrigley Field is to raise awareness for ALS while giving back to ALS-focused charities.
For Lou Gehrig Day, the Cubs commissioned illustrator and graphic designer Kev Roche to create "Super-Hero" illustrations of Cubs players Jake Arrieta, Javy Báez, Kris Bryant, Willson Contreras and Anthony Rizzo and paired each player's illustration with stories of five real-life superheroes impacted by this devastating disease. The five real-life superheroes battling ALS were identified by Project Main St., a nonprofit organization that strives to improve the quality of life for people afflicted with ALS. Marquee Sports Network's television play-by-play announcer Jon "Boog" Sciambi is a founding member of the nonprofit. Player autographed versions of the Kev Roche prints will be auctioned off through Cubs Authentics starting tomorrow, June 2, at 1:20 p.m. CDT, through Sunday, June 6, at 8 p.m. CDT.
In addition to the limited-edition Kev Roche prints, other unique items and experiences will be auctioned and sold at www.cubs.com/auctions. All net proceeds will benefit Project Main St. Some items included in the auction sale are:
20 Art of Words Lou Gehrig prints signed by Cal Ripken Jr.
An opportunity to attend a game with Sciambi in "Boog's Box"
Dinner on the warning track at Wrigley Field with Sciambi and Cubs Manager David Ross
One 20-minute Zoom call with Sciambi and Rizzo
'Fly the W' posters signed by Eddie Vedder, Ryne Sandberg, Andre Dawson and various Cubs players
Various Marquee Sports Network experiences including a three-day/two-night trip to Cubs Spring Training in 2022
For the June 2 game, the Cubs will host various ALS organizations at the ballpark and Steve Gleason and his son will be at Wrigley Field for the ceremonial first pitch. A recognition ceremony for ALS will take place during the fourth inning and Sciambi will make his seventh-inning stretch debut.
Fans sitting in the Budweiser Bleachers and the Wrigley Field Rooftops June 2 will receive custom Cubs 4-ALS T-shirts presented by Horizon Therapeutics which were created in partnership with Obvious Shirts. 5,000 custom 4-ALS T-shirts were made specifically for Lou Gehrig Day to represent the 5,000 people diagnosed with ALS each year. Fans can purchase their own Cubs 4-ALS T-shirt by visiting www.obviousshirts.com. A portion of the proceeds from the sale of the T-shirts will benefit Project Main St. Additionally, fans in the Budweiser Bleachers will have the opportunity to create a sign for their ALS superhero at the "sign station" presented by Horizon and will be invited to hold up the dedicated signs at the bottom of the second inning.
Tomorrow only, the Cubs Charities 50/50 Raffle also will have a special $20,000 guaranteed jackpot presented by Sloan where one lucky winner will take home a minimum of $10,000 and the other half will benefit five different ALS charities including I AM ALS, Project Main St., Team Gleason, The ALS Association Greater Chicago Chapter and the Les Turner ALS Foundation. Fans in Illinois can purchase Cubs Charities 50/50 Raffle tickets for the special guaranteed jackpot online at 11 a.m. CDT until the end of tomorrow's game or Cubs Charities 50/50 Raffle tickets can be purchased from a Raffle Ambassador at Wrigley Field when gates open until the bottom of the eighth inning.
Fans also have an opportunity to get their hands on a unique bobblehead and support Cubs Charities and its partners fighting ALS.
"In 2020, fans would have had the chance to take home a Yu Darvish superhero-themed bobblehead, but due to the pandemic and a fan-less season, the bobble was never released," said Cubs Vice President of Marketing Lauren Fritts. "Thankfully, Yu and the Padres graciously allowed us to use the bobbles as a way for Cubs Charities to raise funds for various ALS charities because we all know that the real superheroes are the ones fighting ALS."
The Darvish superhero bobblehead presented by Jewel-Osco will be offered to fans who purchase a Cubs Charities 50/50 Raffle ticket of $50 or more during the June 2 game. This exclusive offer is limited to the first 1,000 fans who redeem this unique piece of Cubs memorabilia. The Darvish bobblehead can be retrieved with proof of a Cubs Charities 50/50 Raffle ticket purchase at the northwest corner of Gallagher Way starting at 11:20 a.m. CDT until 30 minutes after the end of the June 2 game or until all bobbleheads are distributed. A June 2 game ticket is not required to redeem the offer.
For more information on how to support the fight against ALS, visit www.mlb.com/4ALS.
Today is Lou Gehrig Day across MLB to raise awareness for ALS.

Visit the link below for ways to be involved!

??: https://t.co/sC9HuNgD45 pic.twitter.com/UwrpC8dDBU

— Marquee Sports Network (@WatchMarquee) June 2, 2021
Lou Gehrig was a true baseball legend. #LouGehrigDay pic.twitter.com/a1bcjBTw9Z

— MLB (@MLB) June 2, 2021