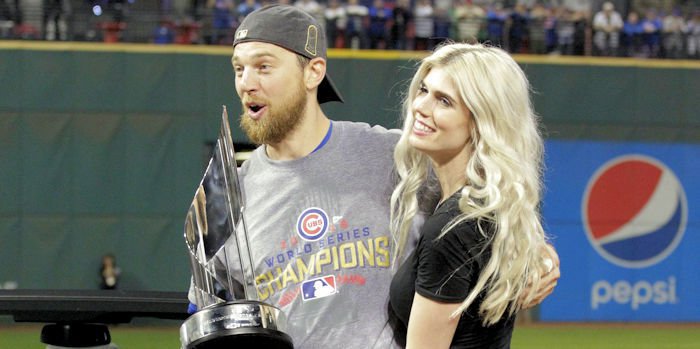 | | |
| --- | --- |
| Cubs News: Ben Zobrist files bombshell lawsuit alleging his wife had affair with their pastor | |
---
| | | |
| --- | --- | --- |
| Monday, June 21, 2021, 9:51 PM | | |
NASHVILLE, Tenn. — Former star MLB utility player Ben Zobrist's personal life was placed under a spotlight late in his Chicago Cubs tenure, when Zobrist took a leave of absence from baseball for nearly three months in order to deal with what was vaguely described as a family issue. On Monday, Zobrist's personal life was placed under a microscope, as specific allegations concerning marital issues were made public by a lawsuit filed on Zobrist's behalf.
Zobrist sued Byron Yawn, who is not only the CEO of a business-consulting firm but is also the Zobrist family's former pastor. Zobrist is seeking $6 million in damages, alleging that Yawn had an affair with his wife, Julianna, and also accusing Yawn of defrauding his charity foundation. While Zobrist stepped away from baseball in May 2019, in what proved to be the final season his MLB career, the lawsuit claims that he did not find out about the affair until June 2020.
It is alleged that Julianna admitted to Ben that she engaged in a sexual relationship with Yawn after previously lying about it. Yawn is the CEO of Forrest Crain & Co., which is located in the Nashville, Tennessee, area, and a former pastor and elder at Community Bible Church, which is in Nashville. He provided the Zobrists with marital counseling and also counseled Ben as he battled anxiety and depression.
Yawn's wife, Robin Yawn, first alerted Ben about Byron and Julianna spending time together, but she believed it was nothing more than an emotional relationship. In June 2020, Julianna apparently made her admission concerning the affair. Ben and Julianna, who is a professional Christian pop singer, both filed for divorce — in separate counties — in May 2019. They married in 2015 and have three children together.
Zobrist's charity, Patriot Forward, is a not-for-profit group dedicated to helping athletes take care of their mental health and prepare for life after their playing careers. Yawn was brought on to work for the charity and served its executive director. However, Yawn was terminated in March 2019 but allegedly continued to fraudulently earn a $3,500 monthly salary until May 2019.
Zobrist donated tens of thousands of dollars to Yawn's former church over the years, including donating money directly to Yawn's family for a pastoral trip. When Zobrist was on leave from the Cubs, he lost approximately $8 million in income. The payout from the lawsuit would make back most of that lost salary. Zobrist earned nearly $87 million in salary over the course of his playing days. Zobrist's MLB career spanned from 2006-19, with the final four seasons being played as a member of the Cubs. Zobrist officially retired from baseball in March 2020.
Full details of the allegations and a PDF of the lawsuit can be found here.