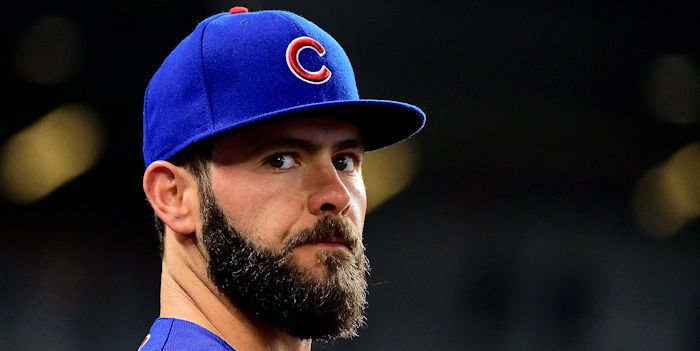 | | |
| --- | --- |
| ESPN analyst on Arrieta returning to ace form: "I wouldn't bet on it" | |
---
| | | |
| --- | --- | --- |
| Wednesday, November 8, 2017, 10:00 AM | | |
The 2017 baseball offseason is upon us with free agency kicking into high gear this week.
ESPN Senior Writer Keith Law released his top 50 free agents list and it had three former Cubs in the top 31 with starter Jake Arrieta at No. 4, outfielder Jon Jay at No. 30, and closer Wade Davis at No. 31.
Law doesn't have a warm and fuzzy feeling that Arrieta will return to his former glory days.
"He peaked in his Cy Young-winning 2015 season, both in performance and workload, but has seen his velocity slip since and then missed a few starts this year with a hamstring injury," Law said. "He could return to his peak form, but I wouldn't bet on it, not given his age, loss of velocity and diminishing control. You sign Arrieta hoping for a mid-rotation starter who can take the ball 31 times, which itself is worth $20 million a year, but if anyone pays him as if he's still an ace, they're taking on an unacceptable risk."
In 2017, Arrieta was 14-10 with 3.53 ERA with 163 strikeouts and 1.22 WHIP.
Law also thinks that giving Davis more than a two-year deal is a little risky with him losing some of his control during the season with the Cubs.
"Davis stayed more or less healthy in 2017, but wasn't the same guy he'd been for the pennant-winning Royals in 2014-15, with a little less velocity across the board and by far the highest walk rate of his major league career," Law said. "His cutter is still plus and misses bats, but the reduced control is a serious impediment to using him as a high-leverage guy going forward. I could see someone giving him two years, hoping he'll return to form in 2018, but I don't have a concrete reason to argue that he'll do so."
For the season, Davis had 32 saves to go with a 2.30 ERA, 79 strikeouts, and 1.14 WHIP. His 32 saves ranked him fifth in the National League. In his career, he has 79 saves with 3.45 ERA.
The Cubs made the $17.4 million one-year qualifying offers to both players on Monday so if they sign elsewhere; the North Siders will get a 2018 draft-pick compensation in return per player. The players will have ten days to accept or reject the qualifying offer.
Jay was labeled as a 'tweener' and a solid bench option for a contending team according to the article.