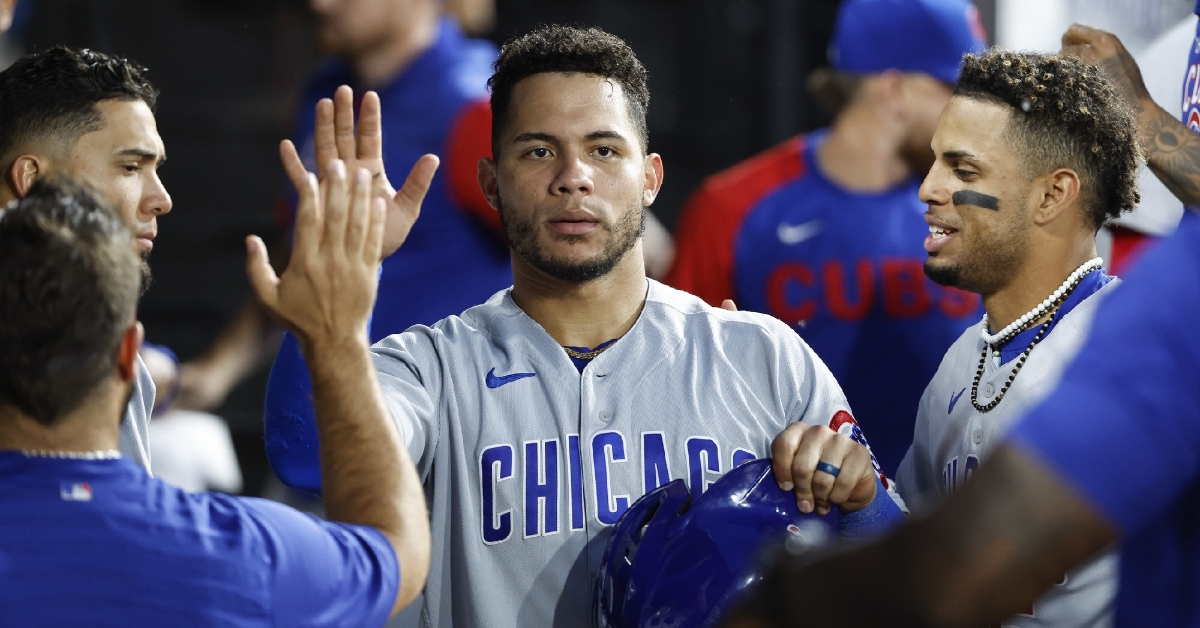 | | |
| --- | --- |
| MLB All-Star ballot update | |
---
| | | |
| --- | --- | --- |
| Tuesday, June 21, 2022, 8:12 PM | | |
Outfielder Aaron Judge of the New York Yankees paces all Major League players in the first balloting update for the 2022 MLB All-Star Game presented by Mastercard, while Los Angeles Dodgers outfielder Mookie Betts ranks second across the Majors and leads all National League players.
The 2022 Chevrolet MLB All-Star Ballot, which is available exclusively online and via mobile devices at MLB.com, all 30 Club web sites and the MLB App, will be accessible until the voting period for Phase 1 concludes at 2:00 p.m. ET on Thursday, June 30th. During the initial voting period, fans can submit up to five ballots per 24-hour period on MLB platforms. On Thursday, June 30th, the top two vote-getters at each position (and the top six outfielders) in each League will be revealed on MLB Network at 5:00 p.m. (ET), and they will advance to the second phase of voting to determine who makes the All-Star teams and starts for each League. In addition, for the first time since two-phase balloting began in 2019, the leading vote-getter in each league during the first phase of voting will receive an automatic starting assignment at the All-Star Game and bypass the second phase of voting. (Note: if an outfielder is a league's leading vote-getter, Phase 2 voting at the position will still take place to determine the remaining two starters among the next four outfield finalists)
Judge, seeking his fourth career All-Star selection, has received 1,512,368 votes. The 30-year-old, who led the AL in All-Star voting in 2017, is seeking to become the first Yankees player to lead the Majors in voting since 2008 (Alex Rodriguez). In addition, Judge is trying to secure his fourth starting spot in the last five Midsummer Classics (also 2017, 2018 and 2021). Judge is followed in the AL outfield by nine-time All-Star Mike Trout of the Los Angeles Angels, who ranks second in the AL and third in the Majors with 1,295,854 votes, and Toronto Blue Jays outfielder George Springer (622,063), who is bidding for his fourth All-Star appearance and third starting assignment. With a ninth starting assignment, Trout would become the eighth player in AL history to earn nine fan elections with one Club, joining Cal Ripken Jr. (BAL, 17); George Brett (KC, 11); Ken Griffey Jr. (SEA, 10); Rod Carew (MIN, 9); Derek Jeter (NYY, 9); Ichiro Suzuki (SEA, 9) and Iván Rodríguez (TEX, 9). The AL outfield leaders are followed by Giancarlo Stanton of the Yankees (504,537), Taylor Ward of the Angels (497,361) and Byron Buxton of the Minnesota Twins (403,050), while Blue Jays teammates Lourdes Gurriel Jr. (381,591) and Teoscar Hernández (374,226) are challenging for the right to advance to the Finalists Phase.
Three AL shortstops with All-Star experience are vying for two spots and the right to advance with Bo Bichette of the Blue Jays leading the way with 585,744 votes as he contends for his second All-Star appearance. Tim Anderson of the Chicago White Sox (528,278), also trying for a second Midsummer Classic appearance, and two-time All-Star Xander Bogaerts of the Boston Red Sox (525,202) follow close behind.
Other highlights of the AL Ballot include:
Rafael Devers of the Red Sox (727,669) and AL RBI leader José Ramírez of the Cleveland Guardians (711,367) are locked into a tight battle for the top spot at the hot corner with just over 16,000 votes separating the duo. Devers is attempting to earn his second straight starting election, while Ramírez aims for his third career starting assignment. Toronto's Matt Chapman ranks third with 406,182 votes.
Blue Jays first baseman Vladimir Guerrero Jr., who led all Major League players in fan voting a year ago, paces the AL first base race with 947,045 votes. Seattle Mariners first baseman Ty France (596,030) and Anthony Rizzo of the Yankees (445,683) are also contending for the right to advance behind Guerrero.
Second basemen Santiago Espinal of the Blue Jays (522,154) and Andrés Giménez of the Guardians (514,982), both seeking a first All-Star nod, are in a heated showdown for second place at the position behind seven-time All-Star and four-time fan-elected starter Jose Altuve of the Houston Astros, who paces AL second basemen with 710,708 votes.
Blue Jays catcher Alejandro Kirk ranks third among all AL players with 1,057,008 votes. The 23-year-old backstop is outpacing Yankees catcher Jose Trevino (387,983), last year's starting AL backstop Salvador Perez of the Royals (266,604) and Martín Maldonado of the Astros (231,005).
Yordan Alvarez of the Astros (835,669), who ranks fifth in the Majors with 18 home runs on the season, is currently leading at designated hitter ahead of last year's two-way Midsummer Classic starter Shohei Ohtani of the Angels (555,056). With a fan election, Alvarez could become the seventh straight different player to start at designated hitter for the AL.
The Blue Jays have an AL-best five players in position to advance to Phase 2, including four players currently in position to earn a starting assignment, which would mark the Club's most starters in a single season in team history
In the NL, Betts is bidding for his sixth career All-Star selection as he paces the Senior Circuit with 1,446,050 votes. The 29-year-old is attempting to earn his first starting assignment in the NL after starting twice for the AL while with the Red Sox in 2016 and in his AL MVP Award-winning 2018 season. Betts is joined among the outfield leaders by Ronald Acuña Jr. of the Atlanta Braves (1,398,563), who led all NL players in voting last season, as well as Joc Pederson of the San Francisco Giants (630,584). Acuña Jr. is vying for his third All-Star selection and third straight starting assignment, while Pederson would become an All-Star for the second time (also 2015). Starling Marte of the New York Mets (469,344) and Juan Soto of the Washington Nationals (451,079) rank fourth and fifth, respectively, among NL outfielders, and they are followed by a crowded group for the sixth spot, including Adam Duvall of the Braves (332,387), Mark Canha of the Mets (320,910), Marcell Ozuna of the Braves (303,945) and Cody Bellinger of the Dodgers (301,121).
A tight race among NL second basemen is developing as Jazz Chisholm Jr. of the Miami Marlins is attempting to become just the sixth Marlins player in franchise history to secure a fan election. The 24-year-old product of the Bahamas would join Hanley Ramírez (three election), as well as Dee Strange-Gordon, Marcell Ozuna, Gary Sheffield and Giancarlo Stanton (one each) as Marlins players to be voted a starter by the fans. Chisholm Jr. has received 634,762 votes to outpace two-time All-Star Ozzie Albies of the Braves (589,804) and 2019 All-Star Jeff McNeil of the Mets (580,257). The trio are all vying to become the 11th consecutive different NL second baseman to start the Midsummer Classic.
Other highlights of the NL Ballot include:
Six-time All-Star Bryce Harper of the Philadelphia Phillies ranks third among all NL players with 1,059,433 votes. An elected starter five times previously, Harper is followed by William Contreras of the Braves (584,630) and Albert Pujols of the St. Louis Cardinals (344,248), a 10-time All-Star bidding for one more Midsummer Classic appearance in his legendary 22-year-career.
San Diego Padres third baseman Manny Machado is in front at the hot corner with 969,582 votes, while a tightly contested race has developed behind him between Nolan Arenado of the Cardinals (581,363) and Austin Riley of the Braves (557,220), who is attempting to make his first All-Star squad. Machado is aiming for his sixth All-Star appearance and third fan-elected start, while Arenado is bidding for his seventh All-Star selection and fifth straight starting nod.
A similar race is transpiring at shortstop in the NL as Trea Turner of the Dodgers paces the position with 811,839 votes in an attempt to claim his second All-Star selection and first starting assignment. Turner is followed by Dansby Swanson of the Braves (599,251) and four-time All-Star Francisco Lindor of the Mets (521,489).
Chicago Cubs backstop Willson Contreras leads all NL catchers with 801,630 votes as he tries for his third starting nod in the last four All-Star Games. Contreras also has a tight battle for Phase 2 behind him as Travis d'Arnaud of the Braves (471,921) leads 10-time All-Star Yadier Molina of the Cardinals (454,685) by less than 18,000 votes.
Rounding out the NL is first base, where Paul Goldschmidt of the Cardinals has 930,441 votes, ranking ahead of Major League RBI leader Pete Alonso of the Mets (602,321), reigning NL Most Valuable Player Freddie Freeman of the Dodgers (469,197) and Matt Olson of the Braves (403,514). Goldschmidt, who earned the starting nod in both 2014 and 2015, is seeking his sixth All-Star selection overall and attempting to unseat Freeman, who has started each of the last three Midsummer Classics at first base for the NL.
The nine NL players currently in position to earn a starting spot are represented by eight different Clubs, with only the Dodgers placing two players among the positional leaders.
The reigning World Series Champion Braves have a Major League-best six players in position to advance to the Finalist Phase.
Overall, 13 different Major League Clubs are represented among the 18 positional leaders. Additionally, 19 of the 30 Major League Clubs are represented among the players on pace to advance to the Finalist Phase of 2022 Chevrolet MLB All-Star Balloting. Eight of the 18 positional leaders (44.4%) are internationally-born, spanning six different countries and territories outside of the 50 United States (Bahamas, Canada, Cuba, Dominican Republic, Mexico and Venezuela). In addition, 12 of the 18 leaders (66.7%) come from diverse backgrounds.