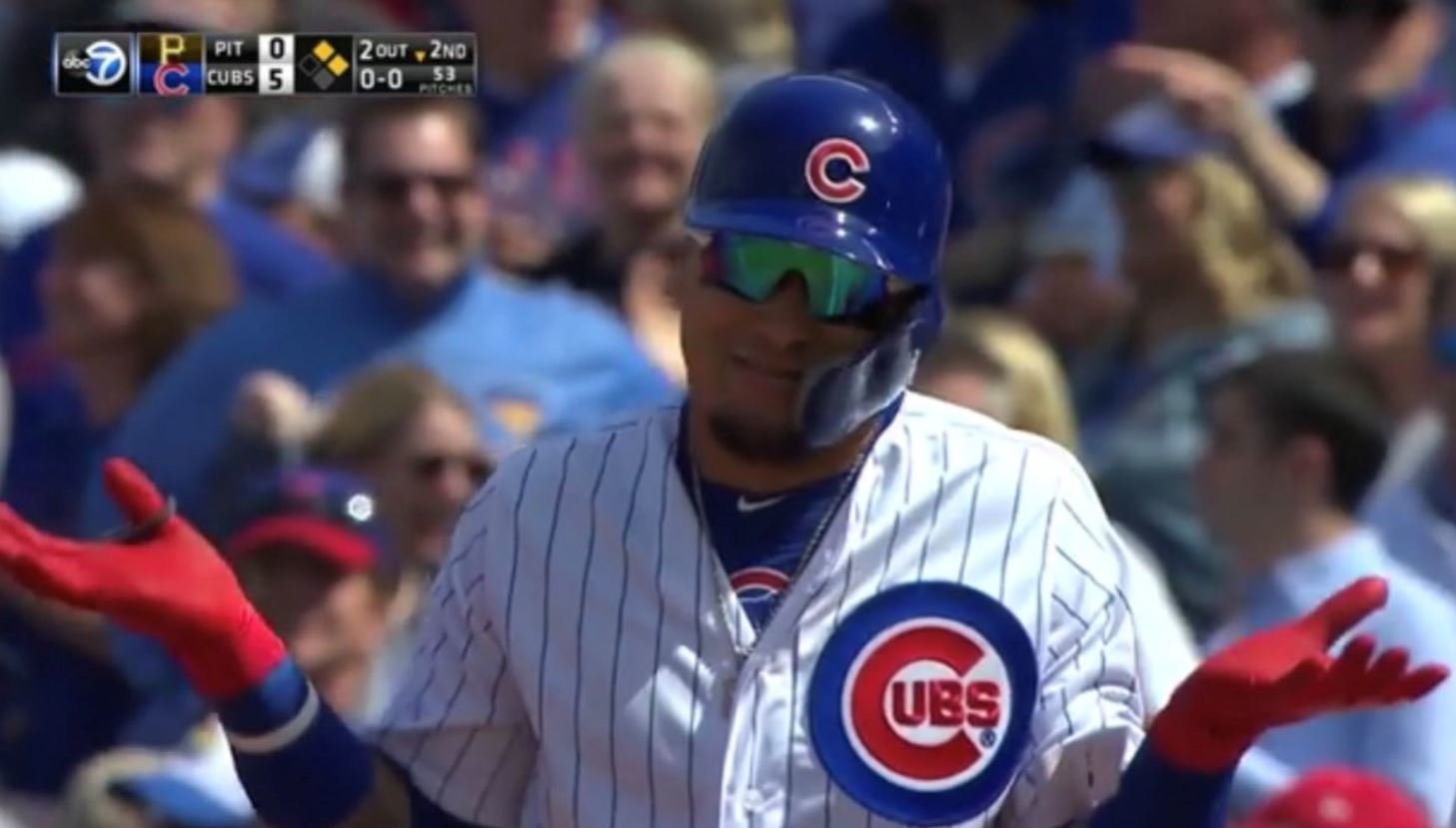 | | |
| --- | --- |
| WATCH: Baez literally throws his bat at bad pitch, somehow hits RBI single as a result | |
---
| | | |
| --- | --- | --- |
| Monday, April 8, 2019, 3:41 PM | | |
CHICAGO, Illinois — Chicago Cubs infielder Javier Baez is known as "El Mago," which is "The Magician" in Spanish, for good reason. Of all the "magical" acts that Baez has pulled off on the baseball diamond throughout his career, perhaps none were as stupefying as an RBI single that he hit against the Pittsburgh Pirates on Monday.
Channeling the great Vladimir Guerrero, Baez swung at a bad pitch that was well out of the strike zone. The pitch was so low and outside, however, that the bat slipped out of Baez's strained arms while he reached out in an attempt at hitting it. Therefore, Baez made contact with the baseball by throwing his bat at it.
The unorthodox swing that resulted in the bat sweeping the dirt caused the ball to arc high into the air and carry just far enough over Pirates shortstop Kevin Newman's head to fall into shallow left-center for an RBI single that scored Kris Bryant. Newman was responsible for Baez having the opportunity to make the miraculous hit, as his throwing error with two outs in the frame led to a 6-run rally by the Cubs, with Baez's single putting Chicago ahead 5-0.
Báez off the bounce. ?? pic.twitter.com/gFbtDKCZL4

— MLB (@MLB) April 8, 2019
In response to the unbelievably unnecessary swing turning into an unbelievably amazing hit, all that Baez could do while looking toward the Cubs' dugout was shrug. The legend of "El Mago" only continues to grow.
Javier Baez just hit a ball that bounced in the dirt and he threw his bat at.... literally... it led to a RBI single. ?? pic.twitter.com/4TUdALE1el

— Cubs Live (@Cubs_Live) April 8, 2019
??Aparentemente el mago descubrió el truco para batear de esa manera. ¿Será que también jugaba la plaquita? ?? | ??Looks like El Mago learned the trick of how to hit that way too.@javy23baez #VG27 pic.twitter.com/ase77LJz6y

— Vladimir Guerrero (@VladGuerrero27) April 9, 2019