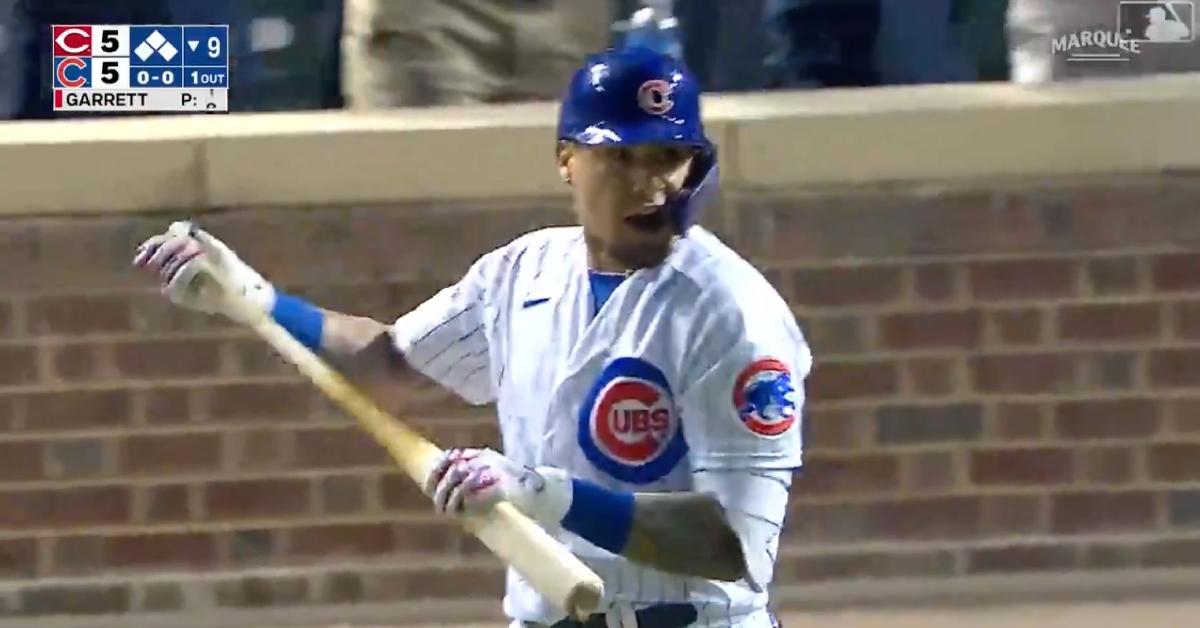 | | |
| --- | --- |
| WATCH: Javier Baez walks it off against Amir Garrett, showboats like crazy | |
---
| | | |
| --- | --- | --- |
| Tuesday, July 27, 2021, 12:20 AM | | |
CHICAGO — The well-documented rivalry between Chicago Cubs shortstop Javier Baez and Cincinnati Reds reliever Amir Garrett had a new chapter added to it on Monday night, with Baez entering as a pinch hitter with the bases loaded in the bottom of the ninth and hitting a walkoff knock off Garrett. Garrett was brought out to pitch with one out and the bases juiced, and Baez was wisely brought out to hit against him.
Baez began talking smack immediately upon leaving the on-deck circle, snarling at Garrett and barking what was presumably some rather coarse language in his direction. Garrett threw just one pitch, and 86-mph slider that Baez swung at and sent to deep center field. It fell in for a single but would have been deep enough for a sacrifice fly even if it had been caught. Baez did not hurry to first base, though, as he made sure to rub it in and showboat after collecting a walkoff hit against his MLB archenemy.
Complete with sweeping-like motions made using the bat, which mocked Garrett's celebration from a recent Reds sweep of the Cubs, Baez's taunting was anything but fun-loving, as there is no love lost between "El Mago" and the fiery Reds reliever. Garrett chose not to engage in conflict this time around, even with Baez tossing his bat in Garrett's direction, and merely headed to the dugout after left fielder Patrick Wisdom scored the winning run to give the Cubs a 6-5 walkoff victory at an electric Wrigley Field.
One pitch.

Hit. My. Music.#GoCubsGo #ImLikeThat pic.twitter.com/RW2NCj5AFY

— Chicago Cubs (@Cubs) July 27, 2021
Javy Baez threw the damn bat at Amir Garrett after the walk-off. Keep in mind, AG fought an entire team by himself. This was only the first of a four-game series?? pic.twitter.com/53sht01YvL

— Jared Carrabis (@Jared_Carrabis) July 27, 2021
July 27, 2021
[W]alkoff! #CubTogether pic.twitter.com/sbhmpxeo2S

— Chicago Cubs (@Cubs) July 27, 2021