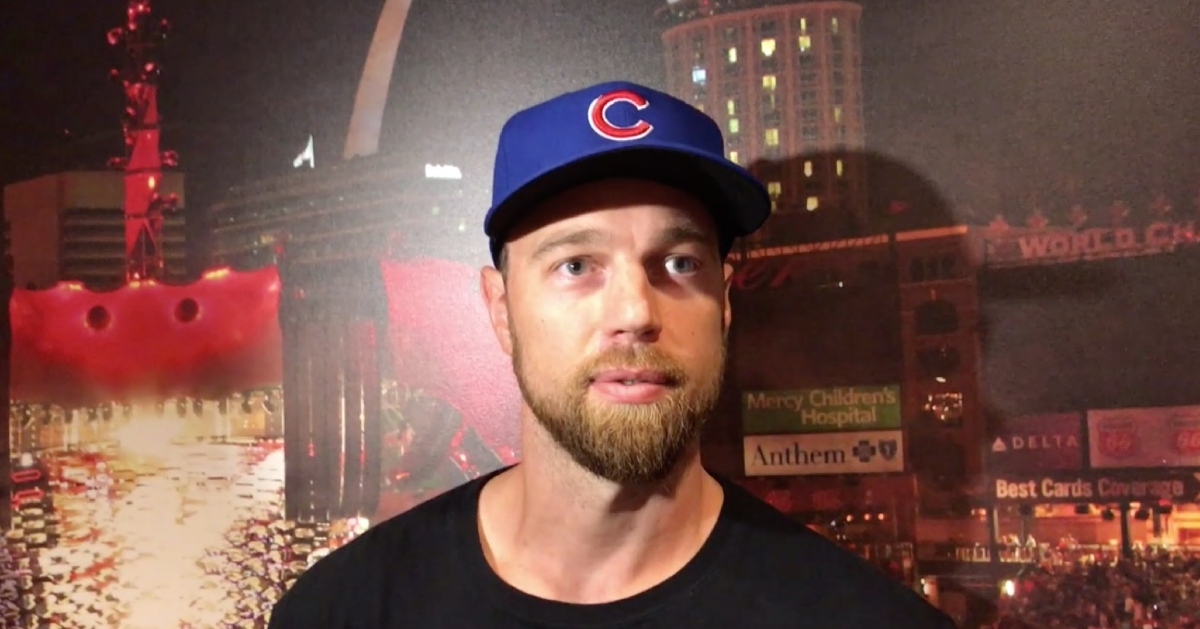 | | |
| --- | --- |
| WATCH: Javier Baez, Anthony Rizzo, Ben Zobrist react to Joe Maddon news | |
---
ST. LOUIS — Although it was expected, it was still quite surreal when the Chicago Cubs announced on Sunday that manager Joe Maddon would not be returning in 2020. In a joint press conference held prior to the Cubs' season finale, Maddon and Cubs President of Baseball Operation Theo Epstein told the media at Busch Stadium that the two sides had mutually agreed to part ways.
Maddon's contract expires following Sunday's final game versus the St. Louis Cardinals, as the Cubs will not be in the postseason for the first time since Maddon took over in 2015. After Epstein and Maddon wrapped up, Cubs shortstop Javier Baez, Cubs first baseman Anthony Rizzo and Cubs utility man Ben Zobrist, all of whom are team leaders who have played under Maddon for most, if not all, of Maddon's Cubs tenure, discussed the news with the press.
An emotional Rizzo let the cat out of the bag that Maddon revealed to the team at their St. Louis hotel on Friday that he would not be returning. Rizzo called Maddon "a living legend" and "a bridge to the old and to the new." After heaping praise on Maddon, Rizzo said that the skipper had changed his life and career and stated that he loves Maddon "like a dad."
"I love him like a dad." —Rizzo, on Maddon pic.twitter.com/u4B1TF2QO1

— Jordan Bastian (@MLBastian) September 29, 2019
Maddon had a meeting with the players in the courtyard of the team hotel on Friday night and basically let them know he wasn't coming back in 2020. Nothing was official at that point, but he understood the situation.

— Sahadev Sharma (@sahadevsharma) September 29, 2019
Rizzo and Zobrist both made it clear that they felt like the blame for the Cubs' shortcomings this season should fall on the players just as much as they fall on Maddon, with Rizzo saying that "it falls on all of us players," who, in his opinion, "didn't get it done." Zobrist refused to get into whether or not he agreed with the Cubs organization's decision not to retain Maddon, but he did commend Maddon by saying that managers like him "don't come along very often."
Describing himself as sad over the Maddon revelation, Baez put it in perspective by saying the players "need to see the business side of it." Baez also credited Maddon with letting "Javy be Javy," so to speak, as the infielder's flashy playing style was allowed to blossom with Maddon at the helm. Milwaukee Brewers manager Craig Counsell also addressed the Maddon news prior to his team's contest on Sunday, saying that he had "learned more about this job from Joe Maddon than anybody."
Because of Maddon, Javy was allowed to be Javy. pic.twitter.com/LKmE40bLir

— Jordan Bastian (@MLBastian) September 29, 2019
Bryant on Maddon pic.twitter.com/KT13KqYYC0

— Mark Gonzales (@MDGonzales) September 30, 2019
Craig Counsell on Joe Maddon's dismissal as Cubs manager: "On the job, I've learned more about this job from Joe Maddon than anybody, and I've had one conversation with Joe. ... I think he does a wonderful job as a messenger for his team." pic.twitter.com/oDNsv4t68g

— Adam McCalvy (@AdamMcCalvy) September 29, 2019